As we head into the new year of 2022, the Singapore Art Museum looks forward to presenting art in unexpected spaces around Singapore, while actively collaborating with partners and communities. These goals will kickstart with the launch of SAM at Tanjong Pagar Distripark, the museum's new contemporary art space opening on 14 January 2022.
---
SAM at Tanjong Pagar Distripark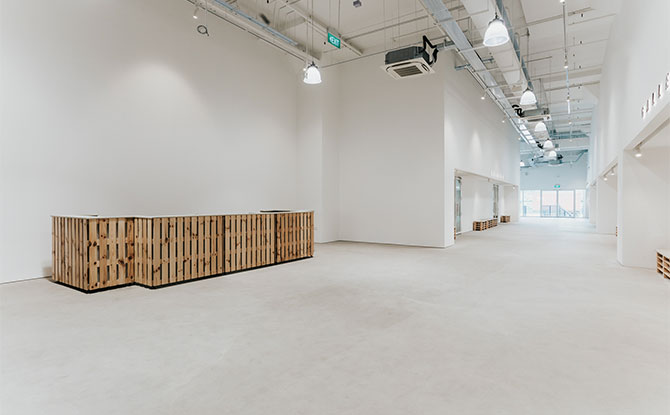 SAM at Tanjong Pagar Distripark will be spread over two floors, with various features to accommodate the function of the space. There will also be a reception foyer that will offer varied art experiences for visitors upon entering the space.
The first level will have over 2,000 square metres of floor space, containing features such as two expansive climate-controlled gallery spaces that feature 6-metre-high ceilings. This space will be used to present large-scale installations and exhibitions.
The first exhibitions to be presented in the galleries will be an immersive, time-based installation by The Observatory titled "REFUSE" and an exhibition by Korakrit Arunanondchai, titled "A Machine Boosting Energy into the Universe".
Space for events and public programs at SAM at Tanjong Pagar Distripark
The location will have a space dedicated to events and public programmes known as "The Engine Room" which can host outreach programmes for up to 100 pax. Visitors can look forward to its first event in January 2022 featuring Malaysian artist Gan Siong King. He will present his work titled "My Video Making Practice" in this room.
Lastly, there will be an F&B space overlooking a view of the port, which also serves as a lounge area for visitors.
---
Social Spaces In SAM at Tanjong Pagar Distripark
SAM at Tanjong Pagar Distripark will also have a third level with a floor space of over 1,300 square metres. This level will house the SAM Residencies studios and SAM's corporate office. This arrangement gives SAM staff, residents and the public greater opportunities for social interaction and engagement in these spaces.
Some of these shared spaces include a central, open space known as The Main Deck, which serves as a zone for interaction and to host programmes of the SAM Residencies, such as talks and performances.
There will also be an experimental ideas lab to showcase the development of content, research and processes by staff and residents as well as artist studios and a shared workspace for SAM residents. In January 2022, there will be a joint presentation by SAM pilot residents titled Present Realms held in these spaces.
For more information, visit the Singapore Art Museum website here.