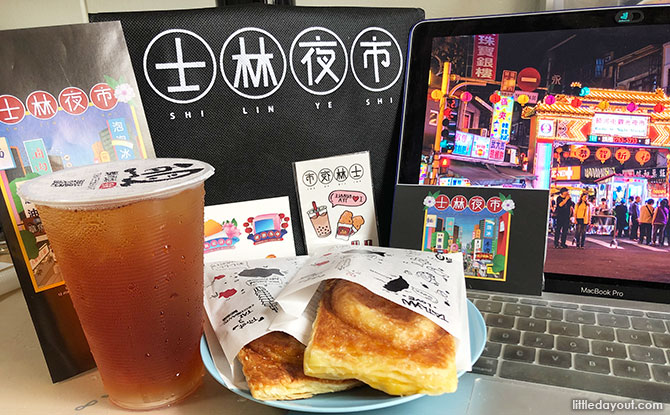 Shilin Singapore Night Market 2020, the second edition of the night market, is going digital with close to 100 digital pop-up stores, food vendors, live streams and game shows!
The Shilin Singapore Night Market 2020 site goes live on Friday, 12 June at 3 pm. This year, there is no need to push through a sweaty claustrophobic and crowded environment to visit the night market which has been imported from Taiwan.
Also gone are the long queues and waiting in line. Experience this innovative digital take on popular festival with four experiential online zones, all while staying safe at home.
What's On at Shilin Singapore 2020 Digital Edition
---
Eat
---
-- Story continues below --
What is a festival without food? Shilin Singapore 2020 is collaborating with several well-loved brands to bring Shilin Singapore-exclusive menu items to your doorstep.
Every F&B merchant at Shilin Singapore will have a personally designed digital storefront which allows partners to interact with customers in a greater capacity. Customers can also look forward to dedicated live streams by favourite F&B brands including live cooking shows.
Make an order at the digital storefront of Shilin Singapore's site and have it delivered to your doorstep.
---
Shop
Shilin Singapore 2020's official lifestyle partner for the "Shop" area is Shopee!
Some interesting brands that will be part of Shilin Singapore include The Bubble Tea Factory as well as Scent by Six. The latter will be selling care packs, with 10% of proceeds going towards The Courage Fund to help those struggling with caregiving duties and obtaining essentials during COVID-19.
As part of the festivities, visitors can participate in daily live streams by retail vendors, including dynamic live auctions by Shopee, and take part in plenty of giveaway opportunities.
Purchases are assured by management to arrive the week after purchase from the market.
---
Play
The games at Shilin 2020 are also going digital and many interactive games are specially designed for Shilin Singapore this year too.
One game to look out for is Stack-A-Mo, a game by GOMO by Singtel where the top 3 players who can stack as many boxes in line as possible will win attractive prizes and vouchers.
There are also fun social media challenges and filters such as "Finish the Song Lyric" which you can try and tag friends to join in on the fun.
---
Fun
The main virtual stage at Shilin Singapore is the place to be these upcoming weekends, especially with the awesome lineup of performances.
Hosted by Mediacorp artist Lee Teng and live performances by talented local artists such as The Freshmen (插班生), Marcus Lee, Singapore's representative for Sing China, as well as up and coming local singer, Yokez, will be available for all to enjoy.
Taiwanese singer, Caryson 黃譽韶, will also be doing a special set from 12 to 14 June at 7 pm.
Other unique and exciting events include a stunning virtual light up, standup comedy skits, and a movie mob trivia night.
---
Visit Digital Shilin Singapore Night Market 2020 Online
Digital Shilin Singapore 2020 will open from 3 to 11 pm on Friday, 12 June 2020. On 13 to 14 and 19 to 21 June 2020, it will be open from 12 pm to 11 pm.
This story contains affiliate links. This means we earn a small fee if you purchase something through a link from our website. There is no additional cost to you. This helps to support Little Day Out and keeps us going.