Still waiting for someone to tell you how to get to Sesame Street? Head on down to the next best thing at Kumoya, where the Sesame Street Pop-up Café will make you feel welcomed with familiar and well-loved characters like Elmo, Cookie Monster, Big Bird and Oscar the Grouch!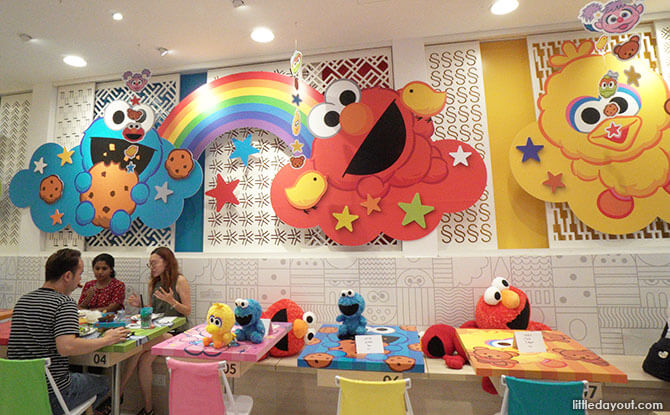 Kumoya is no stranger to many of us, as they've given us many thrills and squeals of excitement with their every changing cute themed cafes such as Snoopy, Care Bears x Precious Moments and My Little Pony.
Its latest Sesame Street Pop-up Café is apt for it is the 50th Anniversary that Sesame Street! We're so happy that they chose the "baby Sesame Street" art style, because it automatically makes everything that much cuter! Here are some of the dishes and treats to look out for on your visit there.
Know You ABCs at the Sesame Street Pop-up Café at Kumoya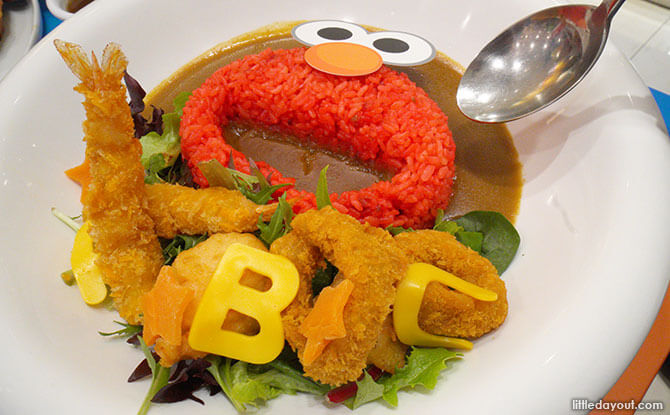 Go "la la la la" in glee with the ABCD and E for Elmo Japanese seafood curry rice where you can have fluffy tomato infused rice with Japanese curry accompanied by breaded Ebi, calamari and salmon as well as a mix of garden salad topped with cute cheddar alphabets! The curry for this dish was a tad spicy for us personally. Those with an extremely low tolerance for spice can opt for the cookie monster version that comes with a cream sauce base and pea flower-infused rice instead!
---
-- Story continues below --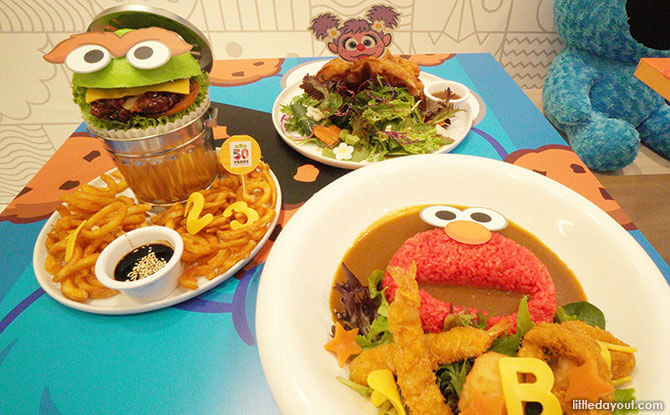 1. 2. 3 and 3. 2. 1. Oscar's teriyaki chicken katsu burger is the one!
Not just a cute rhyme and name of the dish, this burger was one of our favourites. The chicken katsu with teriyaki sauce is always a crowd-pleaser and you're sure to enjoy the super soft and fluffy matcha mantou bun. Such a yummy treat would never be found in a bin, unless it's the one that Oscar the Grouch is in.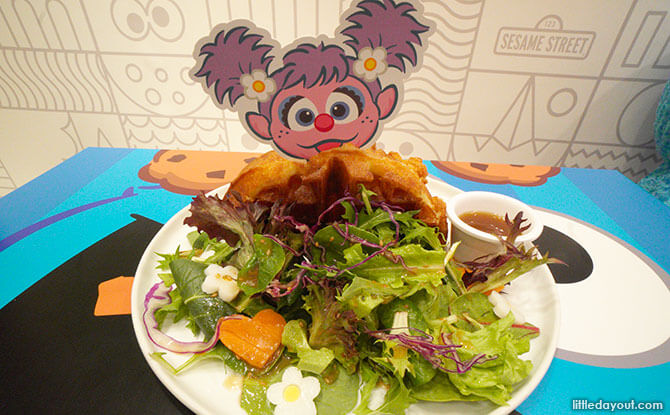 The Karaage Chicken with Shoyu Glaze is one of the cafe's signatures and an item that we order each time we're here. This time, have it as part of your main meal with the Abby Cadabby's Magic Golden Karaage Chicken Waffle with Soyu Glaze! The signature buttery waffles go great with the sweet-salty chicken and a generous bed of garden salad.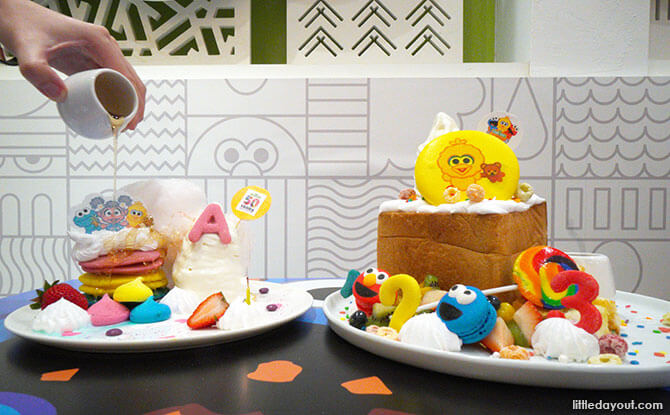 D is for Dessert! There's lots to choose from on the dessert menu this time, from the Cookie Monster's OM NOM NOM double chocolate cake, to A for Abby Cadabby's magical rainbow pancakes which comes with Sparklers or the Big celebration with Big Bird and friends mango kiwi Shibuya toast that comes with a free sesame street mystery gift with every order!
Give me COOOKIEE!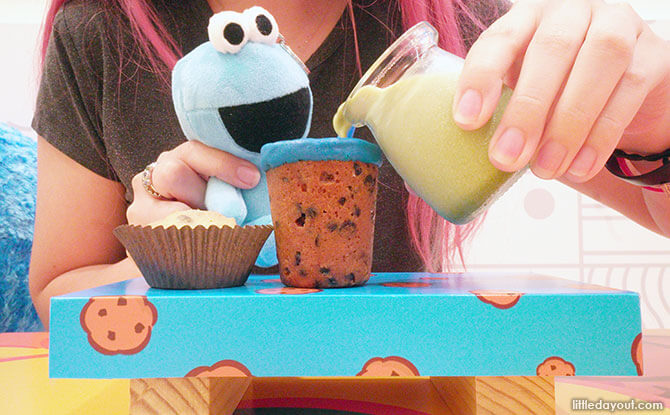 Our favourite item on the menu though is the Cookie Monster's cookie shot with matcha milk! A beverage and dessert combined into one, enjoy this super-cute ensemble of cookies and an edible cookie shot cup! It also comes with a Cookie Monster keychain plush which we are sure would shout "OMNOMNOM"s of approval if it could.
The "LA LA LA" Elmo hot chocolate cup is also another adorable prop that you can bring home with an additional top-up fee.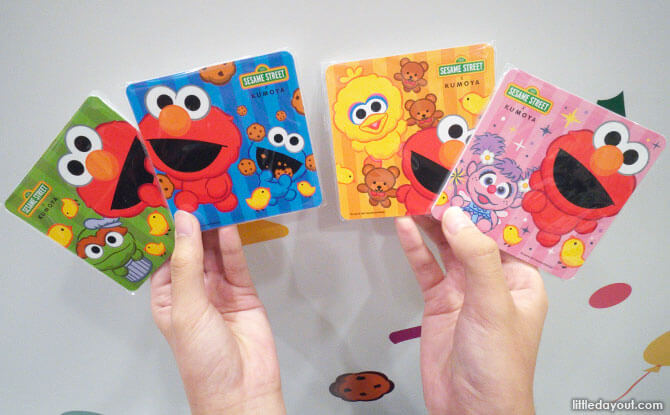 Almost all the beverages come with a free limited edition café exclusive coaster as well! It's two sweet treats in one!
Kumoya Cafe Sesame Street Pop-up
The Sesame Street Pop-up Café at Kumoya will be in town till Sunday, 29 December 2019. Visit it while you can!
Media Invite