Kumoya never disappoints with its ultra-cute, character-themed pop-up cafes. Fans of the comic strip Peanuts rejoice as Snoopy, the world's most iconic and beloved beagle is coming to town! From 13 June 2019 (Thursday) to September 2019,  Kumoya will be hosting a Snoopy pop-up café featuring an extensive menu of Snoopy-inspired snacks, mains, desserts and drinks carefully curated by Kumoya and Shirley Wong (@littlemissbento). This will also be the first Snoopy café in Singapore and South East Asia, making this place a must-visit if you love Snoopy.
Snoopy Café Ambience and Decoration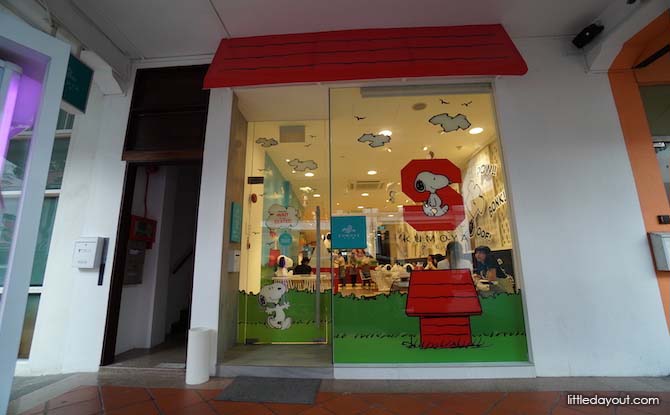 The storefront is designed to resemble Snoopy's signature red doghouse, inviting you to step inside Snoopy's world.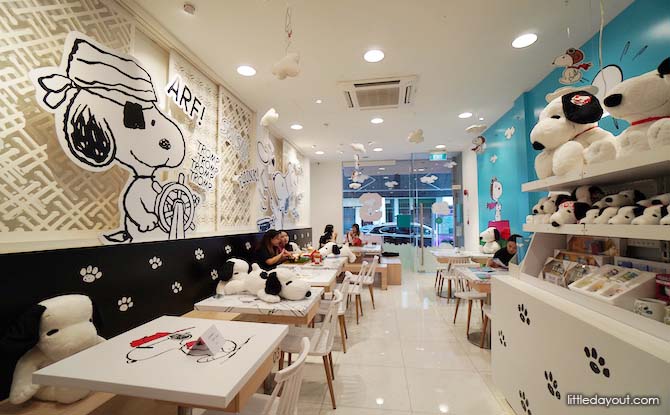 Featuring an abundance of fluffy Snoopy plush toys and various illustrations of Snoopy playing different personas, the Snoopy café evokes a sense of childhood nostalgia while being a cosy place to catch up with friends over a meal.
Snoopy-Good Mains and Snacks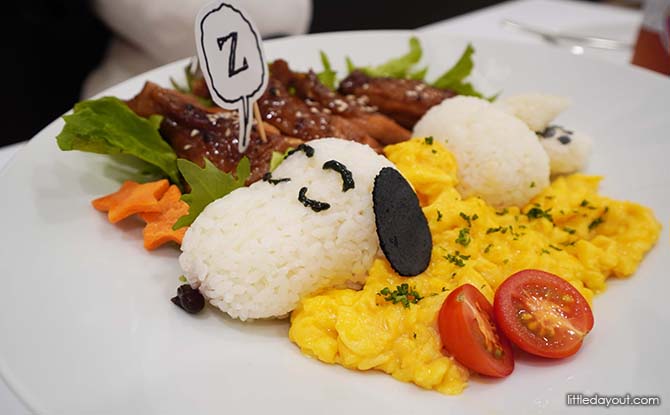 The Snoopy Sleep Tight Mushroom Sauce Rice with Roasted Chicken ($27.90) was a delight for the taste buds, tasting just as good as it looks.
---
-- Story continues below --
The house-roasted teriyaki chicken was served as substantial chunks of juicy, succulent chicken marinated with a tasty teriyaki sauce that hit the bliss point of sweet and savoury. The scrambled eggs were golden yellow, creamy and fluffy and left us reaching for second helpings.
We also loved the accompanying mushroom brown sauce which was earthy, hearty and thick without being overwhelming. The mushroom sauce was also thoughtfully served on the side, allowing you to customise the amount of sauce served according to personal preference.
Topped on a bed of Japanese rice adorably shaped to resemble Snoopy, the dish is feast both for the eyes and the camera and comes with a complimentary Snoopy drawstring bag.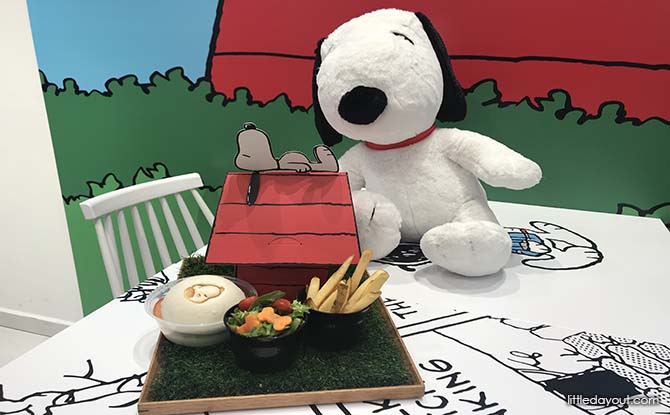 The Snoopy's Doghouse Fantasy Ebi Burger ($23.90) on the other hand, was quite underwhelming. We opted for the vegetarian option which swapped the ebi patty for a vegetarian patty made of wheat flour, onion and egg white. The burger was comprised of goma mayo sauce, coral lettuce, tomatoes and the vegetarian patty held together by mantou buns but all we could taste were the mantou buns. The patty was also thin and barely discernible amidst the dense and heavy mantou.
However, the thick-cut fries were lightly-seasoned and delicious and the burger and sides are served in a lovely Snoopy doghouse paper box.
We also tried the Truffle Chicken Spam Fries ($12.90) which we found a tad too salty on its own even without the cheese topping.
Delectable Desserts and Drinks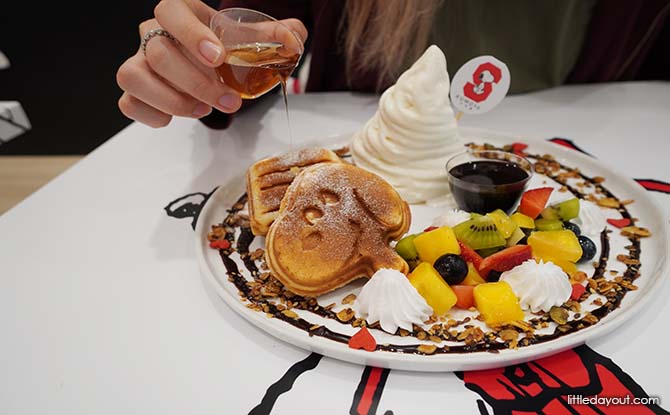 The Snoopy's Doghouse Delight Pancake ($22.90) features three buttermilk pancakes shaped like Charlie Brown, Snoopy and Snoopy's doghouse served with fresh fruits, dark chocolate and maple syrup. Although adorable in appearance, the pancakes were not as fluffy as we would have liked. The Hokkaido soft serve was creamy but otherwise quite ordinary.
The Chill Out With Snoopy Original Churro Balls with Fresh Fruit Parfait ($22.90) was a delightful surprise. The freshly-fried churros were a beautiful golden brown, crispy yet had an airy lightness that made it hard to resist stopping at one. The Hokkaido soft serve fresh fruits parfait was creamy and the home-made Snoopy and Woodstock butter cookies added a decorative touch to the dessert. The icing on the cake (or churros in this case) would be the complimentary Snoopy keychain plush that comes with every purchase of this dessert.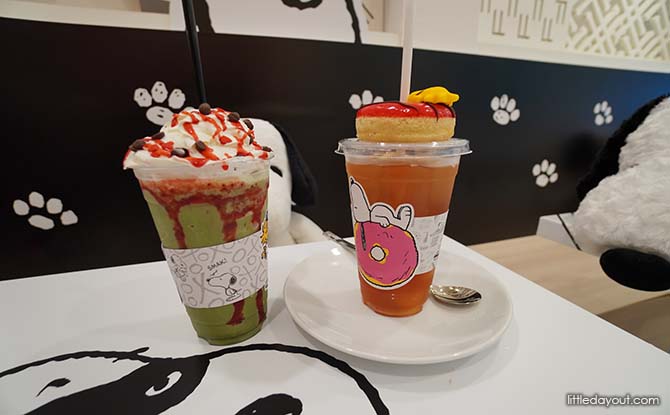 A matcha strawberry frappe topped generously with fresh cream, the Matcha Matcha Friendship Strawberry Frappe ($12.90) was not overly sweet. There was a slight matcha aftertaste that was quickly masked by the sweetness and creaminess of the drink. We didn't taste the strawberry flavour that may have been overpowered by the matcha but that did not mar our liking of the drink. We enjoyed the creamy matcha taste of the frappe but felt that this dessert-drink must be shared with others to avoid being surfeited.
The Snoopy-On-A-Donut Iced Lycee Momo Tea ($11.90) is a house-brewed black tea flavoured with lycees and peaches that is sweet and refreshing. I don't normally enjoy lycee but this drink was a pleasant surprise.
If you have a sweet tooth and love lycee, you'll definitely love this drink. The baked doughnut adds a whimsical touch making this drink a little more special. What's even sweeter is that all beverages are served with limited-edition café exclusive coasters with four unique designs, allowing you to bring a little souvenir home.
If you're a big fan of Snoopy, catch him at the Snoopy x Kumoya café by September 2019!
Snoopy x Kumoya Café
Where: Kumoya @8 Jalan Klapa, Singapore 199320
Opening Hours:
Tuesday to Thursday, Sunday, 12 pm to 9.30 pm
Friday and Saturday, 12 pm to 10.30 pm
Last order 30 minutes before closing
Closed on Monday
Website