Night, Safari and Halloween?
The last time these three words came together was in 2011 when the Night Safari's Halloween event was cancelled by Wildlife Reserves Singapore's then-Chief Executive Isabella Loh. At that time, it was explained that "WRS parks will hold more family-centric activities which will include new youth engagement and interactive activities and events."
It was too late. By 2011, my own young kids had already been conditioned to avoid the Night Safari during the month of October. This had happened after we had unwittingly paid a visit to the attraction one year and encountering the eerie atmosphere of the Night Safari's ghoulish Halloween event which first started in 2006.
Therefore, when Wildlife Reserves Singapore announced a new "trick-or-treat" event in October 2014 – this time at the neighbouring River Safari – we greeted it with curiosity and interest to see how it would pan out.
This event, Safari Boo, promises "merry-not-scary festivities" for kids. The River Safari will be opened during the evenings of October 22 (Deepavali Public Holiday), October 25, 26 and November 1 and 2 for the event.
Sharing the thinking behind Safari Boo, Mr Lee Meng Tat, Chief Executive Officer, Wildlife Reserves Singapore, said, "Safari Boo is an all-new event for families with children to have a fun and educational time at River Safari. Through the exciting programme line-up and hands-on activities, we hope visitors will have a memorable adventure in the park and learn a thing or two about wildlife."
Dressed for the Occasion
During this period, River Safari has been decked out for the occasion.
You will find the fish swimming amongst Jack-O-Lanterns, orange-lit lamps swinging on a string and cartoonish cutouts telling jokes that seem to have come out of a kid's joke book. Adding to the festivities at the Media Preview held on 16 October were a host of colourful characters including a thick-bearded Pirate Captain and dapper-looking Vampire.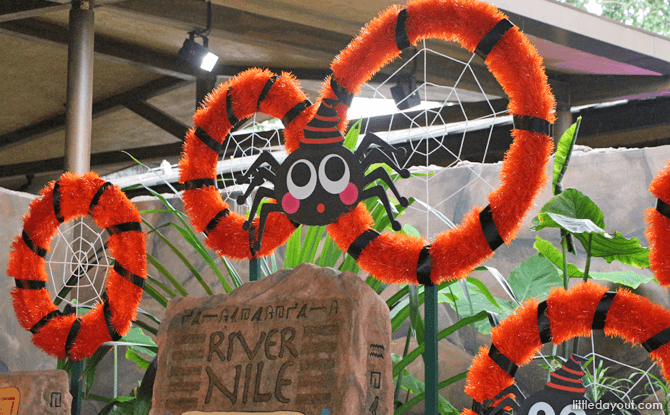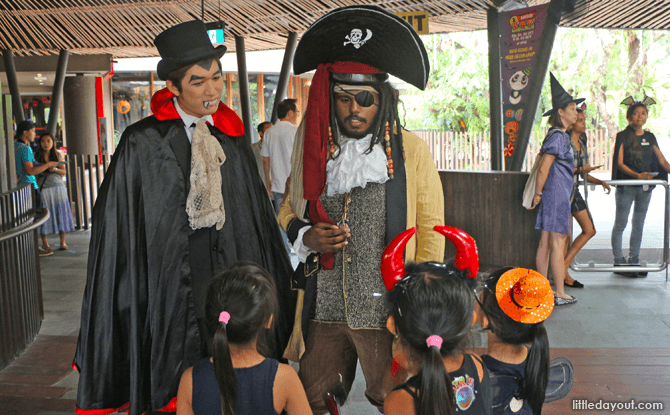 During the Media Preview, our own tour was led by an enthusiastic "Cheery Potter", complete with an illuminated wand.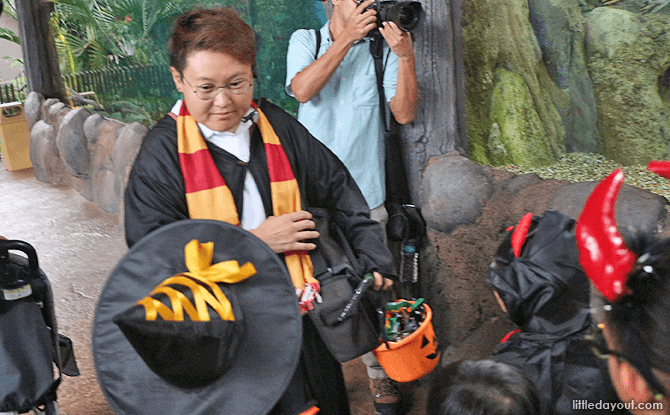 Learning Through Interaction
Sitting on the deck near the Panda Forest is a green-coloured "house". It is here that Safari Boo's animal presentation, River Talk: Myths & Legends, takes place at 7 pm and 8 pm.
Hosted by a friendly "witch" and supported by a motley cast of characters, the highly interactive show provides young audiences with a chance to learn about wildlife, pick up new facts about misunderstood creatures of the night, and even touch-and-feel some of them. The young audience lapped up the presentation and enthusiastically poured on to the stage after the show to get a closer look at animals such as the bearded dragon and pygmy hedgehog.
Another highlight of Safari Boo are the activity stations at the Giant Panda Courtyard.
Children get to learn about animals through the hands-on activities at these stations. Kids can dig for bones buried in the sand, feel the scales of a pangolin and even get a whiff of fresh panda poo. These activities and more await young explorers among the stations.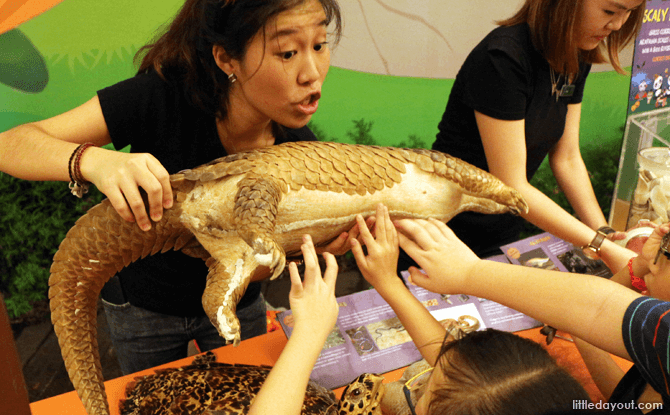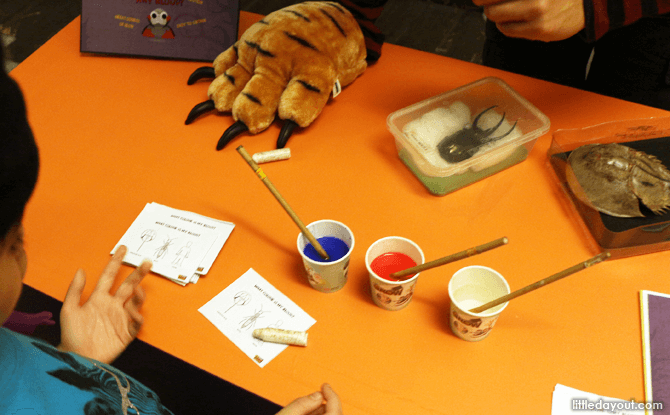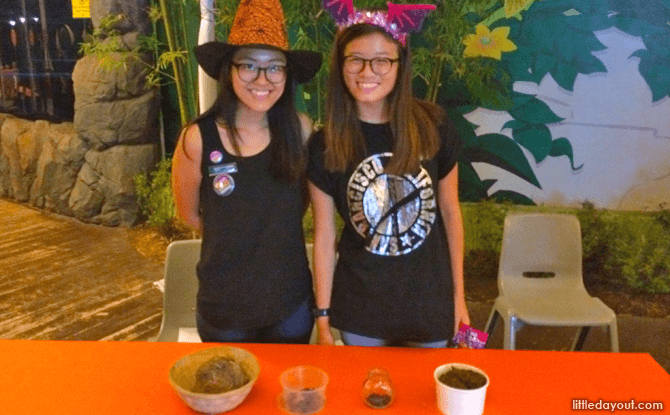 After completing each station, not only do little ones get to walk away with a little treat (courtesy of the station master), but they also take away more knowledge about animals. Just be sure to pick up a little goodie bag to hold the loot too (only the sweets, not the knowledge bit).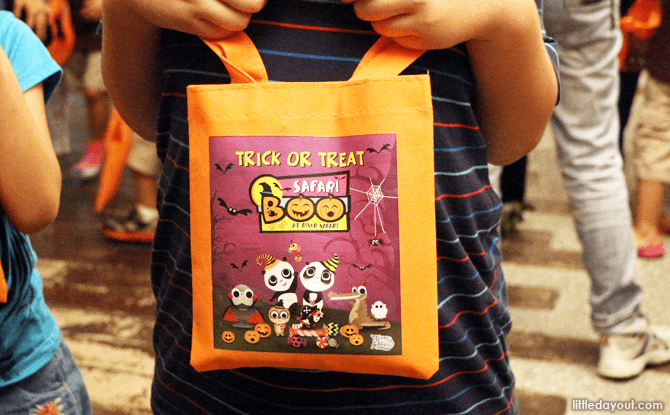 The Enchanted Forest
Fancy an encounter with a phoenix, a fairy, a unicorn or a wizard?
Leading to the Amazon Flooded Forest, "The Enchanted Trail" has sprouted up. Mythical creatures lie in wait to greet families and children walking by. Complete a simple task and more candies and goodies magically appear. Get those loot bags ready.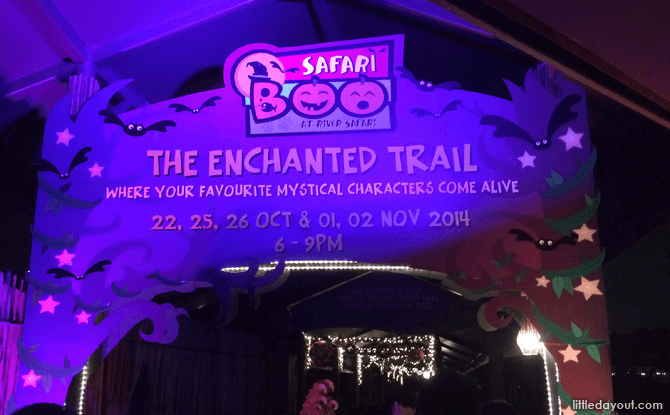 Verdict
Safari Boo does a commendable job of putting together a fun experience for children. The event weaves in educational nuggets about animals and the message of conservation, while providing visitors a chance to experience the River Safari at night.
We especially liked the activity stations at the Giant Panda Courtyard and the efforts made by the staff manning the activity stations to engage the children. The encounters at The Enchanted Trail served to round off a memorable evening out. Best of all, Safari Boo helped to dispel the aura of spookiness Mandai in October previously conjured up in our kids' minds.
Trick or treat? We say, "Treat"!
Safari Boo 
River Safari
Oct 22, 25, 26 & Nov 1 and 2
6pm to 9pm (last admission at 8pm)
$15 per adult
Kids aged 12 years and below enjoy free admission from 6pm.
Kids that dress up for Safari Boo stand a chance to win in a costume contest.
Useful Things to Note
* Do note that the Giant Panda Forest will not be open after 6 pm. However, in the day time during regular operations hours, the giant pandas and red pandas will be given pumpkin enrichment treats.
* Visitors holding River Safari admission tickets during regular operations hours can stay on in the park to enjoy the night-time Safari Boo activities for free.
* The Mama Panda Kitchen (outside the Giant Panda Forest) will remain open till 9 pm on the evenings when the River Safari stays open. In addition, the new Inuka Cafe, located near the entrance of River Safari and Singapore will remain open till 9 pm as well.