Wildlife Reserve Singapore's latest attraction, the River Safari, opens its doors to visitors from 3 April 2013. This new facility is found between the Singapore Zoo and the Night Safari at Mandai. It showcases wildlife from eight of the world's iconic rivers – the Missisippi, Congo, Nile, Ganges, Amazon, Murray, Mekong and Yangtze.
River Safari Ticket Prices
Admission to the River Safari is priced at $35.00 per adult and $23.00 per child. This is comparable to the admission prices to the Night Safari.
However, when the River Safari first opens on 3 April 2013, the River Safari's boat ride attraction will still not be operational. As such, admission prices will be temporarily reduced to to $25.00 per adult and $16.00 per child.
---
-- Story continues below --

What To See at the River Safari
Highlights of the River Safari include the Giant Panda Forest, Squirrel Monkey Forest and the Amazon Flooded Forest. Kai Kai and Jia Jia, Singapore's two Giant Pandas will be on display at the Giant Panda Forest. Viewings of these magnificent creatures will be restricted and visitors will be required to book viewing time slots. Other animal exhibits at the Giant Panda Forest include the Red Panda and Golden Pheasant.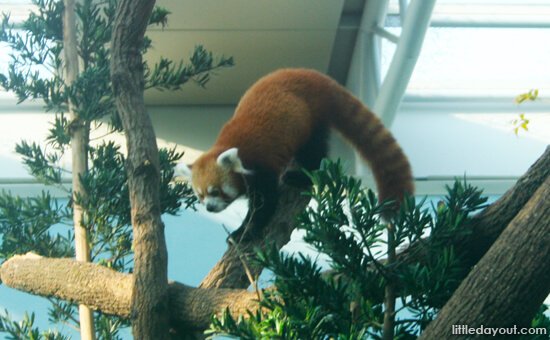 The Wild Amazonia River Quest, a main attraction of the River Safari, will not available until an undisclosed date later this year. The Wild Amazonia River Quest promises a boat adventure along the Amazon River and is intended for visitors aged 3 and above with a minimum height of 1.06m. Families with young children should take note of this.
In the meantime, visitors will have to see the other exhibits such as the Mekong Giant Catfish.

Facilities at the River Safari
New dining options at the at River Safari include the River Safari Tea House and Mama Panda Kitchen. Both are situated by the banks of the Upper Seletar Reservoir. The River Safari Tea House is accessible to public even without entry to the River Safari and serves up food such as Yong Tau Foo.
[Update on 3 April 2013] – For more, see Little Day Out's in-depth review of what to expect at Singapore's River Safari.