With the Chinese New Year festivities in full swing this year, one of the longest running CNY events is back in full force – River Hongbao 2023!
This year, River Hongbao lasts for nine days from 20 January to 28 January. Expect to be enthralled and entertained by lanterns, an exhibition, performances and games as you explore and take a stroll around Gardens by the Bay. And, entry to River Hongbao is completely free!
River Hongbao 2023 Highlights
River Hongbao is a mainstay of the Chinese New Year celebrations in Singapore. For some, it is a tradition to pay a visit to the event, viewing the various lantern sets and also enjoying the various festive activities that have been organised such as the food street and carnival.
River Hongbao is jointly organised by the Singapore Federation of Chinese Clan Associations (新加坡宗乡会馆联合总会), Singapore Chinese Chamber of Commerce and Industry (新加坡中华总商会), SPH Media Trust's Chinese Media Group 新报业媒体有限公司华文媒体集团, the Singapore Tourism Board (新加坡旅游局), and the People's Association (人民协会).
Giant Lanterns
Take photos and marvel over 30 giant lanterns that will be put up around the Gardens including three separate entrance arches, one at the Golden Garden, one at The Meadow and one at Bayfront Plaza.
Entrance Arch at The Meadow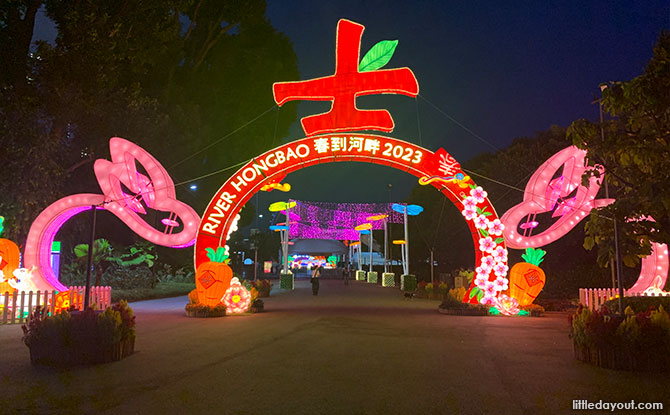 The Entrance Arch at the Meadow is made up of a three separate arches. The centre arch is designed to look like the Chinese word that signifies luck. It is flanked by two smaller archways that look like rabbits.
Welcome Arch at Golden Garden
This River Hongbao welcome arch at Golden Garden is formed by a pair of phoenixes, an auspicious mythical creature that symbolises high virtue, grace and renewal.
Peace and Prosperity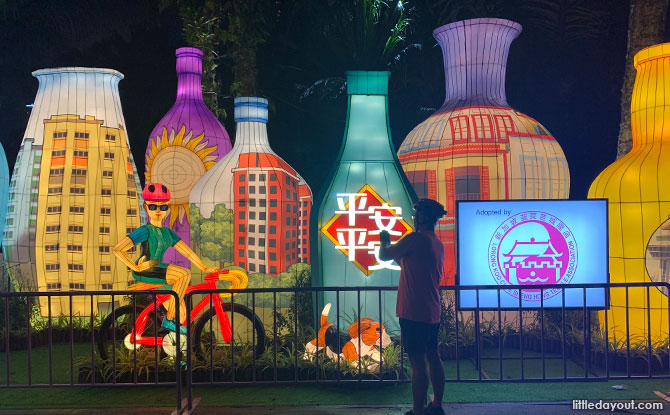 The lantern display features vases and bottles as they sound like the word for "peace" in Chinese. The Peace and Prosperity display can be found between Supertree Grove and The Meadow.
Futuristic Ventures
Located at The Meadow, this River Hongbao lantern set features a space-suited rabbit blasting off on a carrot-shaped rocket. Its Chinese title is a creative wordplay on the phrase "图谋大业" or planning for great ventures.
Flourishing Times Ahead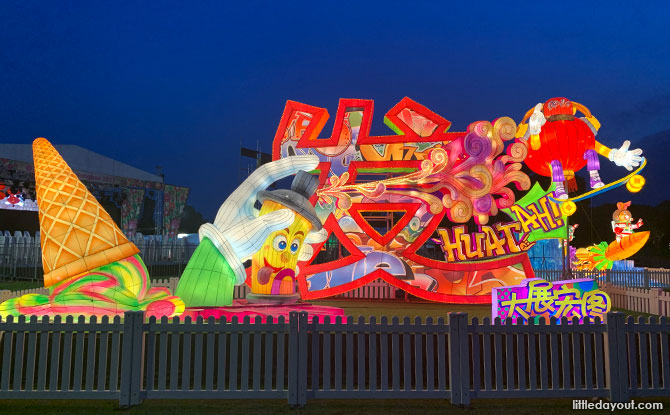 This lantern set at The Meadow takes a youthful interpretation of the phrase "大展宏图" which means developing and fulfilling one's great plan. It makes use of elements of street art such as a spray can and colourful paints.
Kuai Gao Zhang Da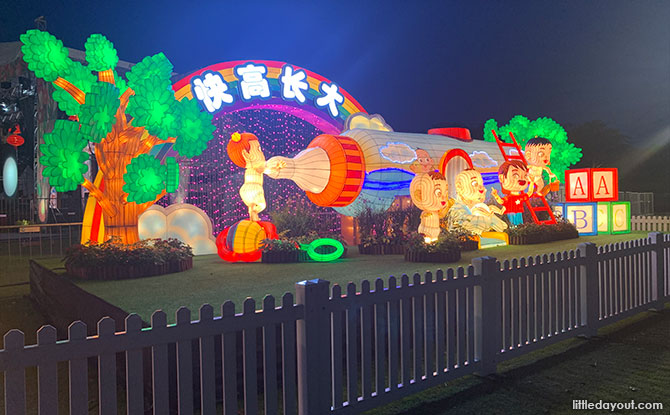 This whimsical lantern at The Meadow features a group of kids playing on a playground made up a giant milk bottle.
The Great Spring Race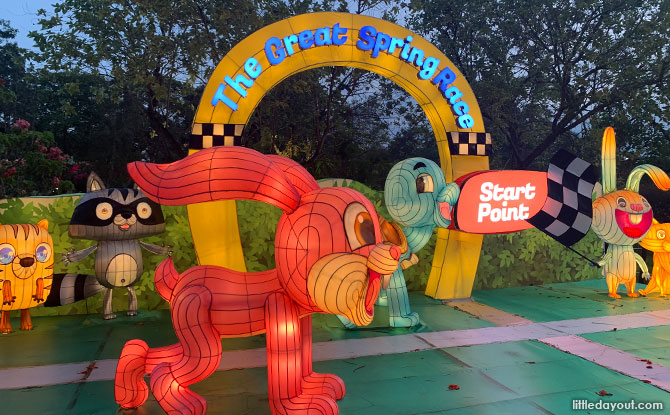 The Great Spring Race is based on the fable of the tortoise and rabbit. It plays out in four different scenes and has a twist as it is the Year of the Rabbit. You can find these RHB lanterns close at Bayfront Plaza.
Bayfront Welcome Arch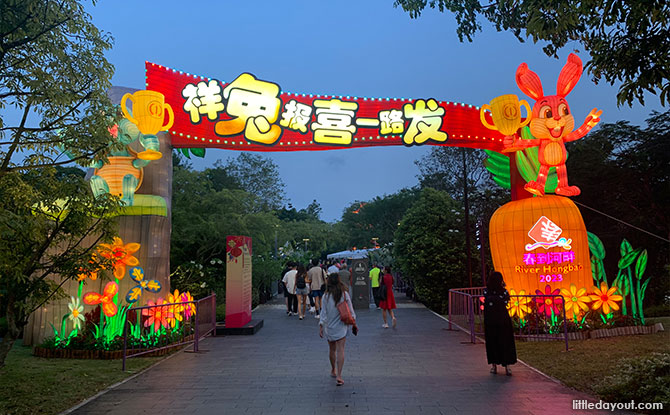 The last scene of The Great Spring race is the Bayfront Welcome Arch with the two animals on either side to welcome visitors.
Wishing Heart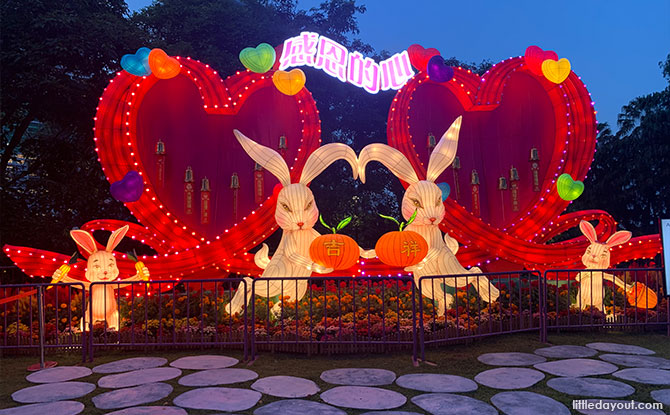 This lantern doubles up as a wishing well. Two pairs of rabbit make up the display and you can toss in coins here with all donations going to charity. The Wishing Heart is just inside from the Bayfront Arch.
The 12 Zodiacs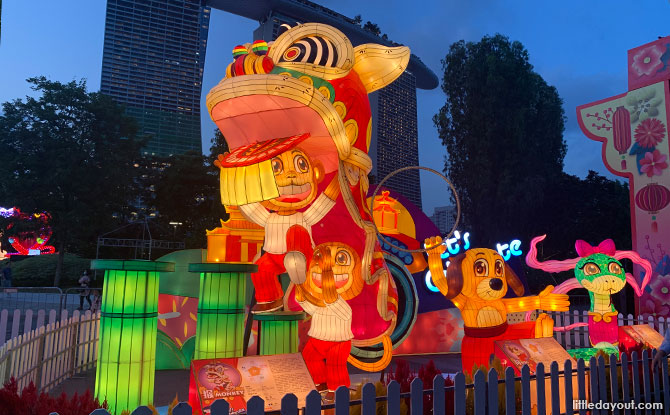 The 12 zodiac animals celebrate together at this lantern set located between Supertree Grove and The Meadow.
Dance of Spring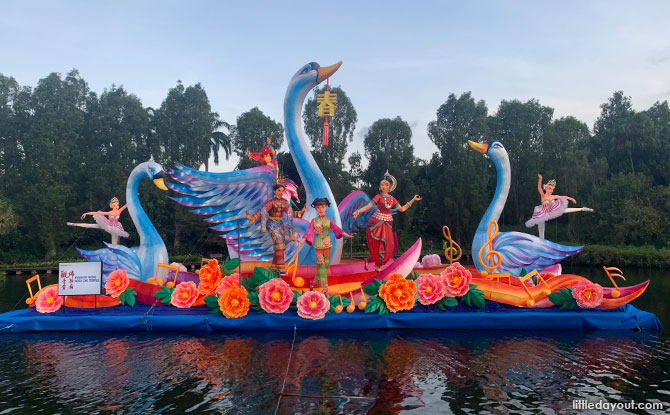 Set on the waters of Dragonfly Lake, Dance of Spring features dancers alongside graceful swans to signify harmony with nature and within society.
Hao Cai Tou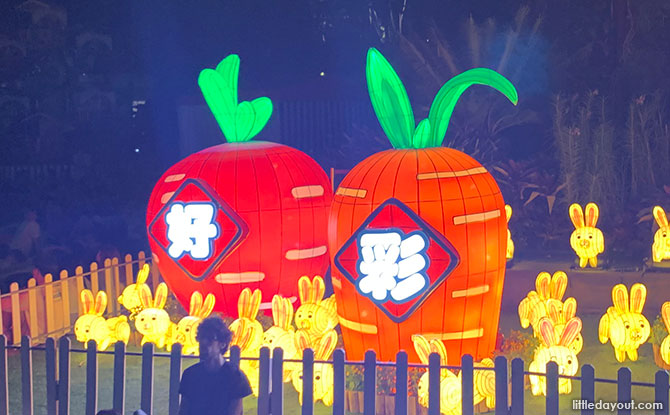 Featuring cute bunnies, this lantern set at Supertree Grove is meant to signify good luck.
As you walk, also keep a look out for the Prosperity(福儿)and Longevity(寿儿)mascots that are sure to bring an auspicious and joyous start to the new year!
---
POSB Charity Drive: Take a Selfie with the God of Fortune
Local bank POSB, known for their philanthropic work for families and children in need, will be organising its first charity drive at River Hongbao 2023.
For every selfie taken with the 18-metre tall God of Fortune and posted on Facebook & Instagram (with post set to public) with the hashtag #NeighboursDoGood between 20 and 28 January, POSB will donate $5 to support families and children in need.
POSB will kickstart the fundraiser with a $10,000 donation and hopes to raise $50,000 by the end of the event on 28 January.
---
Food Street
Returning for the first time since the pandemic, the River Hongbao 2023 food street will have plenty of food and drink galore, featuring local delights and popular street food hailing from Taiwan.
Beside the River Hongbao Food Street, visitors can also enjoy the other dining options at and around Gardens by the Bay, such as Jurassic Nest Food Hall.
---
Carnival Games and Amusement Rides
For those looking to have some fun, there will be amusement rides that are sure to entertain and thrill. Classic carnival games and activities such as guessing riddles (猜灯谜) will definitely bring fun to all ages.
---
Fireworks
On 20 January 2023, the launch of River Hongbao will be marked by a three-minute long spectacular fireworks display at Gardens by the Bay's Supertree Grove. The fireworks display brings across the auspicious meaning of the Chinese idiom "铁树开花" (Tie shu kai hua) or "The metal tree blooms".
The best vantage points to view the full scale of the fireworks display launching from Supertree Grove are at the following areas of Gardens by the Bay:
Bayfront Plaza

Golden Garden 

Silver Garden 

The Meadow
---
RHB Performances
Celebrate the festive period featuring local artistes, with nightly performances such as Getai Night, Xinyao Night and Singapore Talent Night – where you can catch a spectacle of traditional and modern performances.
Here is the schedule of performances:
   DAY/DATE 日期​
THEME ​主题
TIME SLOT​ 时段
小除夕​
20 Jan 2023​
星期五 Friday ​
开幕典礼​
Opening Ceremony​
晚上8时至10时

8 pm to 10 pm

除夕​
21 Jan 2023​
星期六 Saturday ​
除夕夜​
Chinese New Year's Eve​
晚上10时至午夜12时

10 pm to 12 midnight

大年初一​
22 Jan 2023​
星期日 Sunday​
歌舞升平迎新年​
Dance Galore Night​
晚上8时至10时

8 pm to 10 pm

大年初二​
23 Jan 2023​
星期一 Monday​
万民缤纷迎新年​
Fun in Diversity Night​
大年初三​
24 Jan 2023​
星期二 Tuesday​
歌台之夜​
Getai Night ​
晚上7时30分至10时

7.30 pm to 10 pm

大年初四​
25 Jan 2023​
星期三 Wednesday​
歌台之夜​
Getai Night ​
大年初五​
26 Jan 2023​
星期四 Thursday​
​新瑶之夜​
Xinyao Night​
晚上8时至10时

8 pm to 10 pm

大年初六​
27 Jan 2023​
星期五 Friday​
新加坡派​
Singapore Talent Night ​
大年初七​
28 Jan 2023​
星期六 Saturday
新加坡派​
Singapore Talent Night ​
---
River Hongbao Exhibition 2023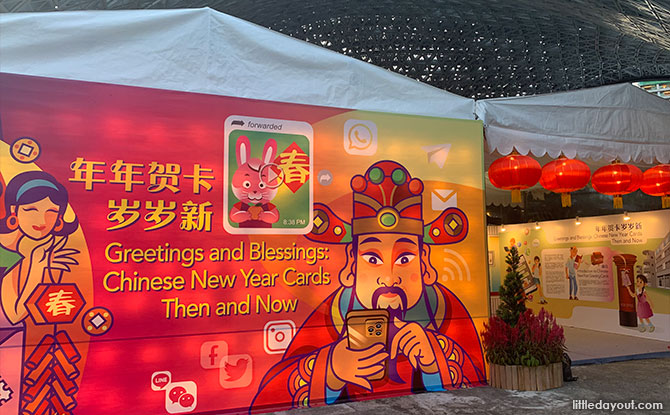 This year, the River Hongbao Exhibition at Bayfront Plaza is themed "Greetings and Blessings: Chinese New Year Cards Then and Now". Curated by the Sun Yat Sen Nanyang Memorial Hall, greeting cards from the 1950s to the 1970s used locally will be on display.
These cards were sourced from the National Collection, associations, collectors and artists. They feature diverse and interesting elements such as portraits, songs, landmarks, and auspicious motifs. The cards also capture vibrant scenes of past Singapore, and reflect social trends as well as Chinese traditions, culture, and values.
They have also been presented in a photo-friendly manner for visitors to snap a picture together with them.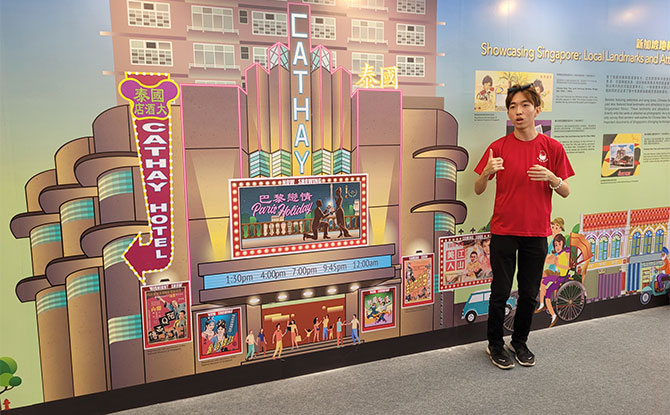 Among the exhibits, visitors can view six digital greeting cards designed by students from NPS International School. There will also be tours led by student guides from Ngee Ann Polytechnic at on the evenings of 20 January and 25 to 28 January, 7.30 pm to 9.30 pm.
Visitors can also look forward to sending an AR e-greeting message specially created for this exhibition. They can also add a personal touch to it by taking a photo with the AR e-greeting before sending out.
Children can have fun expressing their creativity at colouring sessions, which feature artworks by the students from NPS International School.
---
Dahlia Dreams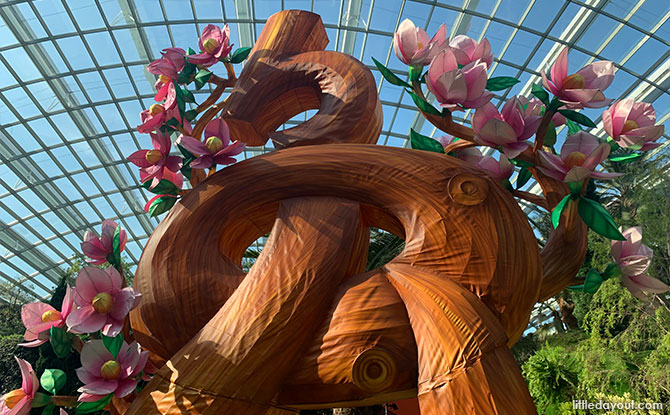 Aside from River Hongbao 2023, Gardens by the Bay will be hosting their annual Chinese New Year floral display which are not to be missed. At Dahlia Dreams, find 100 rabbits at play among more than 2,000 plants. There are 40 varieties of stunning dahlias from Europe, as well as other well-known Chinese New Year flowers such as celosias, chrysanthemums, cymbidiums, guzmanias, marigolds, oncidiums and pussy willows.
Be amazed by other displays such as the 6 metre tall River Hongbao lantern set which makes up the centrepiece of the floral display. It features a majestic magnolia tree in the shape of the word 'Rabbit' in Chinese (兔).
---
Spring Blossoms – Garden Rhapsody Light Show
"Spring Blossoms", the Chinese New Year edition of Gardens by the Bay's signature Garden Rhapsody light and sound show see the lights on the Supertrees 'dance' to a musical soundtrack of well-loved Chinese New Year tunes.
"Spring Blossoms" will run twice every night at 7.45 pm and 8.45 pm from 21 Jan to 29 Jan, except on 28 Jan when there will be only one show at 7.45 pm.
---
Online Activities for River Hongbao 2023
If you are worried about the crowds at River Hongbao 2023, do not fret as there are online activities that you can participate wherever you are.
The 'Greetings and Blessings: Chinese New Year Cards Then and Now' exhibition can be found on the River Hongbao website where visitors can experience the exhibition for themselves in immersive 360-degree views.
There is also a 'Prosperity Trail' treasure hunt where you can stand a chance to win $300 Fairprice Group e-vouchers if you locate all 5 treasures hidden island-wide! Clues to each location will be posted on River Hongbao's TikTok page (@riverhongbao) and you can head to the location and scan a  QR code at each location. 5 lucky participants who finds all 5 QR codes will be selected to win.
Tune in to River Hongbao's official social media pages (Facebook & TikTok) to catch musical and variety performances, Fengshui tips and Zodiac predictions.
---
River Hongbao 2023: Tickets Required?
For the last few iterations of River Hongbao, tickets have been required. This may lead some to ask whether there is a need to make a booking for River Hongbao 2023 tickets.
The good news is that tickets are not required for River Hongbao 2023. Instead, you can simply pop down to pay a visit and enjoy the festivities. However, do expect plenty of crowds.
---
River Hongbao Event Details
Where: Gardens by the Bay, 18 Marina Gardens Dr, Singapore 018953
Opening Hours:
20 Jan: 6.30 pm to 10.30 pm
21 Jan: 6.30 pm to 12.15 am
22 to 28 Jan: 2.30 pm to 10 pm daily
Free Admission
Website