Rink @ Punggol East is the latest attraction to open in the northeast of Singapore. The 12,000 square feet, fully sheltered rink offers a wide variety of rollersports equipment and also provides access to the riverside connector at Punggol.
---
Rink @ Punggol: Sheltered Rink for Those on Wheels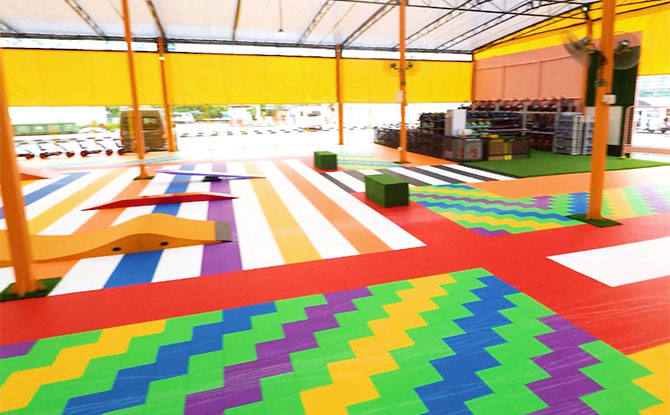 The colourful sheltered rink space at Rink @ Punggol East has a lap length of 150 metres. The bright colours add a pop of fun for those on wheels making their way around the sheltered rink.
And it is not just for skaters. The rink can be used by those on bicycles, scooters, skateboards and pedal bikes too.
Because the rink is fully sheltered, there is no need to worry about wet weather. It can be used whether rain or shine.
There are also humps and pump tracks for an added bit of fun for those who wish to test out their skills.
---
Try Out Different Wheels
Rink @ Punggol East has many different types of wheels available. Choose from an assortment of skateboards that include penny boards and longboards. There are also bikes, including balance bikes for kids. Scooters and inline skates are also available, as are pedal go karts.
What makes spending time at the Rink @ Punggol East more attractive is that you can choose to switch between the different set of wheels as many times as you want.
This keeps things interesting as you try out the various skates, bikes and scooters available.
Inline skating lesson are also available for ages 4 and up.
---
Head Out to the Park on Wheels
Rink @ Punggol East is located just beside the Promenade Riverside Walk Park Connector.
And you can take the wheels out of the rink to explore the close by areas such as Coney Island Park, Lorong Halus Wetland and the Punggol Waterway Park.
The flexibility to take the vehicles out of the rink means that you can get in some outdoor time with family and friends while visiting Rink @ Punggol East.
---
Visiting Rink @ Punggol East
Where: 50 Punggol East (along Tebing Lane), Punggol East Container Park
When: Weekends, School & Public Holidays, 10 am to 8 pm
Website