Since its opening, Future World Singapore at ArtScience Museum has been dazzling visitors with its blend of digital and interactive artworks. From 1 September 2018, this permanent gallery at the Marina Bay Sands museum will feature new digital art pieces which expand the number of installations from 15 to 19.
The 2018 refreshed Future World Singapore at ArtScience Museum is now divided into five galleries – Nature, Town, Park, Space and a new gallery – Sanctuary.
Exhibits and Experiences at ArtScience Museum Singapore
Nature: Transcending Boundaries
The Nature gallery at ArtScience Museum's Future World now showcases teamLab's new concept, Transcending Boundaries. This brings together six artworks in one space to explore the relationship between people and nature, while aiming to eliminate the boundaries between art and the audience.
Within the redesigned Nature gallery, individual artworks not only respond to the presence of museum-goers but also interact with each other.
---
-- Story continues below --
A six-metre tall digital waterfall welcomes visitors to the Nature gallery. The water particles have been digitally programmed and respond to touch.
Digital flowers and butterflies also populate the Nature gallery, providing a reminder of the cycle of life and turn of the seasons.
Town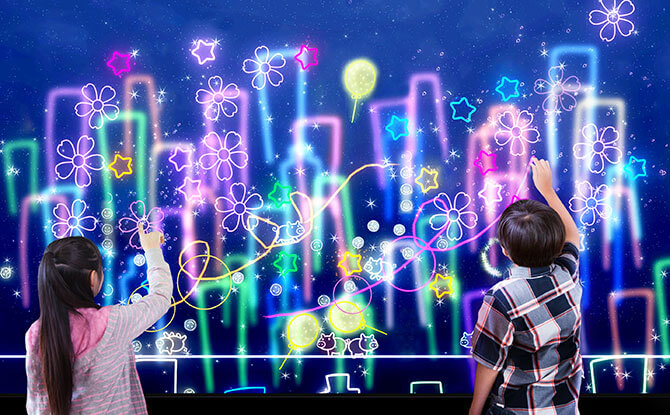 The Town section of Future World: Where Art Meet Science will continue to feature favourites such as Sketch Town, where visitors can create their objects to send into a 3D digital space, and A Table Where Little People Live, a fun exhibit where museum-goers can interact with pixie-sized people who hop and jump around a table.
New to Town is the Sketch Piston – Playing Museum interactive exhibit. This new artwork allows visitors to create music by drawing lines to create a symphony of sounds. Both adults and children can collaborate at this installation to make music together.
Sanctuary
Sanctuary is the new fifth gallery at Future World. The gallery separates the Town and Park galleries. It is a flexible space which will host rotating artworks.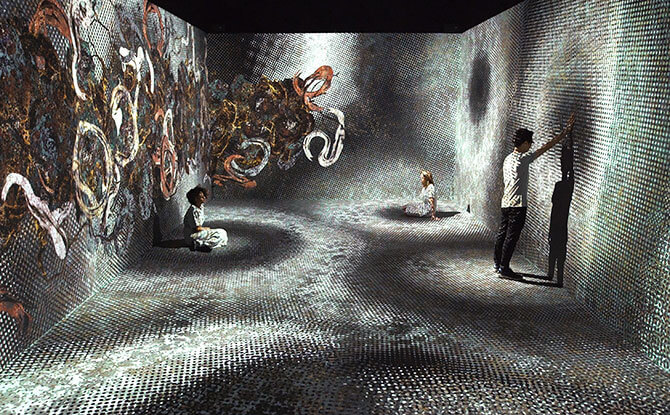 For a start, the gallery will debut one of teamLab's latest works, Impermanent Life: People Create Space and Time, at the Confluence of their Spacetime New Space and Time is Born. Behind this extremely long title is an interactive artwork where cherry blossoms bloom and scatter, representing the cycle of life and death.
Park
At the Park gallery, museum-goers can help to create a virtual world of people and animals. Sketch People & Animals is a dynamic eco-system is populated with visitors' creations which can respond in a variety of actions.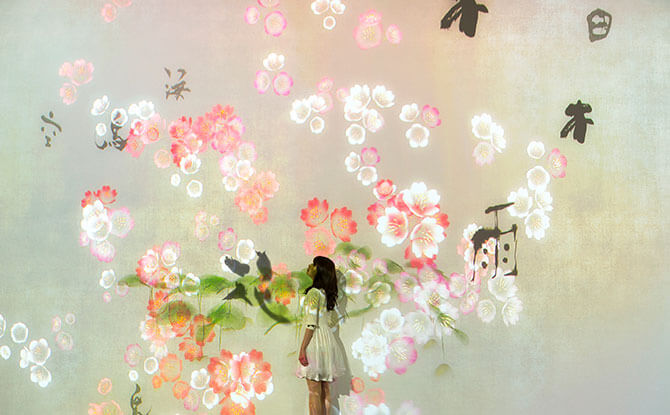 Another new interactive art piece is What a Loving, and Beautiful World. This installation digitally projects Chinese characters on a wall. By touching these characters, visitors can transform them into nature motifs associated with the characters.
Space
End off the visit to Future World at ArtScience Museum at the Space gallery. Soak in the stunning Crystal Universe exhibit which makes use of over 170,000 LED lights to give the illusion of travelling through space.
Refreshed Future World Singapore at Marina Bay Sands' ArtScience Museum
The refreshed exhibits at Future World will be on show from Saturday, 1 September 2018 onwards. Take note that entry to Future World is based on fixed timeslots throughout the day. Tickets can be booked online or from the box office.