When in Thailand's capital with kids, a visit to the Pororo Aquapark Bangkok could be the high point of your trip – literally. The waterpark, designed around Korea's Pororo the Little Penguin and his friends, is located at the rooftop of the CentralPlaza Bangna shopping mall!
While it is a bit further off from the main shopping belt between the Chitlom and Siam Bangkok Mass Transit System (BTS) stations, Pororo Aquapark is still rather accessible. You can take the BTS to Udom Suk Station and then hop on to the CentralPlaza Bangna shuttle bus for a 15-minute ride to the mall.
We did that with our seven-year-old and had a splashing good time! Bonus: It was not crowded even on a weekend!
Four Tall Slides, Multiple Pools, Plus a Lazy River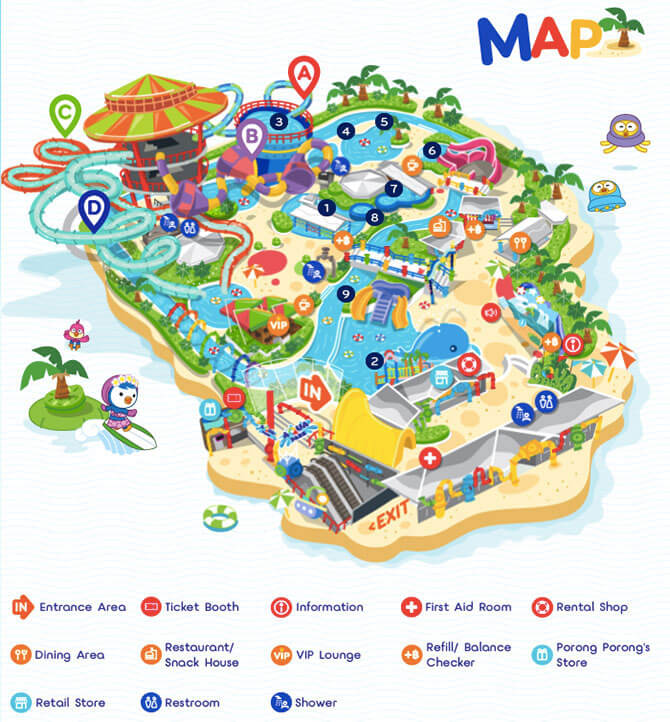 By theme park standards, Pororo Aquapark is not big, occupying just over 10,000 square metres on the rooftop of CentralPlaza Bangna. The most exciting part of the park, at least to our avid little slider, was the tower from where the four tall slides originated.
We must have climbed the six flights of steps up to the top of the slides – lugging our inner tube floats – a million times! And each time after we splash landed, our little one would jump out of the pool saying, "Let's slide again!"
Tong Tong's Magic Slide
For me, the most unique experience would have to be Tong Tong's Magic Slide, where there are two landing pools in one exhilarating ride – one elevated and the other at ground level! Don't forget to take in the view from the first landing pool before sliding down to splash into the second one!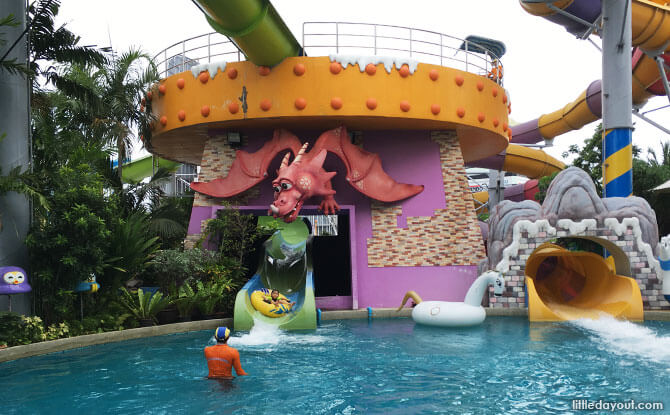 Pororo's Funnel
The slide with international award honours at the waterpark is Pororo's Funnel. It is a two-person ride on a double tube float that gives you the sensation of being tossed about at sea, in addition to the thrilling twists and turns.
It was fun and I screamed my way down as the "waves" changed our orientation and I was left speeding down backwards. No wonder the lifeguard had me facing forward and the little one backwards at the start! (Note: those who are prone to motion sickness may want to sit this one out.)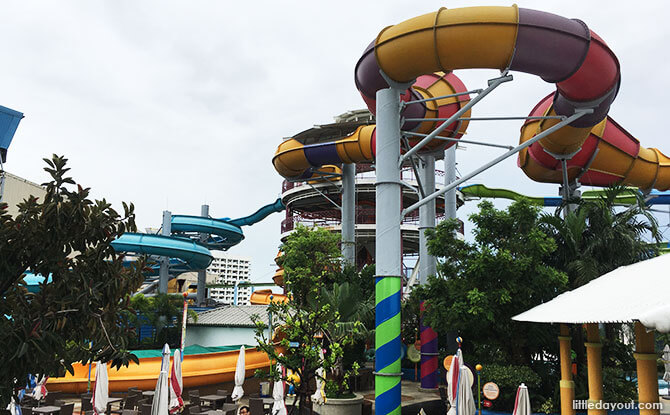 Eddy's Adventure
Eddy's Adventure was the first tall slide that the little one went on, after building up her courage on the shorter ones. It felt similar to Tong Tong's Magic Slide (minus the pit stop landing) and snakes around a bit more.
Petty's Speed Way
We did not try one of the tall slides, Petty's Speed Way, as it is a non-tube float ride and our daughter was not confident going without hers.
Eight Pools And A River
Besides thrill rides, Pororo Aquapark also offers more leisurely experiences at its many water play areas consisting of eight pools and a lazy river.
Poby's Family Pool comes with two fun slides, one meandering and the other wide for more people to slide down together.
Younger children will probably prefer to play at Pororo's Playground Pool, where climbing structures, short slides and water sprinklers and buckets will get them all excited.
We warmed up and cooled down floating along the lazy river that ran around the waterpark, and had fun relaxing and chit chatting.
Many Lifeguards On Duty
One thing that we really appreciated at Pororo Aquapark was the large number of lifeguards actively watching over us. They were stationed at the top of the slides, at the elevated landing pool, at the pools on ground level especially where the slides ended…. The lifeguards were not seated high up, but were in the water, making sure that every thrill seeker was safe.
On one of our daughter's rides down Tong Tong's Magic Slide, she somehow capsized upon exit, going under her tube float. The guard on duty attended to her rather quickly and got her out without trouble.
Excellent Facilities
Another thing that we liked about the waterpark was its extremely clean toilet and changing room. The staff on duty would mop away any water that dripped on the floor immediately, and the shower rooms were all equipped with soap and shampoo.
We rented a small towel and locker for 40 baht each, bought a pack of snacks, and paid for these using money we stored in our RFID wristbands.
For those who do not have their swim gear with them, selected styles are sold at Pororo Aquapark. A café makes sure that no one goes hungry at the waterpark, though we did not eat there.
We spent nearly four hours at Pororo Aquapark, from 10.30am till 2.15pm, and it was still not enough for our little one. She would have played all the way till the closing hour if she had her way!
Pororo Aquapark
Central Plaza Bangna (6th floor)
585 Bangna-trad Rd
Bangna, Bangkok 10260
Opening hours: 10.30am – 7pm (Mon – Fri); 10am – 7pm (Sat, Sun and Public Holidays)
Ticket prices: Free for child below 90cm; 280 baht for child 90 – 120cm; 280 baht for senior 60+ years old with ID, 400 baht for adult
Note: Children need to be at least 120cm to be able to take the tall slides.
Website