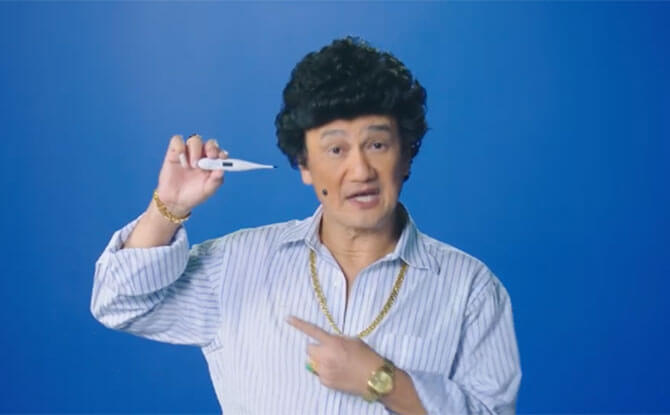 In his trademark style, Singapore's most well-known contractor says, "Hello, I'm Phua Chu Kang. Today, I'm not here to tell you jokes or make you laugh…" but you know he is going to.
Phua Chu Kang Joins The Fight Against COVID-19
In video titled "Phua Chu Kang Gets Serious", Phua Chu Kang provides pointers on how to stay safe against COVID-19.
Comedians Get Serious on COVID-19 (English)

"SARS is the virus that I just want to minus!"

Guess who's back, but this time to talk about COVID-19!

Watch the video to find out how we can take care of ourselves and look out for one another! Share the video, not the virus! ❤❤❤

For more updates on COVID-19, visit go.gov.sg/covid-19 and MOH's website www.moh.gov.sg

#SGUnited #TogetherWeCanOvercome

Posted by Gov.sg on Friday, 14 February 2020
He shares about the need to be responsible for our own personal health by practising good hygiene, including washing hands with soap. He even makes it a point to give special attention to his long finger nail on his right pinky finger.
He also reminds viewers to check their temperatures twice a day, throwing in a "hot" joke for good measure.
As the best in Singapore and JB, he cannot help but admire a sturdy window even while reminds everyone to keep their homes well ventilated.
He also shares tips on being socially responsible, such as covering the nose with tissue if sneezing or coughing.
The video ends off with him encouraging his fellow Singaporeans that "together, we will get through this."
Unfortunately, there is no rap or singing. If Phua Chu Kang is saying it so seriously, we better listen!
Phua Chu Kang's Sars Video
This is not the first time that the sitcom character played by Gurmit Singh has appeared in the fight against a virus outbreak. During the Sars period in 2003, he appeared in the catchy Sar-vivor Rap, which you can watch below.
A nostalgic video in 2003 urging Singaporeans to combat SARS. By Phua Chua Kang (PCK), Singapore's favourite comedian.

Posted by Singapore on Wednesday, 15 April 2009
Don't play, play!