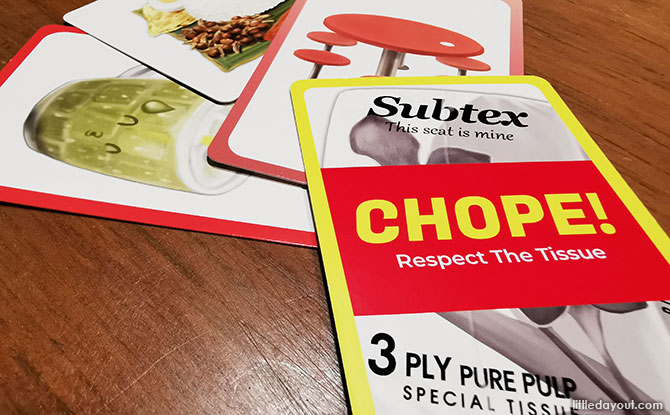 Who knew the culture of choping tables with tissue paper would be encapsulated in a card game?
Origame founder Daryl Chow developed this card game – Chope – based on our Singaporean habit of placing tissue packets on hawker centre or coffee shop tables.
This game is easily played by young children and is a fun family game that challenges one's speed and dexterity.
---
How to Play Chope Card Game?
This game reminds me of the classic game Snap in some ways and UNO as well as you strategise how to gain the most points.
Each player is given one "Chope" or "Siam" card. "Chope" means reserving the table, while "siam" means to avoid in Hokkien.
First, the whole deck of cards is shuffled and placed in the middle, facedown. This Hawker Centre deck consists of table cards, mynah cards, cards with mains like Chicken Rice, Nasi Lemak, Nasi Briyani as well as sides like Sugarcane drink and Pandan Cake.
Each player take turns to flip the cards open. The choice to stop and keep the cards is entirely the player's, and as many cards can be flipped over until a table, or mynah or repeat card is shown. If a table card is shown, the first to chope the table by placing the tissue paper card onto the table and saying "chope" will get to keep the table.
If a mynah card is shown, the last to place the "siam" card down onto the mynah card and yell "siam" has to discard one card.
If a player flips open two similar cards, all the cards shown have to be discarded except one card of player's choice.
To gain points, get as many table cards as possible. Each main must be paired with a table, each side must also be paired with a main. Otherwise there will be penalties for unpaired mains and sides. Yes this is the perfect opportunity to teach the lesson of food wastage.
The game ends once the Hawker Centre deck of cards have been "distributed". Then scores are tabulated. There are scores for empty tables, tables with mains and sides as well as tables with just mains. Leftover unpaired mains and sides mean points will be deducted.
---
Chope Card Game Review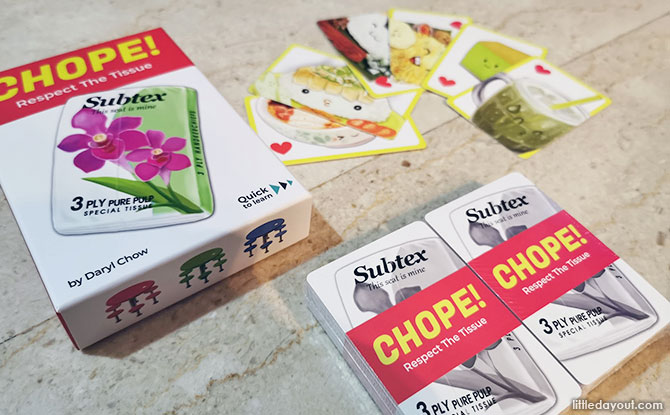 It is a really easy game to learn and play, and a quick one to quench any game-playing appetite. We loved how the theme was familiar to all who love hawker food. Whether it's laksa or mutton briyani, you can choose the dishes to add to your tables!
This was also a game to hone hand-eye coordination skills and will encourage those who tend to be more careful to act quickly. Otherwise cards may be lost from the deck or inadequate pairings occur. It's a game for young and old, three generations can participate pretty easily.
We were met with peals of laughter during the course of the game and some competitiveness also got us fighting for tables. Perhaps the game would be fairer if there were specific rules about where exactly to flip the cards open, but this was left to our discretion.
Since it is a fool-proof game, it doesn't take much practice to know that the more tables, the merrier and one must always be ready to "chope".
---
Are you ready to Chope some Tables?
Whip out the inner aunty in you and get ready to chope some tables and siam some mynahs with Chope card game. It is sure to inject some fun and laughter into the family bonding time. Purchase your game here. Sign up to be a member to receive promo packs upon your purchase!