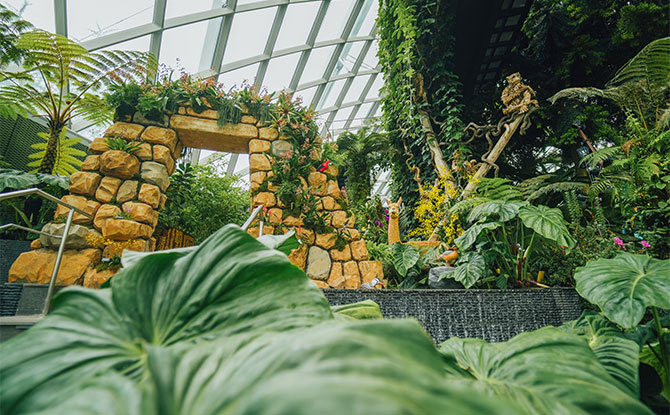 Be transported back to the Inca Empire in the 15th century and journey along the Inca Trail at the Orchids of Machu Picchu, a new display in Gardens by the Bay's Cloud Forest, which will be on till 18 February 2024.
---
Orchids Of Machu Picchu at Cloud Forest
This new flower display showcases more than 30 unusual orchid species and hybrids found in Machu Picchu in Peru.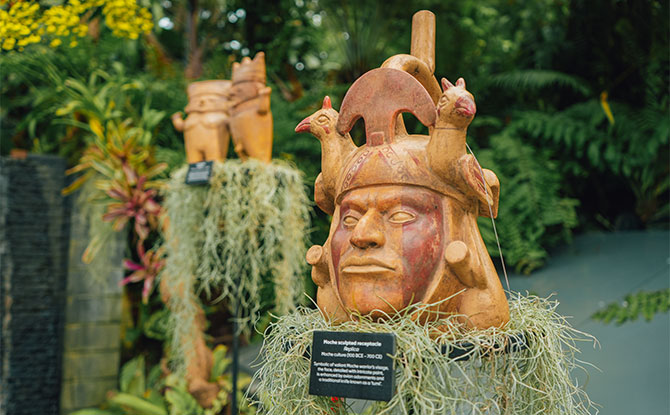 ---
-- Story continues below --
While many may be familiar with Machu Picchu as an archaeological marvel, fewer will know that an abundance of orchid species can be found at the the UNESCO World Heritage site situated in the Andean cloud forest.
Visitors to the Orchids of Machu Picchu at the Cloud Forest will get to know some of them.
---
Unusual Orchids from Peru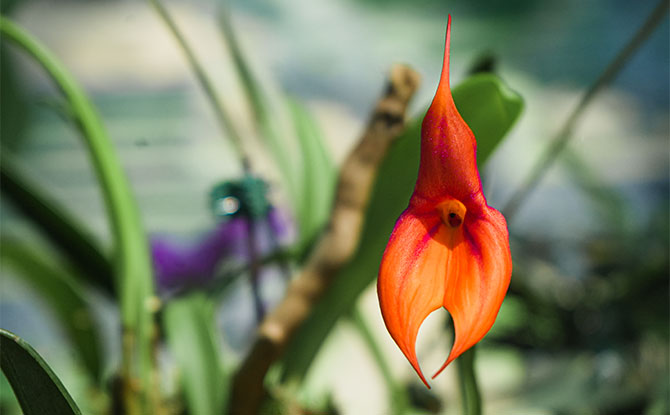 Amidst the replicas of ancient civilisations at the Orchid of Machu Picchu, be sure to look out for the Masdevallia veitchiana, also known as the "Waqanki" orchid – translated to "you will cry" in the Quechuan language.
Thee vibrant orange and fuchsia-hued orchid with drooping sepals is named for the tears that an Inca princess shed for her warrior beloved who left to fight in a war.
Other unique orchids that you can find at Orchids of Machu Picchu include Epidendrum cylindrostachys, an epiphytic orchid with beautiful miniature yellow and purple-spotted flowers. It looks absolutely beautiful but smells to high heaven.
Another highlight is the Phragmipedium caudatum, a lady slipper orchid with unusually long petals that can grow up to 30 cm in length.
In addition to the more than 30 live orchids, another 80 species of orchids that have been carefully preserved in glass resin will be showcased in an "Orquideario" (Spanish for orchidarium) spanning 5 metres across.
The reason why these orchids are displayed this way is because their export out of Peru is prohibited and the preserved collection is the best way for people to see them.
---
Experience the Historical Significance of Machu Picchu
The orchid display is a collaboration between Gardens by the Bay and the Embassy of Peru in Singapore. It was launched on 18 August 2023 by Minister in the Prime Minister's Office and Second Minister for Finance and National Development Indranee Rajah.
Ambassador of Peru to Singapore His Excellency Carlos Raul Vasquez Corrales said, "Visitors to the Orchids of Machu Picchu display can experience the historical significance of Machu Picchu, which stands not only as a testament to the Inca civilisation's advanced understanding of engineering, agriculture, and astronomy, but also as a culmination of centuries of preceding cultures. The replicas of artifacts from these cultures that are on display are a homage to the rich and intricate tapestry that has been woven together to create the remarkable Inca civilisation. We also wanted to give a sense of the diverse flora and fauna of Machu Picchu, many of which are endemic to the region. The lush vegetation and unique microclimates of Machu Picchu have given rise to a rich botanical garden, where the orchids at the display are but a glimpse of that diversity."
View the Orchids of Machu Picchu at the Cloud Forest. Usual admission charges apply.
If you love orchids, you may also be interested in the orchid conference that is taking place in Singapore, or if you are looking for things for the kids to do during the school holidays, you may be interested in these programmes.