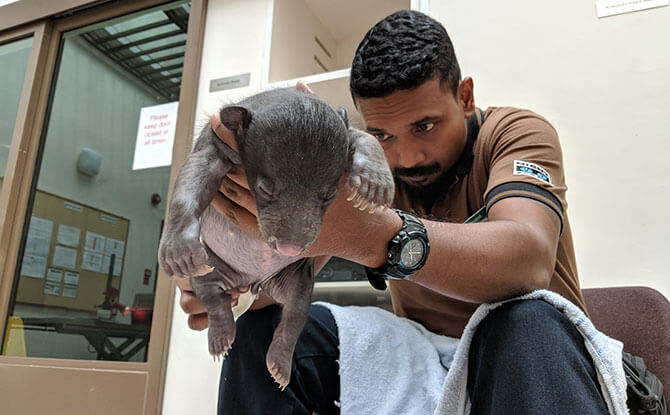 Night Safari welcomed two new residents in mid-September 2018 – a pair of twin sloth bear cubs.
New Twin Sloth Bear Cubs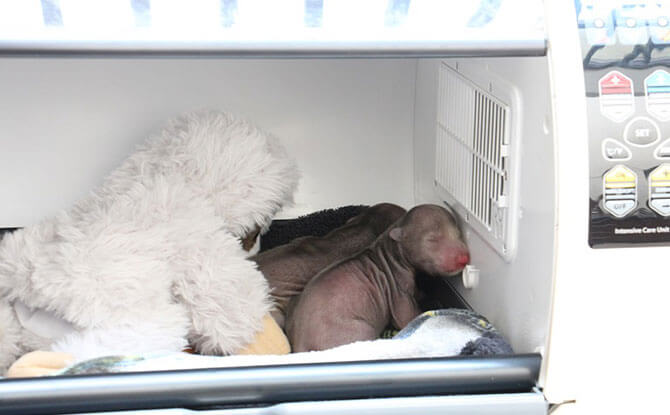 The two new sloth bear cubs were born a day apart to 17-year-old Helga and 14-year-old Krishna at the Night Safari. As the Helga is an inexperienced mother, the twins are being hand-raised by the animal care team to give them highest chance possible for survival and have passed the first month mark.
Wildlife Reserve Singapore staff like Dr Abraham Mathew, Assistant Director, Veterinary Services, have been providing round-the-clock care for the newborns.
Part of the care includes feeding the cubs with milk that has been specially formulated with protein and fat to be close to a sloth bear mum's milk. They are also fed in a similar fashion as a mom sloth bear cub would do – by being held around the check with lifted heads to minimise air bubbles in teat.
---
-- Story continues below --
Dr Abraham said, "The cubs have settled nicely under our care, and having each other's company has definitely helped to calm them down. While we have done everything possible to give them a head-start in life, in the longer term we hope to re-introduce the cubs to their mom. It might be challenging and would take time, but we will help them along."
Sloth Bears In The Wild
Cubs born in the wild would typically spend the first three months of their lives in a dark den or burrow where there is a relatively constant temperature and humidity. At the Night Safari, similar conditions are being replicated for the two new sloth bear cubs by keeping them in a high-tech incubator.
Sloth bears are native to India, Sri Lanka and Nepal. They can grow up to two metres in length and stand one metre high. Fully grown, they can weigh up to 140 kg. One of the most well-known sloth bear characters in children's literature is Baloo the bear from Rudyard Kipling's The Jungle Book.
Night Safari's sloth bears are part of an international managed breeding programme with the European Association of Zoos and Aquaria, of which Wildlife Reserves Singapore a member.
Sloth bears are listed as 'vulnerable' under the International Union for the Conservation of Nature (ICUN) Red List of Threatened Species.