Known for being one of Singapore's first microbrewery restaurants, Brewerkz recently released a new lunch menu that we were very excited to try. We visited the Riverside Point outlet, located along the iconic Singapore River and had lunch with a view!
Brewerkz's New Lunch Menu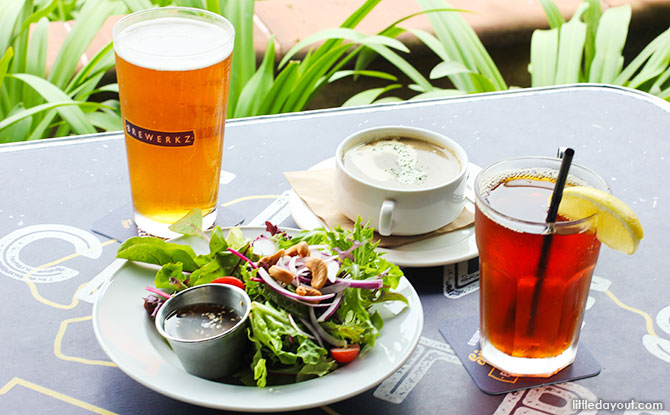 We tried their set lunch promotion which comes with either soup or salad, a main course, a soft drink and a scoop of ice cream, all for $16.50. Customers also have the option of adding on a handcrafted beer for $5!
For Starters
We ordered the soup and the house salad with Asian vinaigrette. The sauce complemented the salad and gave it a sweet and salty finish. An alternative to the house salad is the Caesar salad. The mushroom soup was very creamy and smooth. Our drink choice was iced tea as well as a Spartan Beer. The beer had a citrus and refreshing taste with strong notes of peaches and lychees.
The Main Event
Options for mains included a beef burger, a pulled pork sandwich and pizza. Additionally, there were new items on the menu such as Lamb Pita Pockets (which had chunks of roasted leg of lamb and topped with feta cheese crumbles, arugula and herb spice dressing) and Vegetarian Lasagna made with cubes of carrots, onions and celery baked between sheets of eggplants and cheese. They both sounded delicious but we settled on the Smoked Salmon Burger as well as the Grilled Chicken Taco, which were apparently crowd favourites.
---
-- Story continues below --
Smoked Salmon Burger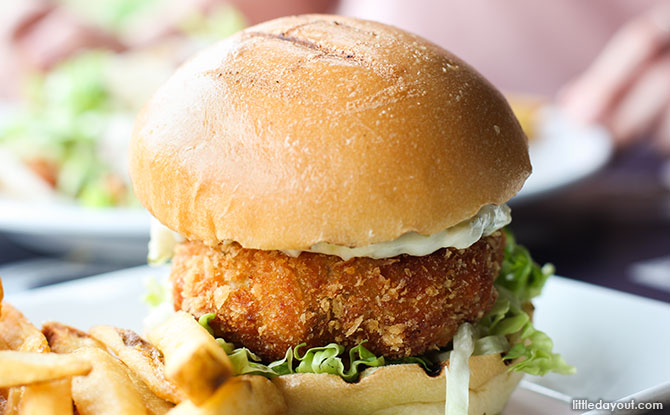 On biting into it, we loved the bun which was crisp on the outside and fluffy on the inside. The smoked salmon patty had chunks of salmon and generous portions of potatoes, onions and scallions. We also really enjoyed the fries which were fresh and had the potato skins left on it too.
Grilled Chicken Tacos
The Grilled Chicken Tacos were bite-sized. The chicken was flavorful and well-seasoned. We did find that the dressing was overly generous but this was easily solved by taking some it off to prevent it from overpowering the flavour of the chicken.
Dessert
Lastly, we finished off with dessert, which was ice cream. The strawberry ice cream had actual strawberry bits in it, as well as their chocolate ice cream that reminded me of one with cake bits.
Overall, Brewerkz's new set lunch menu is a good option for an enjoyable meal. You can find more dishes and the menus on their website here.