The National Day Pack 2020 collection will commence from Monday, 20 July onwards. Singaporean and PR households can collect the Singapore Together Pack at community centres, community clubs and residents' committee centres at various dates and times.
---
When and Where to Collect the National Day Fun Pack 2020
This year, the National Day Parade 2020 is being brought into homes with a three-part celebration taking place on 9 August. As part of the NDP2020, Singapore residents will be able to receive an NDP fun pack, also known as a Singapore Together Pack. Each Singapore household can collect one pack.
The NDP fun pack can be collected from all Community Centres during the two-week period from Monday, 20 July, till Sunday, 2 August 2020.
National Day pack collection will also be available from Residents' Committee centres from Monday, 20 July, to Sunday, 26 July 2020.
---
-- Story continues below --
The NDP packs collection timing will be from 10 am to 6 pm, excluding public holidays.
To collect the packs, residents will need to present their NRIC at the collection centres.
---
SG Together Pack Go Where

For those who are unsure about where to collect the NDP2020 fun packs, there is a website, SG Together Pack Go Where.
By entering in your postal code, you will be able to locate a nearby collection centre.
---
What's Inside the NDP 2020 Pack?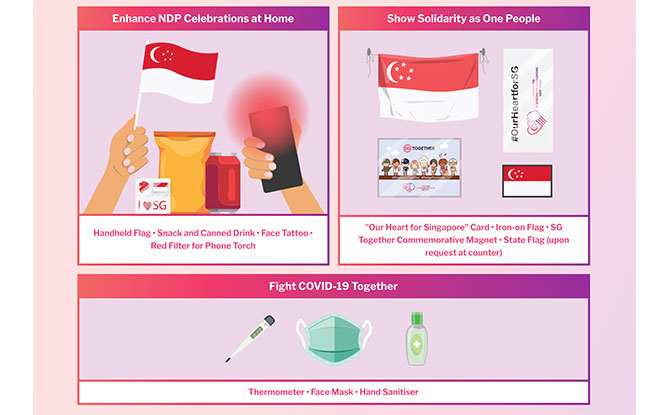 In this year's NDP 2020 pack, there will be a handheld national flag as well as items such as iron-on patches, face tattoos and pledge card.
Other items include a thermometer, bottles of hand sanitiser, surgical masks and reusable masks, and snacks.
The bag that the items come with will feature artworks done by artists who had participated in a competition earlier in the year.
Those who wish to get a Singapore flag to hang up at their homes can also ask for one at the collection centres.