There are many different events and activities being held in conjunction with National Day 2018 in Singapore. Whether you are looking to reconnect with Singapore's past or simply have a good makan with family and friends, there is always something for everyone on our Little Red Dot.
Here are some ways to celebrate National Day 2018 in Singapore.
Things to Do for National Day 2018 in Singapore
---
Sports Hub National Day Fiesta
Take part in "Workout Lah!", a cardio-fusion dance programme or test how Singaporean you are in a Kopi Quiz and Local Heritage Bingo at the Sports Hub National Day Fiesta. Kids aged 7 and below can participate in a confidence-building Junior Super Warriors Challenge obstacle course. There will also be workshops and other fun activities, along with a live telecast of the National Day Parade.
---
-- Story continues below --
---
National Museum's National Day Open House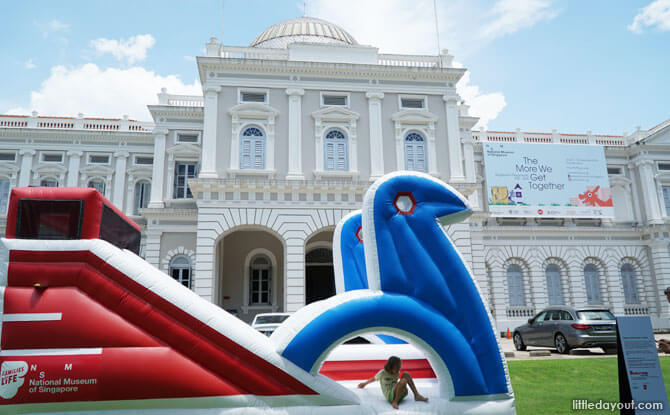 The bouncy castles will be out at the National Museum's front lawn on National Day from 10 am to 12 pm and 2.30 pm to 6 pm. Also, look out for a pop-up adventure playground made from everyday objects at the Banyan Tree. Families can participate in a colouring contest that revolves around a Singapore icon and enjoy other activities such as balloon sculpting, literary recitals, storytelling sessions and more. If you are looking for things to do during National Day 2018 with kids, the National Museum is definitely a place to consider stopping by.
---
Go on a WILDerful Singaporean Trail and Enjoy Discounts to Wildlife Reserves Singapore Parks

Have an encounter with native wildlife such as the oriental pied hornbill, lesser mousedeer and Asian small-clawed otter on the WILDerful Singaporean Trail at Jurong Bird Park, River Safari and Singapore Zoo. This activity takes place from 9 to 12, 18 and 19 August 2018. Complete the activities to collect an exclusive animal pin. Visitors can also look forward to special National Day Animal Presentations at the three parks.
In the month of August, local residents visiting Singapore Zoo will also be able to enjoy a 53% discount on admission to either Jurong Bird Park or River Safari with their purchase of Singapore Zoo tickets. Get full details here.
---
National Day at Singapore Philatelic Museum
Stop by Singapore Philatelic Museum on 9 August to view the Little Prince exhibition. Activities being held as part of the Museum's National Day Open House include a Fun Quiz with prizes to be won and a dress-up booth. Get to meet a Guide Dog and watch CJ the Bubble Girl perform too. Get more details here.
---
Step Back In Time Through Watercolours
Pay a visit to National Gallery Singapore's latest exhibition Lim Cheng Hoe: Painting Singapore and journey back to Singapore in the 1930s to 1970s. With over 60 of Lim's works on display, the exhibition showcases the way he captured Singapore's changing landscapes in watercolour over four decades. The exhibition opens on 2 August 2018. Find out more.
---
Go on an Adventure with Red the Fighting Fish
Visit the Sun Yat Sen Nanyang Memorial Hall on National Day 2018 to learn about Singapore's pioneers. Those looking for things to do during National Day 2018 will find activity stations for kids featuring Red the Fighting Fish, and craft activities such as making your own SG badge. Interactive storytelling sessions will also be held in the afternoon. Get more information here.
---
We Are Singapore at Sentosa
Pose with iconic Singaporean dishes at the Merlion Plaza. Enjoy the beats of pots and pans in a performance on the weekends at 3.55 pm, 5.25 pm and 7 pm from 20 July and 26 August at the Beach Station and don't be surprised if you come across food-themed Walkabout Characters too. Read more about what's happening at Sentosa here.
---
Book a National Day Staycation
Want to chill out and celebrate over National Day 2018? Book a stay for the family at one of the hotels around the Marina Bay area and catch the fireworks. View a list of staycation packages available for Singapore's National Day here.