See Singapore through the eyes of one of the country's pioneering watercolour painters at the National Gallery Singapore exhibition Lim Cheng Hoe: Painting Singapore.
Opening 2 August 2018, this exhibition presents over 60 works by Lim Cheng Hoe (1912 – 1979) along with personal artefacts that provide insight into his work.
Without formal tertiary art education, Lim mastered his craft as he read publications and interacted with other artists. Together, Lim and his fellow artists would travel to locations around Singapore every Sunday in search of sites to paint their watercolour landscapes.
By the time he passed away in 1979, Lim had left behind more than 300 paintings and 20 personal diaries.
---
-- Story continues below --
Landscape In Watercolour
Born in Xiamen, China, Lim moved to Singapore in 1919 at age 7. He worked as a clerk in the Gas Department of the Public Works Department which eventually became the Public Utilities Board. He retired from the Board in 1967.
In 1969, Lim, along with fellow watercolourists such as Khor Ean Ghee, who designed the iconic dragon playgrounds, founded the Singapore Watercolour Society. Lim is now acknowledged as one of the finest watercolour artists of his generation in Singapore.
His works captured Singapore's changing landscape from the 1930s to the 1970s, a period of rapid development.
Subjects of his watercolour paintings included kampongs, the Singapore River, fishing communities and even construction sites. Together, they convey a sense of place and circumstance as Singapore underwent urbanisation.
Highlights at the Exhibition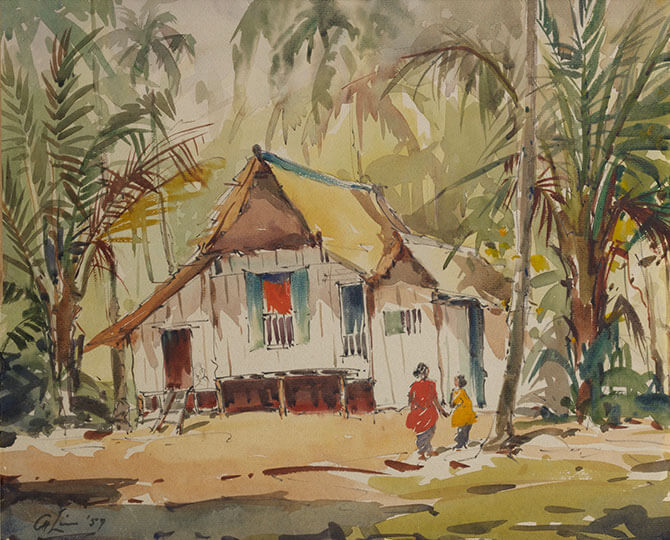 Some of the highlights of
Lim Cheng Hoe: Painting Singapore
include an untitled work of a Kampong House with Two Figures (1957). This work shows a rustic kampong with two figures in accented colours in the foreground.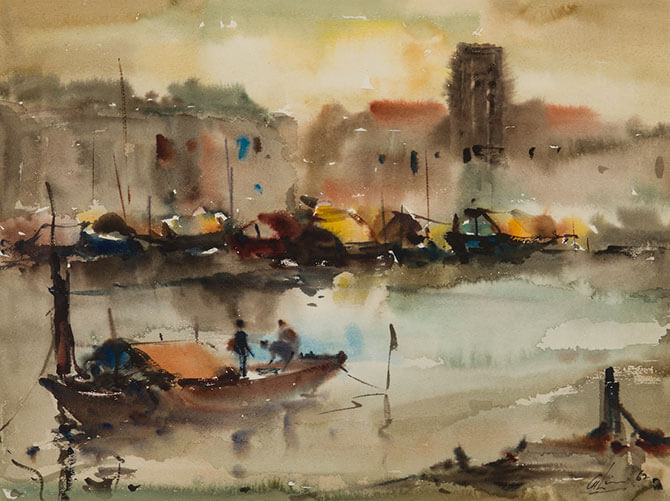 Singapore River (1962) depicts a scene from the days when lighters still plied the river. In this piece, Lim captures the effect of light on the river and masterfully uses watercolour to recreate the reflections of the water.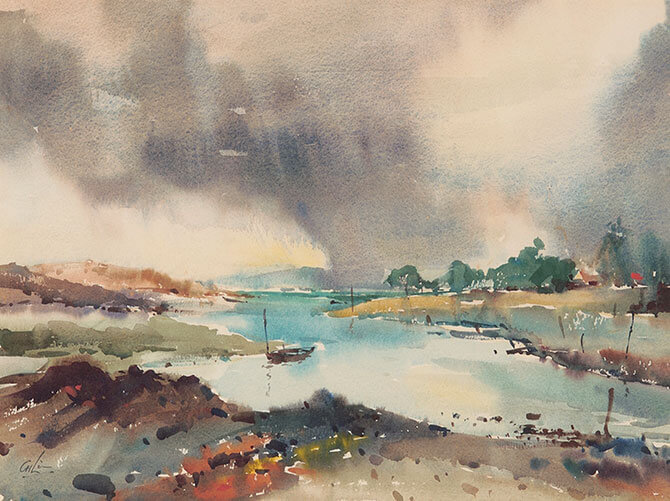 The Estuary (1970) shows dramatic rain clouds against a grey landscape and represented a change in Lim's style from the 1960s.
Lim Cheng Hoe: Painting Singapore Exhibition, National Gallery Singapore
"This exhibition is a celebration of the life, dedication and practice of Lim Cheng Hoe as a largely self-taught artist. In the exhibition, we draw deeply from his diaries as a way of providing an entry point for visitors to engage with the artistic language that he learnt and experimented through his time under Richard Walker and subsequent informal education." said Qinyi Lim, curator of the exhibition.
Lim Cheng Hoe: Painting Singapore will be held at the City Hall Wing, Level 4 from 2 August 2018 to 9 June 2019. It will be open from Saturday to Thursday, 10 am to 7 pm, and on Fridays, 10 am to 9 pm.
Find out more about Lim Cheng Hoe: Painting Singapore exhibition at the National Gallery Singapore website here.