National Day 2016 is just around the corner. As Singapore turns 51, it is also a chance to head out over the weekend and take in the many things there are to do in celebration of National Day. From makaning together, family-friendly games with a twist and performances that will entertain, there are activities and events galore taking place this upcoming weekend and for the month of August.
Events
Families for Life National Day edition picnic
Celebrate National Day with a picnic on the roof of the Marina Barrage. Sing-along to your favourite National Day songs, enjoy games as a family and catch an outdoor screening of Long Long time Ago Part 1. Organised by the Families for Life Council. Admission is free.
6 August, 5 pm to 9.30 pm, Marina Barrage
Website
GetActive! Singapore & Carnival
Play games and celebrate Singapore's National Day with sporty activities around the island. There are a variety of sports challenges that can be found at the heartlands and a Sports Carnival with an inflatable obstacle course for kids at Gardens by the Bay. What's more, admission to all ActiveSG pools will be free on 6 and 7 August.
Till 7 August; Around Singapore.
Website

GetActive! Singapore Carnival takes place on 7 August, 4 pm to 7.30 pm at Gardens by the Bay.
Singapore Giant Games Festival
Games get supersized at the Singapore Giant Games Festival. Don't miss a 2-metre dartboard, 7-metre long pool table and badminton with an oversized shuttlecock. This event aims to raise the awareness about Persons with Disabilities and foster a more inclusive society.
5 to 6 August, 11 am to 7 pm; The Red Box
Website
PlayLAH!
Celebrate the National Day by playing the day away at PlayLAH! Organised by SingEx, kids can look forward to bouncy castles, carnival games, kampong village, a big carnival swing and more. Get busy with ketupat making, 3D crafts and more at the crafts zone. There will be food and a live NDP screening on 9 August. Admission is free.
6 to 9 Aug: 12 pm to 9 pm, Singapore Expo Hall 5
Website
Sentosa Celebrates National Day
Head to Sentosa in the month of August to celebrate Singapore's National Day. Catch the Merlion dressed up in lights every evening and barbeque under the starts at the Port of Lost Wonder on 9 August and watch a live screening of the National Day Parade.
Till 28 August on various dates and various times; Sentosa
Website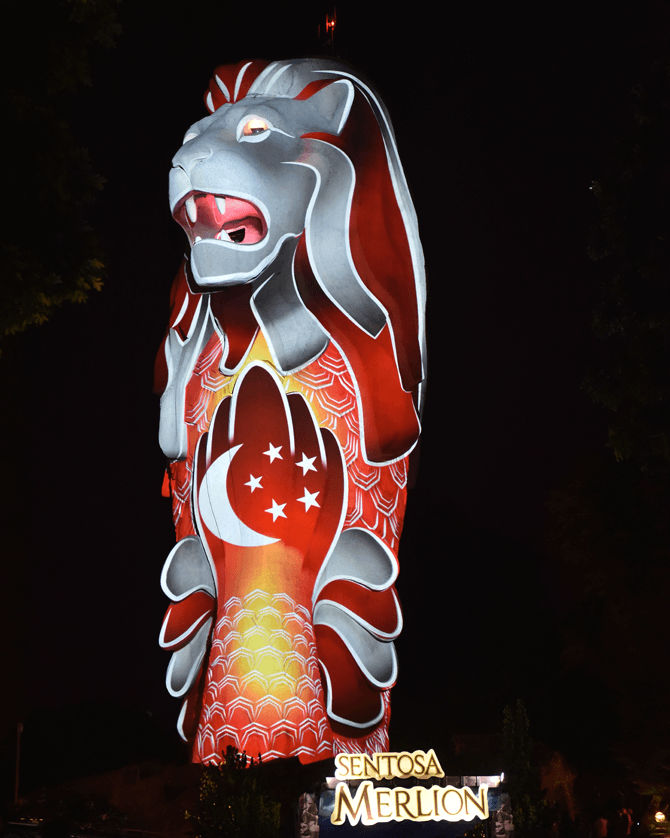 Esplanade National Day Celebrations & Festival Village
Celebrate Singapore at the Esplanade with performances, crafts and a festival village. Be entertained by Nusantara Arts, the swirling sounds of the Women Police Pipes & Drums, and many others. Wow at the towering cardboard sculptures and even assemble your own miniature versions to take home. Kids can join in storytelling sessions with Pramila Pam at PIP's PLAYbox and moms and dads can shop at the waterfront festival village.
National Day Celebrations: 7 to 9 Aug; Various timings.
Esplanade Festival Village : 5 to 9 Aug; 5 & 8 Aug: 3 pm to 10 pm; 6, 7, 9 Aug: 12 pm to 10 pm
Website
one-north Festival
Explore your inner geek at the inaugural one-north Festival taking place from 5 to 6 August. Go painting with pipettes and other science-lab equipment, play video games with your mind and hop into a driverless car. Come meet the future at one-north.
5 to 6 August, 11 am to 6 pm; Fusionopolis One @ one-north
Website
Open Houses
National Day @ SYSNMH
Meet the pioneers from early Singapore at a storytelling session, The House of Patriots, on 9 August at 2.30 pm and 4 pm at the Sun Yat Sen Nanyang Memorial Hall. Kids can play-pretend as young journalists and scoop interesting facts about Singapore's early Chinese newspapers.
9 August, 10 am to 5 pm, Sun Yat Sen Nanyang Memorial Hall
Website
Singapore Philatelic Museum Open House
Learn about Singapore's journey as a nation through stamps at the Singapore Philatelic Museum's National Day Open House. Craft a celebration cone and watch demonstrations on leather crafting by experts, Atelier Lodge. The Chinese Theatre Circle will also be present to demonstrate of traditional Chinese Opera.
9 August, 10 am to 7 pm
Website
Tanjong Pagar Railway Station Open House
Chung in to the historic Tanjong Pagar Railway Station on National Day. Open on 9 August from 9 am to 6 pm, the public can visit the platforms and hallways where passengers used to shuttle hurriedly toward the trains. There will also be a selection of photos on display at the Open House.
9 August, 9 am to 6 pm
Website
National Gallery Singapore National Day Open House
At the National Gallery Singapore, kids can make a personalize time capsule at the Keppel Centre for Art Education to preserve their treasured memories while admissions to all galleries are free on 9 August.
9 August, 10 am to 7 pm, National Gallery Singapore
Website
Science Centre Singapore Open House
Enjoy free admission for all Singaporeans and Permanent Residents on 9 August. Watch as the Science Centre's musical tesla coil pay homage to Singapore with some of your favourite National Day songs. Conceptualised and created by US-based Singaporean electrical engineer Gao Guangyan, the musical tesla coil produces sparks of up to three metres, with musical tones varying with each spark.
Separate admission to other gated exhibitions and attractions apply.
9 August, 10 am to 6 pm, Science Centre Singapore
Website
National Day Discounts
ArtScience Museum National Day 2016 Promotion
On 9 August, visit the ArtScience Museum and get an all-access ticket and Van Cleef & Arpels: The Art Science of Gems + Big Bang Data combination ticket at 51% off. Valid only on 9 August 2016 at the ArtScience Museum Box Office.
Singapore Zoo and River Safari – 51% Off Celebration Combo
To celebrate Singapore's National Day, for the month of August 2016, make it a dual park outing with a 51% off Singapore Zoo and River Safari combo ticket for same day admission. Visit two parks at the $30.90 for adults (usual price $63) and $20.60 for children (usual price $42).
KidZania Singapore
Walk-in tickets at KidZania for kids is $51.00 instead of the usual $58.00. This National Day promotion is valid from 1 August to 2 Sept, Mondays to Fridays only for walk-in customers. Special activities taking place from 5 to 10 August inside KidZania include childhood games, a National Day City Clock Dance and National Body Art.
Happy National Day, Everyone!