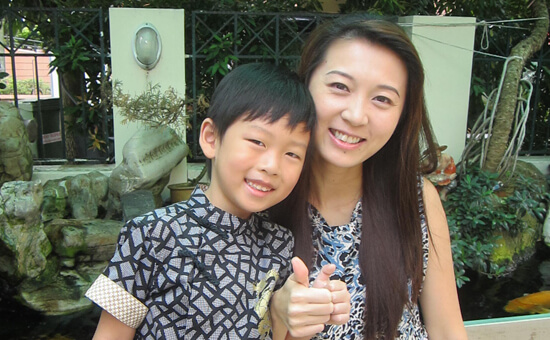 KathyAnn is the owner of Damien Little, a clothing line for toddler boys. This ex-Merchandising Manager combined her love of fashion with her love to dress up her little boy, Damien, and created her very own line of boy's clothes.
Little Day Out caught up with KathyAnn to find out how her business got started and what inspires her every day.
You can meet KathyAnn and view her Damien Little clothing range, as well as other Mumpreneurs at the Mama's Bazaar & Family Fun Weekend taking place on 28 and 29 September 2013.
Tell us about your business and what inspired you to start it up?
Damien Little designs shirts for toddler boys aged 2 to 5 years old. Our shirts are greatly inspired by traditional Chinese clothing. Chinese elements are given a modern feel through a choice selection of fabrics and prints. By mixing Chinese elements with contemporary designs, all shirts can be easily matched with denim jeans or bermudas, making them possible to be worn at anytime of the year.
I enjoy dressing my son up. One day, while I was shopping at a reputable kid's apparel store, I asked the sales assistant where I could find the boys' selection. She pointed to one wall space and I had to look around the entire shop to find it. ¾ of the shop was filled with girl's apparels! Seeing that there was such a limited variety of apparel for boys and with my son as my model and muse, I thus decided to foray into the boy's apparel market.
Where do you get ideas for the clothing designs from? Are there "ah-ha" moments with flashes of inspiration or do you sit down to methodically work on the designs?
Inspiration comes to me when I am flipping through magazines, surfing online shopping websites, watching what people wear on the streets, watching TV etc… The ideas plucked are then slowly pieced together in my brain as I carry out my household chores, especially while I am sweeping the floor (laughs).
Do you see the Damien Little range expanding as your son grows up?
Yes, I did consider that! But I will take things slow and focus on toddler boys first.

Did you face any challenges entering into the world of business? How did you go about overcoming them?
Because Damien Little is just a small set-up, the planned production quantity is small. A lot of times, factories, after promising to produce a run for us, suddenly shun us once they receive larger orders from bigger companies. It can be disappointing and frustrating at times. But the key is persistence; we just have to keep on hunting for new suppliers and have learnt not to put all our eggs in one basket.
How do you balance your responsibilities between being a mum and a business owner?
I plan my schedule such that all Damien Little work can be carried out when my son is in school or while he is asleep at night. This way, I seem to be always available to interact with him whenever he needs me.
One thing that surprised you when you started out in business was…
Many mothers are very willing to splurge on their son's dressing! They go all out to look for unique and fashionable attire for their boys to stand out!
Are there any essential skills aspiring Mumpreneurs should have?
I feel that Mumpreneurs have to work according to their passions. Know-how and skills can be picked up along the way. It is important to choose something they enjoy doing because nothing is easy, and there are always many setbacks and negativities when doing business. And with a child "crying" for constant attention, you have to be doing something you really love to keep you going.
My favourite time of the day is…
My bath time! I finally have all the time to myself to refresh and re-energise!
If I had an extra hour every day, I would …
Read more books to enrich my knowledge.
My perfect day out with the kids in Singapore would be …
Going to farms and parks. There, we can get away from the hustle and bustle of life and reconnect with animals and nature.
Beach or the city? Which would you choose as an overseas holiday destination?
City! It is something the entire family enjoys. My son can take his favorite subway trains. My husband can eat the local food and snacks all day long. And as for me, I guess it is an occupational habit, I get to explore the city to see the latest fashion trends and observe what the locals are wearing.
If I only had 12 minutes at the end of the day to bond with my kids, I would…
Play Doctor. I would pretend to be Doctor Mum, checking and fussing all over my son. I would also add little tickles to make him giggle and laugh out loud.  It is also a good opportunity to throw him compliments on how strong and well he is growing.