Families for Life is rallying families to celebrate mums with Mother's Day @ Home, a series of online programmes on Sunday, 10 May 2020 from 10 am to 9 pm.
Homemade for Mums Facebook Concert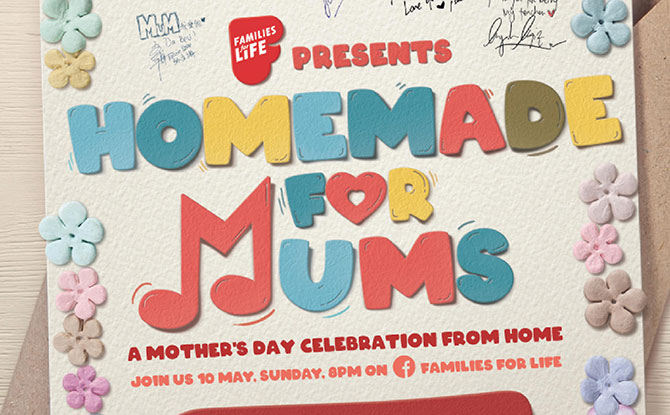 The highlight of Mother's Day @ Home with Families for Life is the concert Homemade for Mums which will be held at 8 pm on the Families for Life Facebook page. The hour-long, online show will feature local artists such as Liu Ling Ling, Angie Lau, Jason Chung, Kelvin Soo, Aisyah Aziz, Isaac Ong and Joanna Dong.
Families can participate in the Homemade for Mums show by posting dedications to their mothers online with the hashtag #FFLMothersDay before the show. During the show, there will be appearances by celebrities like Kit Chan, Stefanie Sun and JJ Lin who will read out some of the submitted Mother's Day dedications.
Families can also film themselves singing along to the songs during Homemade for Mums and submit them online. Selected clips will then be stitched into a tribute video.
There will also be a mass-singing segment when everyone can sing "Happy Mother's Day" to the tune of "Happy Birthday".
Towards the end of the show, there will be "The Mother's Moment" where families are encouraged to call their own mothers, whether through phone or video calls, to express their appreciation for what they have done.
Families who contribute dedications and who video themselves singing along to the show stand to receive a complimentary one-month Viu subscription. Viu is an over-the-top video streaming provider that offers the latest premium Korean dramas, variety shows and other Asian programmes.
Families for Life Mother's Day @ Home Programmes
Other programmes being held as part of Families for Life's Mother's Day @ Home throughout the day on 10 May include:
10 am – Mums Break the Circuit (A Dedication Video)
11 am – Yuki presents kiD-Do Alive
2 pm – Bake a Cake with Serene & Family
3 pm – Academie of Stars' Tribute to Mother's Day
4 pm – Storytime with Jiahui
5 pm – Sing, Act & Play with Chirpy Little SiStars
View the various programmes on the Families for Life Facebook page.
Activities to do during the May School Holidays 2020
Get more activities to do at home during the May school holidays.