Arguably the most famous heritage street in Malacca, Jonker Street or Jonker Walk is an enclave of delicious, local Malacca food, hipster cafes, toy shops and antique stores. From chicken rice balls to chendol and maltose biscuit "heong piah", take your pick.
The street's official name is Jalan Hang Jebat, but everyone calls it Jonker – a Dutch name which is actually pronounced "yong-ker". But the locals call it "jong-ker" anyway. Come Fridays and weekends, the street morphs into a night market.
Time for a Jonker jaunt in search of Malacca food delights!
Malacca Food: Jonker Jaunts and Foodie Haunts
---
Jonker 88: Shovel Chendol Snow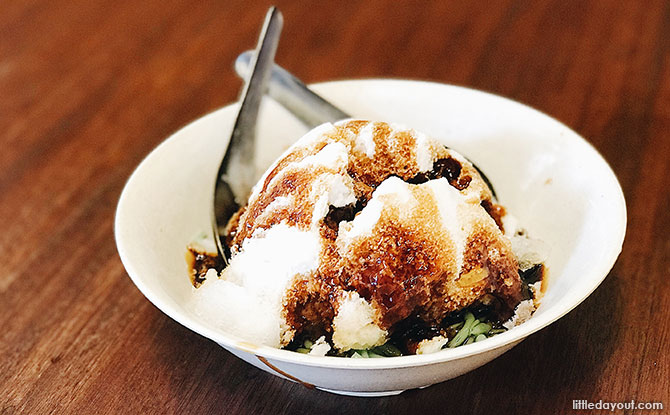 Do not miss this. Jonker 88 has been touted one of the best chendol along the street, and we can see why. The gula melaka syrup slathered on the mini snow mountain has a deep, smoky caramel taste, turning everything it touches into gold.
---
-- Story continues below --
We ate everything, down to the last drop. Cool respite on a hot day.
For a full meal, opt for the yummy assam laksa or yong tau fu. If you're willing to wait until after lunch, you can avoid crazy snaking queues for the unforgettable chendol.
88, Jalan Hang Jebat, 75200 Melaka
---
Kedah Kopi Chung Wah: Eat Chicken Rice Balls
Adorably shaped, these chicken rice balls will win over little hearts. One of the Malacca food essentials to try when visiting the Malaysian town.
There are two or three chicken rice ball eateries along Jonker Street, but Kedah Kopi Chung Wah is a household name – and has the long queues to match.
Stop for a cup of local kopi here, too.
18, Jalan Hang Jebat, 75200 Melaka
---
Tian Hup Seng: Savour Flaky Maltose Pastry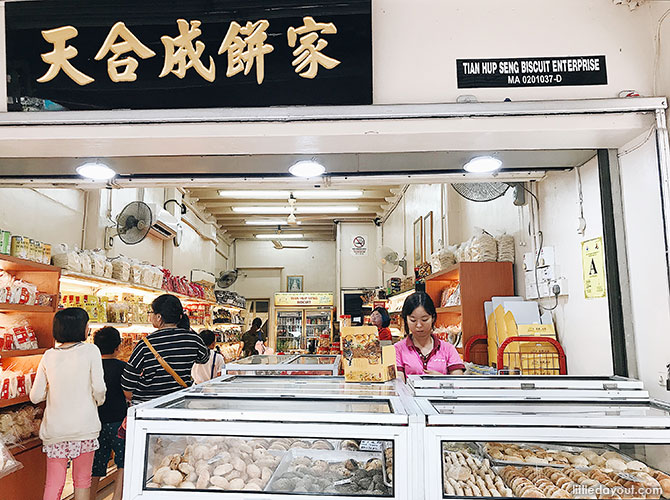 You have to eat this while it's freshly baked and still warm. The "heong piah" maltose filling oozes out like rich honey, encased in a light, flaky pastry that's divine, with a touch of savoury notes.
Buy it to go in a little plastic bag, or buy a box and bring it home. Whatever you do, be sure to eat one on the spot for maximum enjoyment at Tian Hup Seng Biscuit Company.
93 & 95, Jalan Hang Jebat, 75200 Melaka
---
Heesan Kopi: Sip coffee in a Hipster-historical Spot
It's painfully hip. And completely Insta-worthy. Check out new cafe Hee San Kopi's highly polished mirrored cafe signage.
The interior gives way retro-cool furniture and wooden ceiling beams. Usual cafe European fare like espresso-based coffee, brunch, cakes and sandwiches, with Peranakan influences.
Give the brunch item Nanyang Egg Benedict a try – it's a western egg benedict dish topped with shredded Peranakan chicken pongteh.
100, Jalan Hang Jebat, 75200 Melaka
---
Backlane Coffee: Take Refuge in this Cool Cafe
By the time you get to the end of Jonker Street, you'll be pretty exhausted. And hot. Have no fear, hipster Backlane Coffee is here.
Tucked away in a back lane between Jonker (Jalan Hang Jebat) and Heeren Street (Jalan Tun Tan Cheng Lock), the name of the cafe is on point. It's a quiet sanctuary, away from the buzz and heat of the crowded street.
The coffee, frankly, is nothing to write home about. But the dessert and the ambience is something you'll appreciate after a long day. While you're at it, help yourself to the free mini meringues at the counter.
129, Jalan Hang Jebat, 75200 Melaka
---
Lung Ann Refreshments: Slurp down a Local Breakfast
If you've had enough of hipster cafes, swing the other way.
Local kopi, soft boiled egg and toast – what's not to love. Slurp the egg and wash it down with coffee at Lung Ann Refreshments.
93/807, Lorong Hang Jebat, 75200 Melaka
---
Pin Pin Hiong: Chow down Hainanese Food
A well-known spot for the well-heeled foodie, Pin Ping Hiong serves up honest, local fare. Have a go at their oyster omelette, mee sua soup and the pork chop.
786, Lorong Hang Jebat, 75200 Melaka
---
Nancy's Kitchen: Pay homage to Peranakan Fare
No trip to Jonker is complete without a Peranakan meal at Nancy's Kitchen. It's quite a walk away from Jonker – but still a walkable distance.
Some of the must-eats include Ayam Buah Keluak, Ayam Buah Keras, Ayam Rendang and Babi Cincaluk. For the kids, the sweet-savoury Babi Pongteh is great.
But watch out, the restaurant closes early at 5 pm from Monday to Thursday (and is closed on Tuesdays). It's open till 9 pm on Fridays and weekends.
13, 13-1, 13-2, Jalan KL 3/8, Taman Kota Laksamana, Seksyen 3, 75200 Melaka
---
Must-mention: Buy Antiques and Curios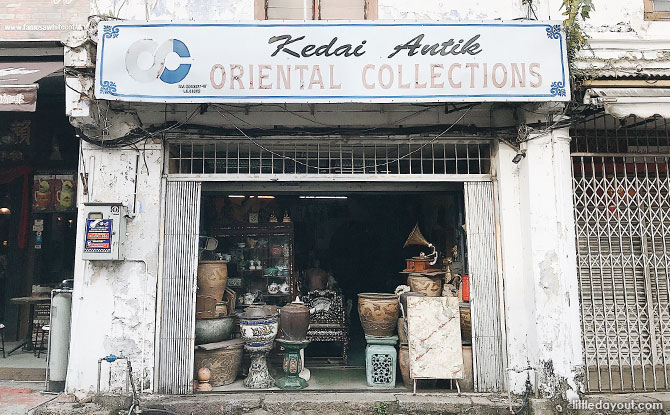 Intersperse your Malacca food adventure at Jonker with some shopping. Step into one of the many antique and curio shops and grab yourself a historical souvenir while visiting. After all, Jonker is also known as Antiques Street!