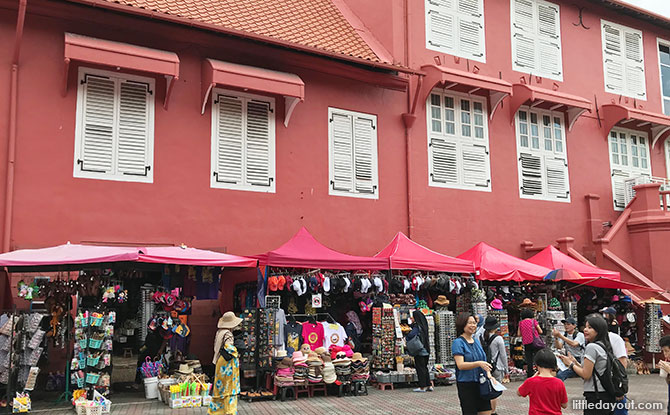 Evon shares her suggestions of things to do in Malacca with kids when visiting this historic Malaysian city on a family holiday.
Bask in the old-world charm of Malacca and discover the beautiful historical sites it has to offer – from Christ Church to St Paul's Hill and A Famosa, and more. Malacca was declared a UNESCO World Heritage site in 2008.
After you've done all that…
These are the other things modern, kid-friendly Malacca has to offer for young families, from indoor playgrounds, a cafe where you cuddle up to a Siberian husky, silken French mille crepe cake, and your very own noodle cup.
---
-- Story continues below --
Things to Do in Malacca with Kids
---
Be a Sushi Chef at this Indoor Playground
When in Malacca with kids, let the little ones go wild at the Kidzoona indoor playground at Mahkota Parade shopping mall, which is beside Hatten Hotel. There is generous space for children to run around, with play areas for kids of different ages – including toddlers.
The role-playing corner is adorable with make-believe mini houses, including a sushi diner, clinic, kitchen, and more.
Kids will also love the large bouncy castle, ball pit, slide, and ride-on cars.
Meanwhile, the adults can rest the feet and take a break.
Kidzoona
Level 2, Mahkota Parade
Lot B02, Bandar Hill
---
Go Skywalking Among Tree Tops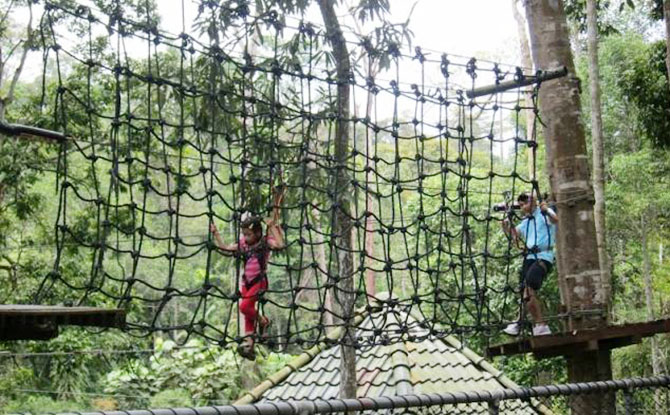 For those who want a dose of excitement in a tropical rainforest, Skytrex Adventure offers "sky trekking". Swing, dangle and cimb among aerial obstacles among the tree tops.
The third park of the Skytrex Adventure – there is one in Langkawi and another in Shah Alam – boasts challenges such as the first Skybike in Malaysia, the UFO, the Tarzan Bungee Swing and more.
For kids, there is the Little Dino circuit (beginner level) which goes for about two hours. Children must be above 110cm; any child under eight years old must be accompanied by an adult, up to two kids per adult.
Up the ante in this forest adventure with the more challenging circuits at a duration of two to 3.5 hours: Pahlawan Thrill (intermediate) and Extreme Warrior (advanced). For these two levels, any child below 13 must be accompanied by an adult, up to one child per adult only.
If it gets too much, there is always the "chicken exit" or "ayam exit", situated at various spots throughout the circuits. Also, adults are welcome to go on the Little Dino or beginner circuit.
The weight restriction is a maximum of 100 kg. Opening hours and prices here.
Skytrex Adventure Melaka
Jalan Taman Botanikal, 75450 Durian Tunggal, Melaka, Malaysia
---
Hug a Husky at this Cafe
When in Malacca with kids, little animal lovers will love visiting this cafe. From petting and cuddling to feeding, expect lots of fun with more than 20 Siberian huskies at The Huskitory, a cafe and pet shop. Some of these beautiful creatures are award-winning show dogs.
The huskies are let out into the backyard during the two daily outdoor sessions – one from 5 pm to 7 pm, and another from 8 pm to 10 pm. Dog owners can bring their furkids to the cafe too – there is a food menu for dogs.
Since 2014, the huskies have been recognised by Malaysian Kennel Association (MKA) and World Canine Organisation (FCI) for their quality which reflects "the standards of professional care, health and well-being", according to The Huskitory.
While there is no entrance fee, customers have to purchase food or a drink. Located at Jalan Taman Asean, the cafe is about 15 minutes' drive away from the city. Do make reservations in advance, especially for weekends and public holidays.
The Huskitory
27 Jalan Taman Asean
Malacca, Malaysia
---
Eat Mille Crepe Cake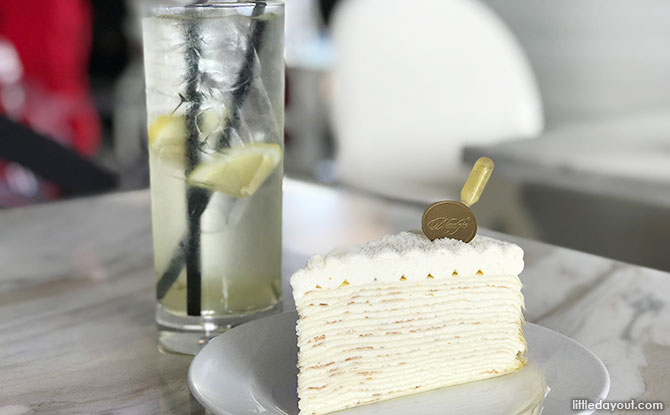 Take a break on the shopping stretch of Malacca while on a family holiday. Dig into these layered cakes and you're in fresh cream heaven. These cakes have a fresh, light taste which kids and adults will love – and we always make point to make a visit to Nadeje when we go to Malacca with kids, or even on our own.
A mille crepe cake is made up of many layers of paper-thin French crepes, sandwiching smooth cream. The word mille feuille means "a thousand sheets, layers, or leaves".
We went to the Nadeje cafe at Mahkota Parade mall and tried the Premium Cheese cake. It was a delicate balance of sweet and savoury with a dusting of Parmesan cheese on top.
According to Nadeje, most of their ingredients are imported from Japan and their handmade cakes are preservative-free.
Nadeje
G-23B, EG 4 & EG 5,
Ground floor, Mahkota Parade, 75000 Melaka
---
Make Your Own Mamee Noodle Snack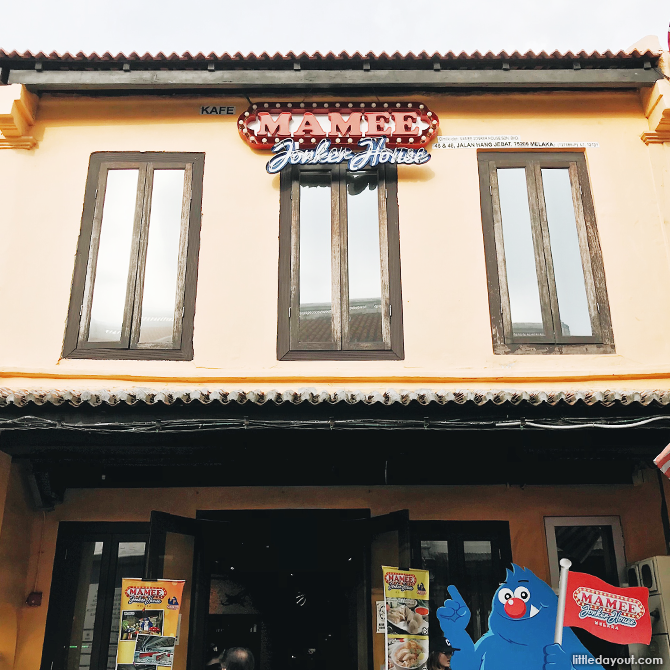 Suitable for kids (who love Mamee snacks) and adults (who love reminiscing about their childhood), Mamee Jonker House is a celebration of all things Mamee. All 40-odd years of the fabulous noodle snack.
Join the Lil Monster Kitchen workshop and find out the secret to why these snacks are so addictive! You will also personalise your own snack by designing the packaging using colour markers. The workshop is 90 minutes long and available on Saturdays and Sundays at 11am, 1.30pm and 3.30pm. Prior booking is required.
Create your own DIY cup noodles at the Noodle Doodle workshop. Design and decorate your cup, mix-and-match your favourite seasoning and dried condiments to create your very own cup noodles. Arty kids will enjoy this.
Traipse through Mamee's history and evolution at the World of Good Taste Gallery, a fun mini museum of sorts. You can also get your hands on all kinds of Mamee merchandise, even those from long ago.
If all that noodling got you hungry, stop by the Mamee Cafe. The a halal restaurant that serves mostly local food like chicken rice, nasi lemak, mee goreng, cendol and more.
Mamee Jonker House
46 & 48, Jalan Hang Jebat (Jonker Street)
75200 Melaka