Kick off the school holidays with family time at the Families for Life Celebrations 2016.
On Sunday, 29 May 2016, families can look forward to a day of fun, organised by the Families for Life Council, around the Civic District. Coinciding with Car-free Sunday, activities at the Families for Life Celebrations 2016 will start in the morning and stretch into the evening.
Active Pursuits
Get the day off to an active start at the Families for Life Walk. The 1.5 km walk will flag off in front of the National Gallery and take families around the Civic District.
There will also be a Fitness Party at the Empress Lawn while sporting stations around Connaught Drive and Esplanade Park will allow families to try out Mini Tennis, Speedminton, Tchokball, a Kids Obstacle Fun Race and more.
Foodie Pastimes
The Empress Lawn will turn into picnic grounds for families to have breakfast together.
Bring your own breakfast basket or purchase food from the stalls setup on the lawn. The stalls will be serving up heritage hawker delights including the Boon Lay Power Nasi Lemak, Tiong Bahru Jian Bo Chwee Kueh and Good Chance Popiah.
Food trucks from The Travelling C.O.W, Coffee Bandits and Mr Bean will also be present, along with everyone's favourite MILO van and the Families for Life Signature Mobile Café.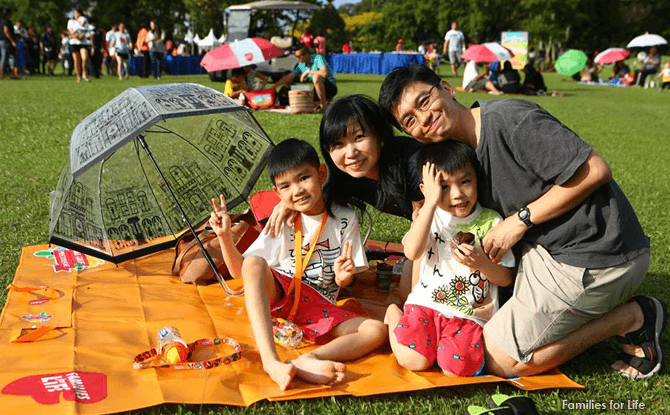 Chill Out
As the stars go up, settle down for a "Drive-in" Movie Screening. Families get to embark on their own family project together – making a unique family cardboard car. Kids can enjoy the bouncy castles at Empress Lawn and Esplanade Park while roving photographers and performers will keep the crowds entertained. There will also be music performances by Alfred Sim and Tay Ke Wei before the evening caps off with an outdoor movie screening of 'Night at the Museum: Secret of the Tomb'.
Arts and Culture
Also planned for 29 May are cultural programmes at the museums and performance venues. Highlights include children's programmes at National Gallery Singapore, the Flipside festival at Esplanade Theatres on the Bay and self-guided walking tours.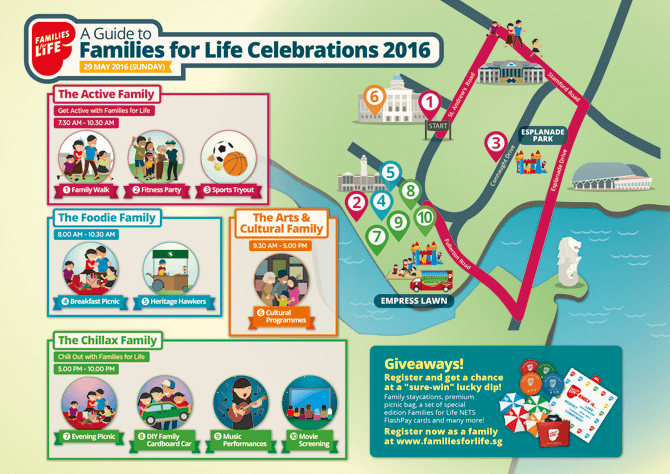 The Families for Life Celebrations 2016 marks the start of the next phase of the Families for Life Council's #IChooseFamilyTime campaign. A series of Families for Life picnics have been lined up for the year including themed picnics that will coincide with special occasions such as Father's Day, Children's Day and the National Day celebrations.
Families for Life will be also organising its first 'live' Facebook chat session on Friday, 27 May. At the session, the public can engage with Mr Tan Chuan-Jin, Minister of Social and Family Development, and other guests and panelists on the topic of family time.
This Facebook chat session is part of Families for Life's efforts to expand their public engagement platforms and get more people thinking about family time in Singapore.
To find out more about the Families for Life Celebrations 2016 and to register, visit their website.
Source: Urban Redevelopment Authority