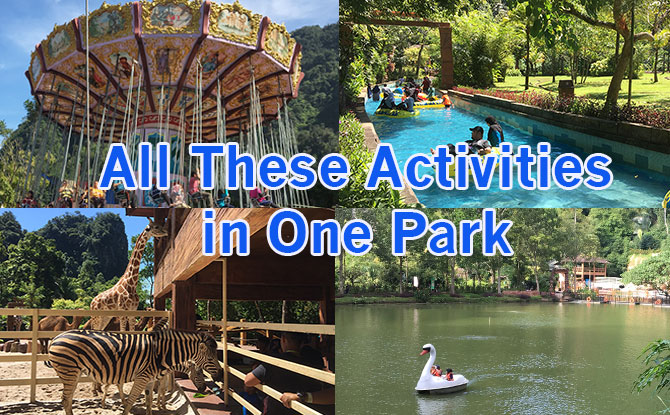 Somewhere in the town of Ipoh, encircled by craggy limestone hills and blankets of rainforest greens, is Sunway's Lost World of Tambun. Making full use of Ipoh's mineral-rich waters and dripping limestone caves, the theme park comes complete with water play and hot spring attractions. It is a highly popular with the locals and tourists alike.
We visited the Lost World of Tambun during the weekend so it was rather crowded. But having pre-booked our Lost World of Tambun tickets through Klook, we made a beeline for the ticketing counter for tour groups and online bookings and obtained our wristbands in a breeze, bypassing the super-long queues. Phew!
Comprising eight main sections, one can literally explore the Lost World of Tambun park from dawn to dusk, or even stay overnight if opting for its glamping (camping) packages in tents by a reflective lakeside!
Water Park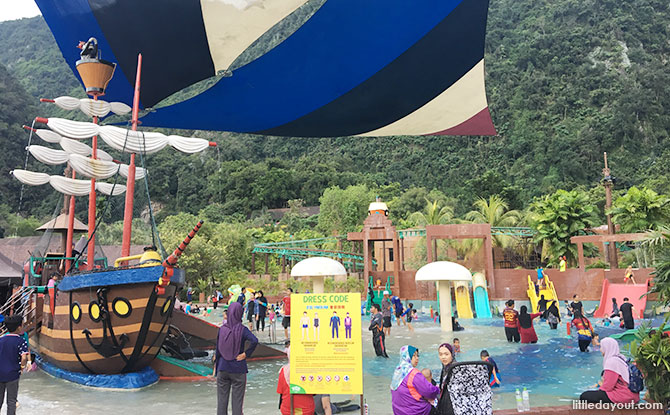 Upon entry, the crowd was having a field day in water pools with waterfalls, water curtains, tipping buckets, cannon sprays and tube slides.
---
-- Story continues below --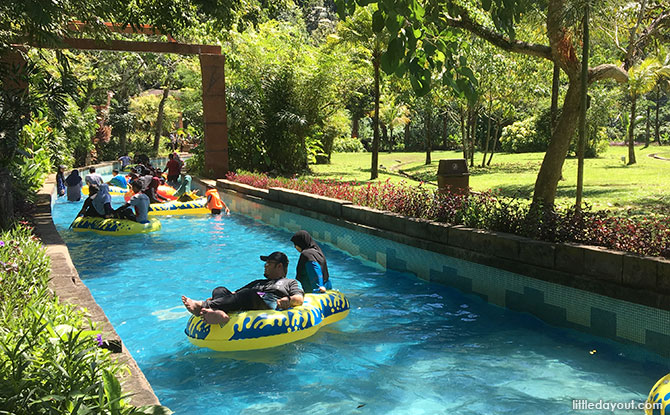 Huge floats provided by the park allowed people to float along the 660-metre-long
Adventure River (South East Asia's Longest Man-Made River in Malaysia Book of Records) and at the Jungle Wave Bay, a large wave pool.
We decided to bypass the waters though and headed on to the next zone.
Amusement Park, Game Stalls and Limestone Cave
So our theme park journey started with the amusement rides.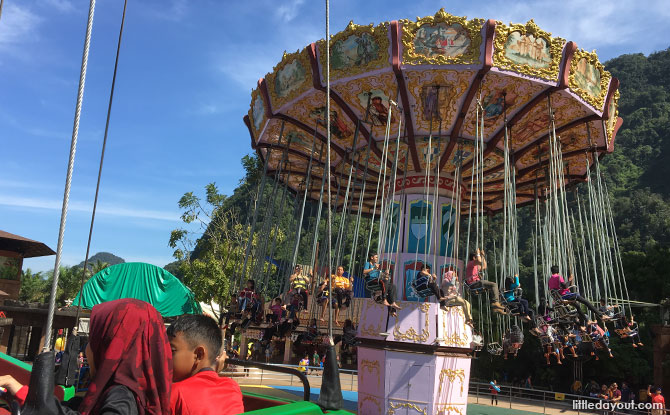 The kids loved soaring above in the Dragon Flights swing-chair ride, the Storm Rider Viking ship and air-spinning Giddy Galleon boat ride.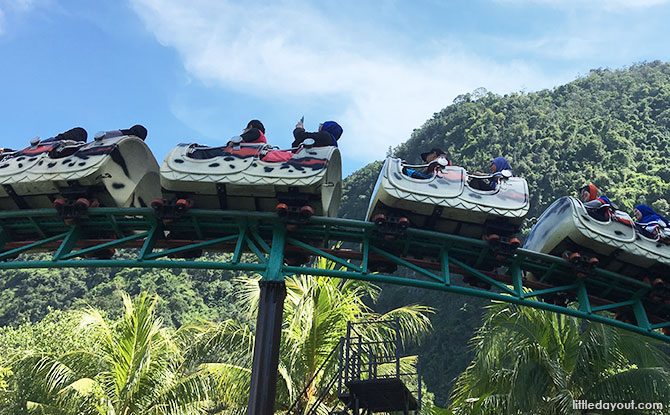 We also queued for the Lupe's Adventure rollercoaster and Perak Parade carousel which were rather tame and tailored for children – so the kids had fun! There was also a train ride around the park on the Adventure Express locomotive, very popular with foot-weary merrymakers.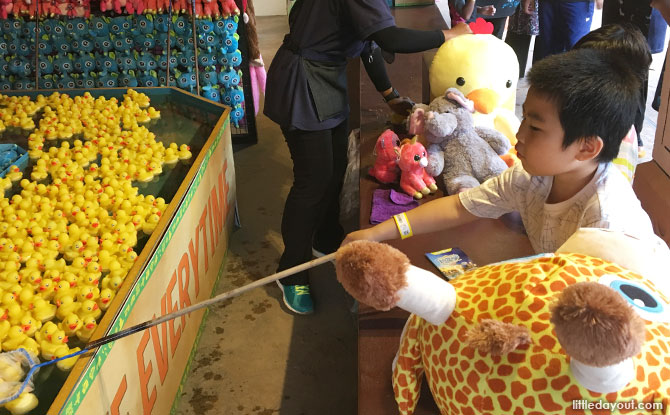 Ever game for challenges, our energetic children took a shot at the game stalls and happily walked away with furry toys.
Catopia and Tiger Valley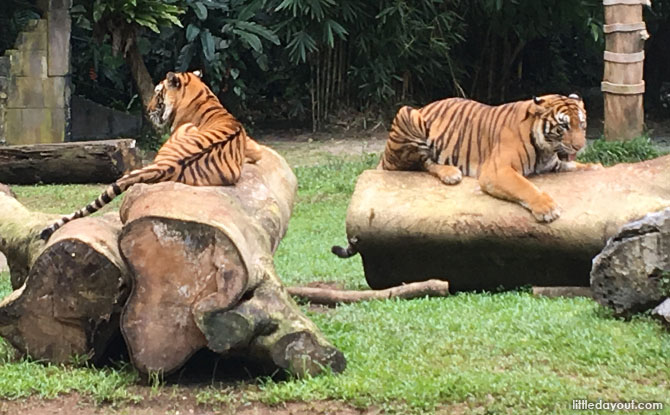 The Siberian Tiger Enclosure houses a duo of formidable striped felines and has tiger shows and feeding times twice daily.
As a prelude to the Tiger Enclosure, we enter Catopia – quiet indoor space where the kids could stroke and observe domesticated cats of varied species, patterns and sizes, which were strolling around, snoozing or exercising in a wheel.
Animal Care Centre and Outdoor Enclosures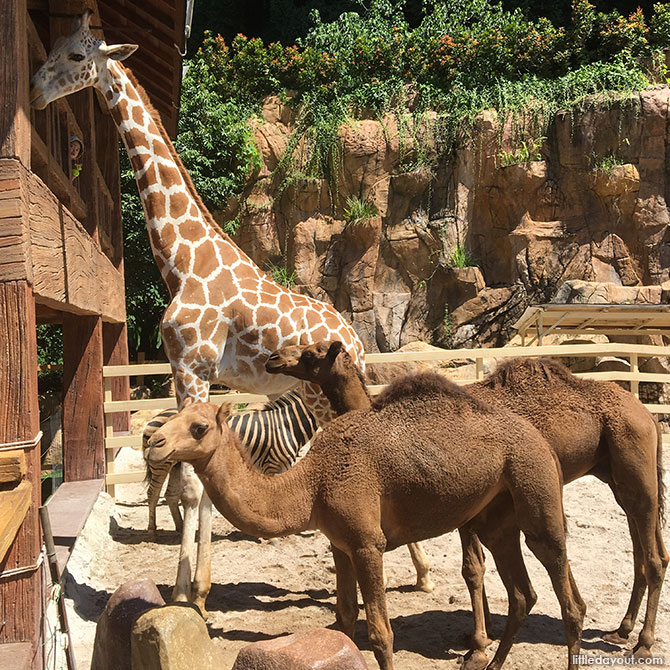 While walking around the park, it was a startling surprise when we rounded the corner and saw a giraffe and two ostriches! This sandy compound with some shady trees also housed zebras and camels.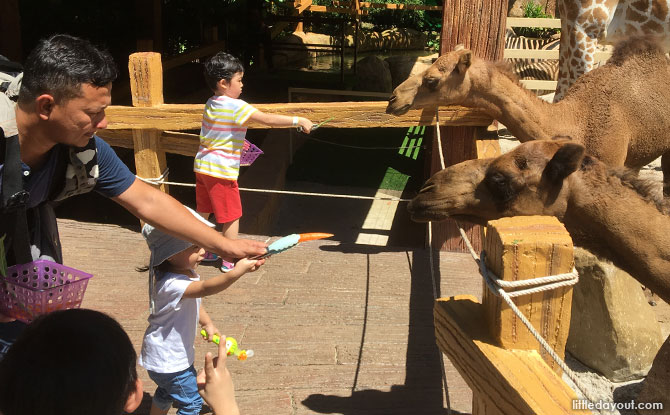 We purchased pails of vegetables and our kids were highly diligent feeding the giraffe, a pair of camels and a trio of zebras with very huge teeth!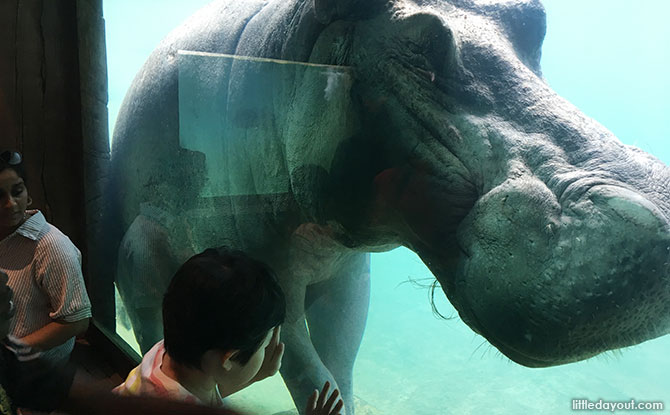 At another animal enclosure further into the park, we spied a couple of staring dark-eyed hyenas, pink flamingoes in conversations with black swans, wild monkeys stealing food into the surrounding jungle and looking guilty, a very sleepy huge hippopotamus submerged underwater, and a solo, rather elusive crocodile camouflaged in its dark green pool.
There was just so much to see at the Lost World of Tambun.
Petting Zoo and Bird Aviary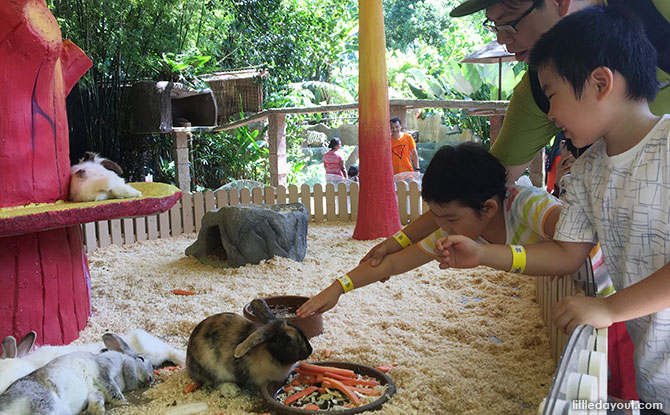 A highlight of the park was the Petting Zoo space. This was where a selection of domestic and wild animals resided, including raccoons, porcupines, rabbits, lemurs, bats, tortoises, pythons, macaws and others across more than 50 species.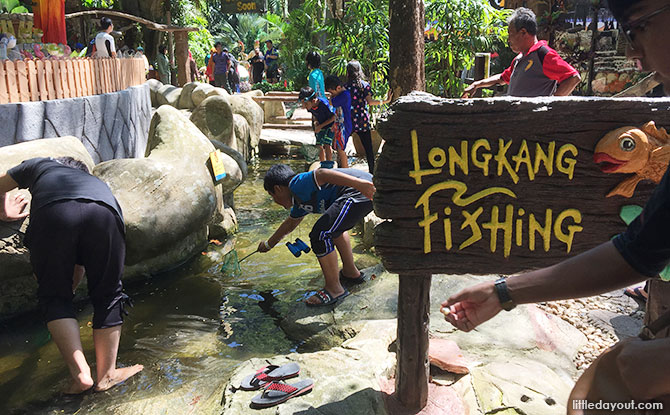 Activities available included rabbit and guinea pig petting, longkang fishing and animal feeding. Then it was bird paradise as we entered a connecting aviary with a little brook and shrubbery for roaming peacocks, parrots, ducks, pigeons and more!
Makan Time!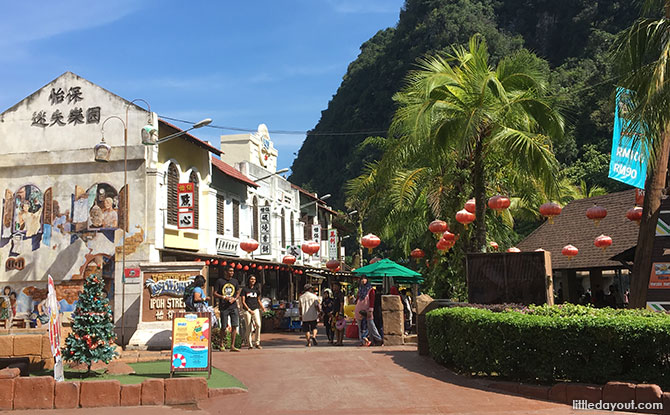 Besides waffles and hotdog stalls along the way, lunch options included Ipoh Street and Kukuntala Hawkers serving up local food, snacks and desserts.
A fancy favourite was crafted cotton candy in the form of a fluffy duckling or a UFO-shaped flower. My daughter bought a pink duck topped with a green ribbon bow to share with her brother and both demolished their cotton candy treat at a go with relish!
Tin Valley and Swan Boat Lake
Another treat at the Lost World of Tambun was flipping through the pages of history in the Tin Valley. A walk in this section of the park where posters on stands were lined told the story of the Hakka mining community and its roots in Ipoh as well as the unexpected uses of tin.
There were informative bite-sized insights into the largely Chinese-operated tin mining industry in Ipoh and Kinta Valley, West Malaysia. The area was historically recorded as one of the most productive tin-producing district in the world.
Nearby, the Dulang Teahouse (serving Chinese tea, roasted coffee, eggs and toast) within a limestone cave and giant elephant sculptures for sitting (tribute to elephants prized by sultans which were the transport modes for tons of tin in the old days), there was a shallow pool equipped with a life-sized palung (sluice box) trench and for young visitors to try out "Dulang Washing"(Tin Ore Panning) in the "Sungei" (river), filtering out the sandy black ore bits demonstrated by a park staff.
We also learnt that the word "Tambun" means "to heap or pile" in Malay. By now, we weren't sure if this was referring to the mining piles or the many activities there were to do in the park!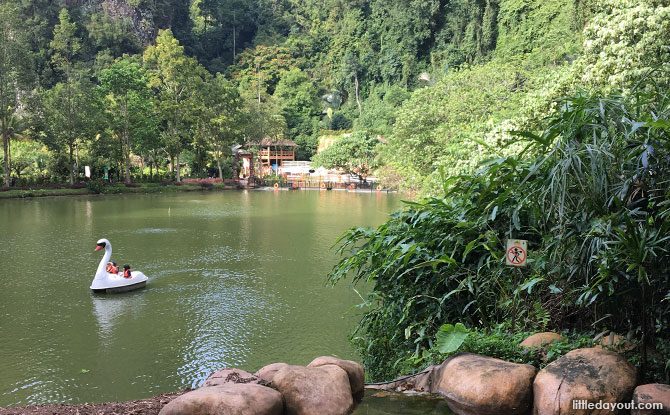 En route to the valley was a Swan Boat lake overseen by a towering 8-metre-high limestone pinnacle, the "Needle of Tambun" also as known as "Pencil Rock of Tambun".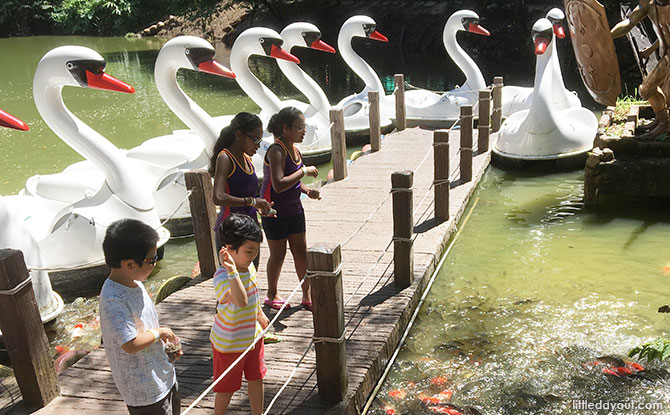 By the lakeside, the children enjoyed feeding really ravenous fishes (bags of fish feed could be purchased from a nearby hotdog station which also offered delicious snacks) which were literally jumping out of the water!
Team Adventure Park and Glamping at Boga Lake
This section of the Lost World of Tambun was pretty. Think: Splendid scenery and luxuriant vegetation. A vision of a gorgeous lakeside view of lush foliage and surrounding limestone mountains around calm reflective waters.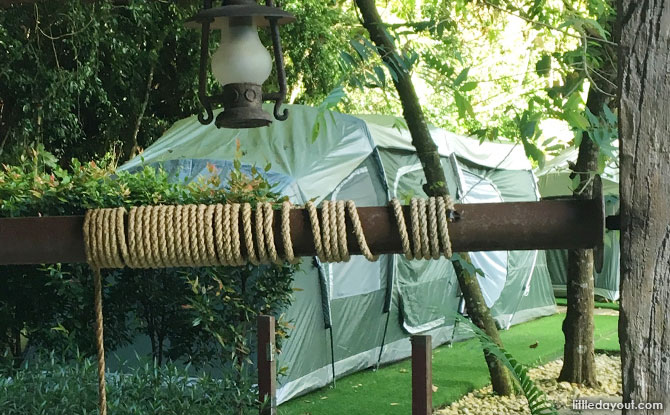 At Boga Lake where Glamping Campers stayed in caravan-shaped self-contained tents with single/double beds and all-in amenities, the kids played on the small swings and peek into a small rustic well.
Besides rock-climbing activities and kayaking (free for glamping guests), we saw adult and children flyers on a Flying Fox zipline across Boga Lake among the beauty of the natural surroundings.
Hot Springs and Spa
Admission into the park usually includes entry into the hot springs too so one can literally spend the whole day there as the hot springs open in the evening. This section operated from 6 to 11pm for tired visitors to wind down after a long day to soak in the mineral-rich hot springs such as Infinity Pool, Lost World Steam Cave, Foot Spa, Crystal Spa and Pool, and other services with additional fees.
Other night activities also included a fire show at 9pm and luminous forest with illuminated forest trails. This would have to be another visit for us as it had been a long day!
Amazing Adventure at the Lost World of Tambun
We had spent the day exploring the 40-acre jungle park with its rich greenery, picturesque lakes and impressive limestone features, and there had been a lot to cover!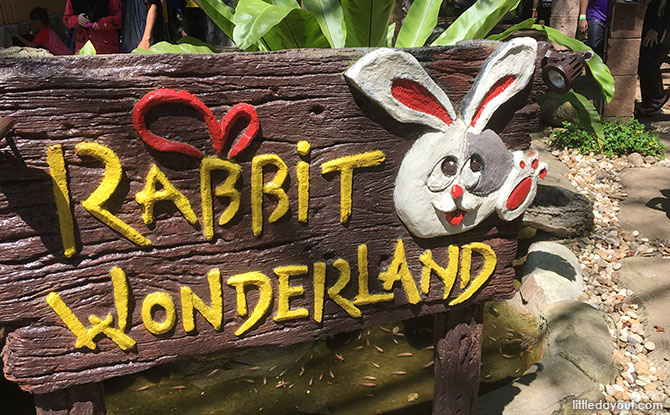 The highlight for our kids were the animal encounters and fun rides. Beyond the water play, there was some to offer for nature lovers and outdoorsy folk.
For yours truly – a history buff – what made this park unique was the Tin Valley which offered enlightening historical insights into the Tin mining narrative of Ipoh. For the rest of the park, till the next visit then!
Some Additional Tips
Weekdays may be a better time to visit. It was very packed on the weekend when we visited and it felt very crowded at the entrance and at the water park areas.
If you are planning to visit, purchase your tickets in advance. We got our tickets from Klook and bypassed the crowded queues to get in.
Generously slather on sunblock and mosquito repellent!
No outside food is allowed inside so we had to deposit our own snacks for recollection later at the baggage counter (the entrance is the same as the exit) for 1 ringgit.
Lost World of Tambun, Ipoh
Where: No.1, Persiaran Lagun Sunway 1, Sunway City Ipoh, 31150 Ipoh, Perak Darul Ridzuan
Website
Book Your Tickets to Lost World of Tambun Here & Skip the Queues
Purchase your tickets to Lost World of Tambun through Klook here.
Little Day Out is an affiliate of Klook. Little Day Out receives a small commission for each ticket purchased to Lost World of Tambun through our Klook link.
---
Enjoy BIG Savings with Klook's Summer Sale!
Klook is having a Summer Sale with up to 10% off Klook activities from 3 May to 30 June 2019. The promo codes for the Klook Summer Sale are:
<ESCAPE8> for 8% off Klook activities, min spend $150
<ESCAPE10> for 10% off Klook activities, min spend $400
Get the full details on how you can ENJOY SAVINGS on your holiday here.
This feature is brought to you in collaboration with Klook.