The festive year-end season is fast approaching and with the festivities comes plenty of feasting too. A welcomed addition to any festive gathering is the Yule log cake, a firm Christmas favourite. If you are wondering where to order log cakes in Singapore 2018 and what flavours are available this year, we've rounded a selection of them for you below.
Log Cakes in Singapore 2018
---
BreadTalk
Bread Talk has a choice of two log cakes in Singapore for 2018. Featuring a fluffy chocolate chiffon cake with Chantilly cream, dark sweet cherries and chocolate cream is the Joy of Christmas Log. Inside, there is the extra crunch of hazelnut crepe bits and it has a rich, 55% dark chocolate ganache.
An alternative take on the log cake is BreadTalk's Pistachio Yule Log. Made with BreadTalk's signature Hokkaido milk cheesecake, it is covered with pistachio paste for a white snowy look and nutty flavour.
These log cakes are priced at $43.90 onwards. Get more information here.
---
-- Story continues below --
---
Marriott Singapore Tang Plaza
When it comes to log cakes in Singapore for 2018, Marriot Singapore Tang Plaza has a selection of three available. The Roasted Pistachio Cream Cheese Log Cake ($1 kg, $68) features pistachio cream brûlée layered between flavourful pistachio-flavoured sponge. It has a crunchy layer of roasted pistachio crumble and is covered with a delicate, ambrosial cream cheese mousse.
The White Forest Bûche de Noël is a twist on the traditional Black Forest Cake. Layers of white chocolate sponge cake are and beautifully paired with delicate white chocolate mousse and flambéed Kirsch cherries.
New this year is the Raspberry Gula Melaka Coconut Log Cake. This log cake combines the tartness of raspberries with the flavours of Gula Melaka and Coconut.
Each log cake is 1 kg and costs $68. Pre-orders of at least three working days is required.
---
PrimaDéli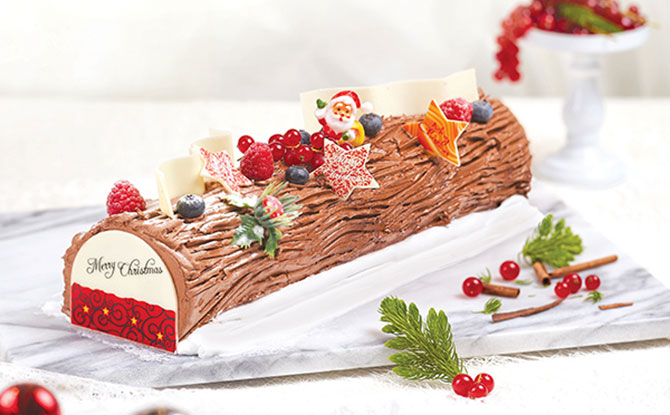 PrimaDéli's Christmas collection will be available in stores from 23 November to 25 December 2018. Among its log cakes in Singapore for 2018, PrimaDéli will have a classic-looking Truffle Yule Log Cake made from chocolate sponge filled with rich chocolate truffle cream. Truffle Yule Log Cake is priced at $44.80 for a regular size and $55.80 for 1 kg cake.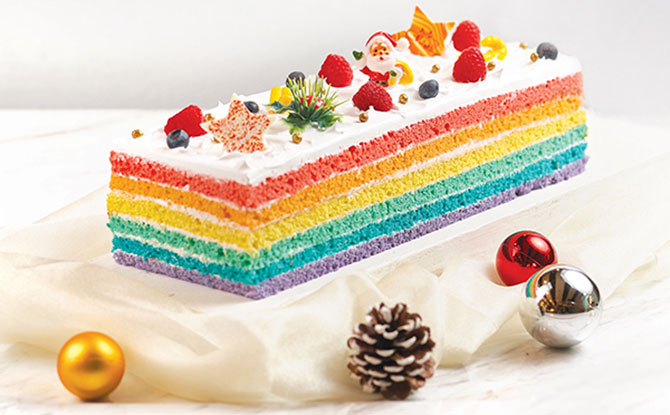 For a more contemporary Christmas cake, PrimaDéli has the Rainbow Wonderland with rainbow coloured vanilla sponge cake interlaced with layers of strawberry fresh cream and topped off with Christmas decorations. Rainbow Wonderland is priced at $44.80 for a regular size and $55.80 for 1 kg cake.
---
House of MU
European food and furniture go together at House of MU. And this year, Pastry Chef Pang Ji Shuang has come up with some sweets for the festive season. The Chendol Log Cake combines western and Asian flavours with a chendol jelly-pudding made from mung bean flour and pandan leaves with a complement of mango mousse and passionfruit glaze. The Chendol Log Cake is $48.
For a more traditional yule log, try the MU Chocolate & Amaretto Cherries Log Cake. Filled with Belgian dark chocolate, homemade caramel sauce and Amaretto-soaked cherries, the log cake is covered with dark chocolate ganache and almond puree icing. The MU Chocolate & Amaretto Cherries Log costs $39.
---
Swensen's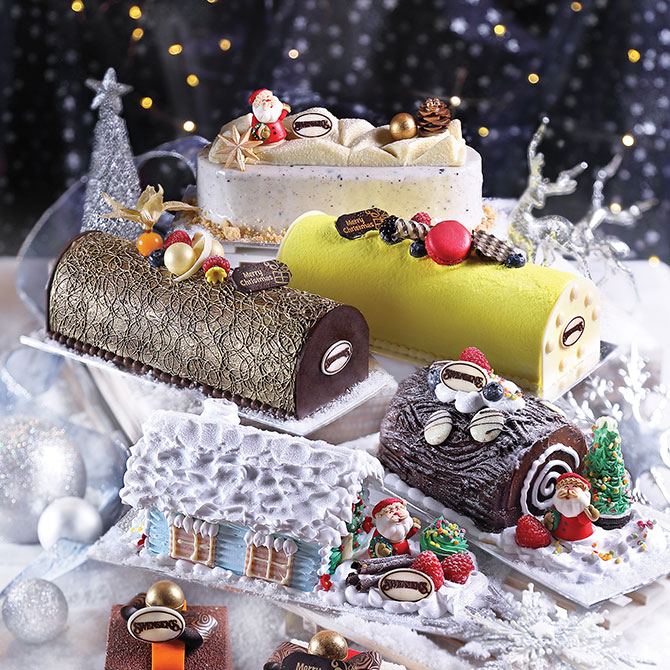 In collaboration with Matilda The Musical, Swensen's has Matilda-inspired log cakes available in Singapore for the year-end 2018. Matilda's favourite (1 kg, $62, takeaway) is fashioned out of honey ice cream with brownie chunks and chocolate fudge swirls. Miss Honey's Winter Cottage (500 g, $40, takeaway) is a refreshing Yuzu ice cream log cake with blueberries.
Other ice cream log cakes available at Swensen's include Magical Gold, made with Sticky Chewy Chocolate ice cream, and Santa's Everest Quest, a combination of Cookies 'N' Cream ice cream and white chocolate. These weigh 1 kg and are priced at $62.
More information available here.
---
The Marmalade Pantry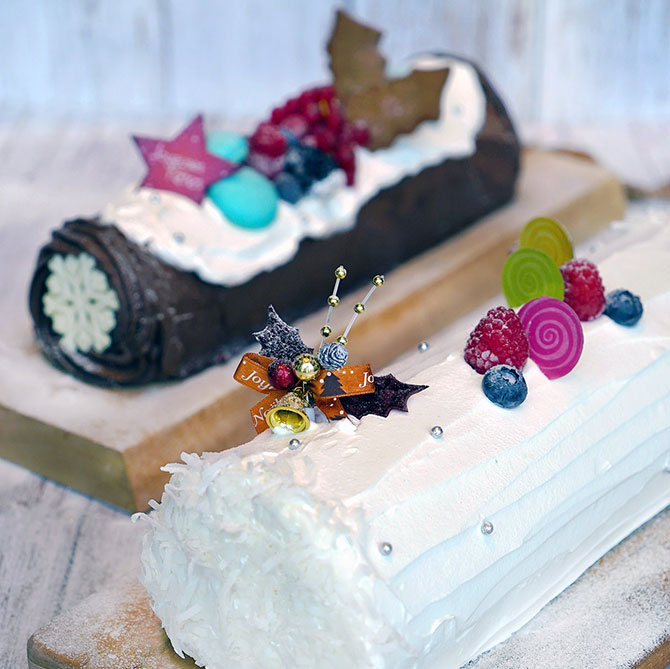 Available for pre-order are sweet treats from The Marmalade Pantry. Yule cake flavours available include the Rainbow Log Cake and Macadamia Chocolate Log Cake with Red Velvet Sponge. Each is priced at $60.
---
Grand Mercure Singapore Roxy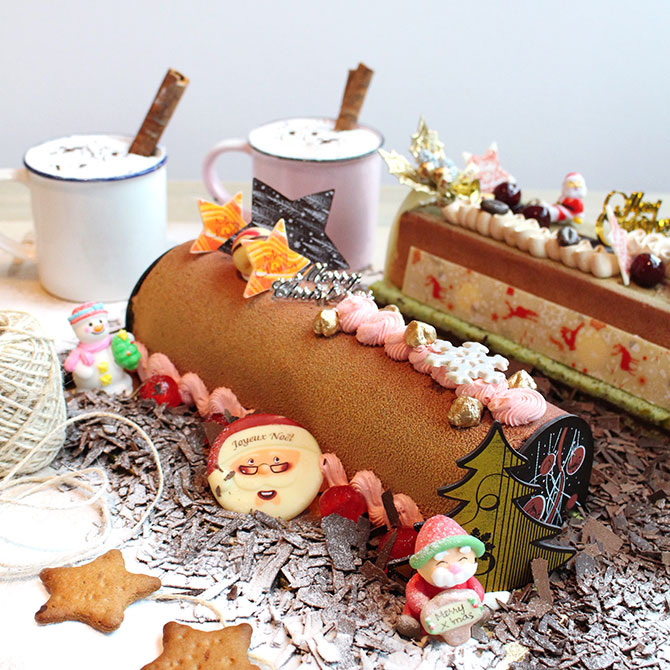 There are two new log cakes being introduced at Grand Mercure Singapore Roxy for Christmas 2018 – the Raspberry Hazelnut (1 kg, $44.90) and Gula Melaka Pandan (1 kg, $40.90). Also available is the Classic Christmas Yule Log Cake (1 kg, $42.90). Other traditional Christmas patisseries such as gingerbread houses and Panettones are available from the hotel too. All patisseries are available for pre-order at Grand Mercure Singapore Roxy's Wave Café and require at least three days advance ordering.
More information here.
More Stories on Christmas: