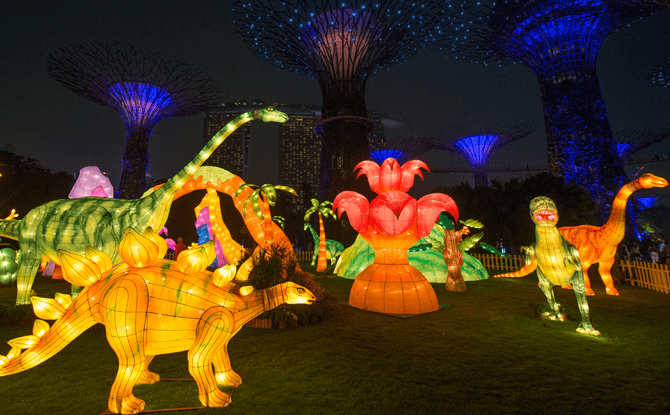 The Mid-Autumn Festival has come around again!
While this may signal the mooncake season for some, most young ones will be looking forward to heading outdoors and playing with lanterns. If you haven't kept last year's lanterns, this probably means that you will be heading out to look for new ones again.
Little Day Out paid a visit to a few places around Singapore where you can buy lanterns to see what they offer.
Smith Street, Chinatown
Chinatown seems like a good place to start.
At Smith Street, particularly at the crossroads where the Singapore Food Street starts, there are three stores selling lanterns in a wide variety of designs, shapes and sizes. There are traditional lanterns, inflatable lanterns, and all other variations imaginable. If you can make it town, this is a good place to hunt for your lanterns.
Slightly further from this "Lantern Junction", also along Smith Street and closer towards New Bridge Road is the New Bridge Centre. Here, you can also find lanterns being sold along the street-level.
Lantern Locator: Smith Street and 336 New Bridge Road, corner of New Bridge Road and Smith Street.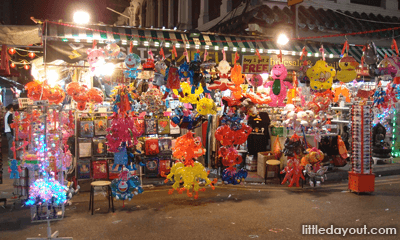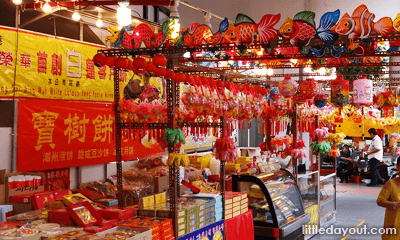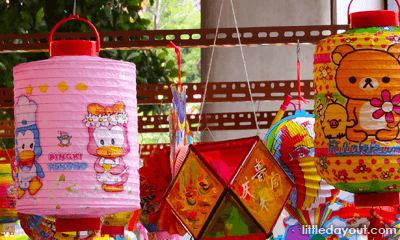 Chia Nephews Toys, Bugis
This shop specialises in party goody bag items. For the Lantern Festival, they have traditional candle-lit lanterns in different cellophane forms, as well as the circular paper lanterns. They aren't hung out but can be found in boxes near the entrance.
Lantern Locator: Shophouse at 5/6 Tan Quee Lan Street
Ex-Concourse Stores at Middle Road
Here, you will be able to get the choice of three different stores in one visit. Selling party gifts, these stores offer a variety of lanterns ranging from the traditional candle-powered cylindrical and cellophane types, to those with cartoon character designs and battery-powered options.
Lantern Locator: 116 Middle Road, ICB Enterprise House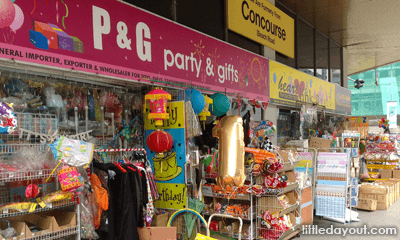 ONS Products / 3 Stars , Bugis Village
If you are around Middle Road, you may also want to check out this store at Bugis Village, just a few blocks down from the ex-Concourse stores. They sell inflatable, battery-powered lanterns that come in cartoonish designs that include ducks, caterpillars, trucks and others.
Lantern Locator: Bugis Village Shophouse at the corner of Queen Street and Cheng Yan Place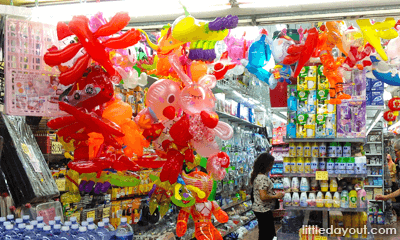 Khiam Teck, Holland Village
This shop is a venerable old institution at Holland Village. Selling party paraphernalia, during this time of the year, traditional candle-lit lanterns, inflatable battery-powered ones adorn its five-foot way. With the different lanterns on display, at this shop, kids can gawk at the traditional cellophane animal lanterns to highly ubiquitous angry winged creatures and many other super-heros.
Lantern Locator: 265 Holland Avenue
66 Optics & Contact Lens Centre, Chong Pang City
Of course you will also be able to find stores in the HDB Heartlands selling lanterns during this time. One that we came across was at Chong Pang City, up in the North. Here, there is a mix of cylindrical paper lanterns, inflatable cartoons ones and hard plastic lanterns.
Lantern Locator: Block 103 Yishun Ring Road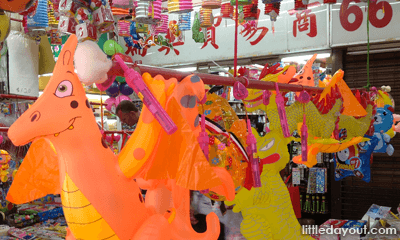 Where else do you go to buy lanterns? Drop us a comment to let us know.