Did you know that you can find a small replica of the Statue of Liberty in Singapore?
Where you may? Pay a visit to Haw Par Villa and you will find it standing in front of a pond at one of the lower terraces of the attraction.
The real Statue of Liberty, also known as Liberty Enlightening the World, is a huge statue that stands in New York City's harbour. It was designed by French sculptor Frédéric Auguste Bartholdi and has a frame built by Gustave Eiffel. The statue was a gift from the French people to the United States and dedicated in October 1886.
It has since become an immediately recognisable symbol of the United States.
Replicas of the statues can be found all over the world. Locations include the Jardin du Luxembourg in Paris and the New York City Center in Rio de Janeiro in Brazil.
In Asia, the most well-known replica of the Statue of Liberty can be found in Tokyo, Japan. This is located at Odaiba, next to the Daiba Station, and stands 12.25 metres tall.
---
Statue of Liberty in Singapore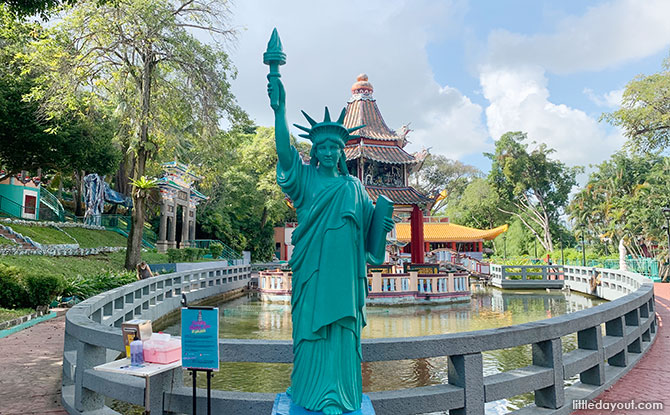 The Statue of Liberty in Singapore can be found at Haw Par Villa, along Pasir Panjang Road. It stands beside a large pond.
How did this get there?
Between the 1940s to the 1970s, members of the Aw family made contributions to Haw Par Villa's development. Aw Cheng Chye, Boon Par's son was one of those family members. He created International Corners at the park. These paid tribute to the cultures of the many countries he visited.
The Statue of Liberty in Singapore is likely one of those additions that he made.
Find out more about the history and what you can look forward to see at Haw Par Villa here.