Role-play is one of the most natural activities a child can engage in, and is an important way for them to learn about the world. Through role-playing, a child is able to develop many important life skills by make-believing real-life situations in safe, low threat environments. Little Planet Playland at The Centrepoint offers just such a location.
Personally, due to space constraints, my daughter still doesn't have a play kitchen at home. But that hasn't stopped her from playing make-believe on her own. Give her a large cardboard box, and watch her go to town with it! She'll spend hours climbing in and out of it, while singing "Wheels On The Bus", or she'll put her toys in it, and lug the box to me, excitedly exclaiming, "Package delivery!"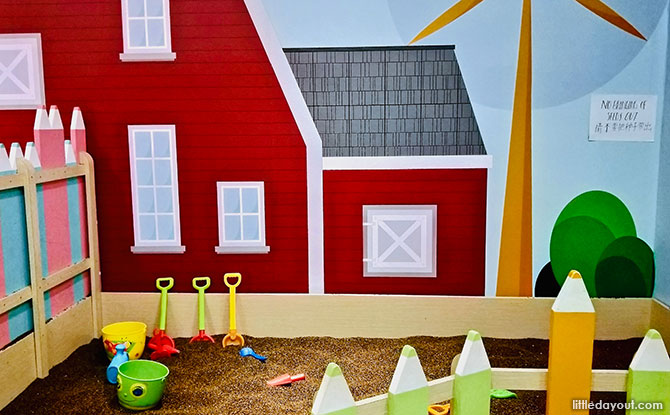 Imagine her delight when I took her to Little Planet Playland, an indoor play space at The Centrepoint that focuses on imaginative and purposeful pretend play. She couldn't get her socks on quick enough!
Pretend-Play Haven
Tucked away on the second level of The Centrepoint, Little Planet Playland houses six themed play stations, each built to scale to mimic different real-world scenes. Spacious and brightly-lit, it was easy to see at a glance where everything is, so children can very quickly decide for themselves where it is they'd like to begin playing.
---
-- Story continues below --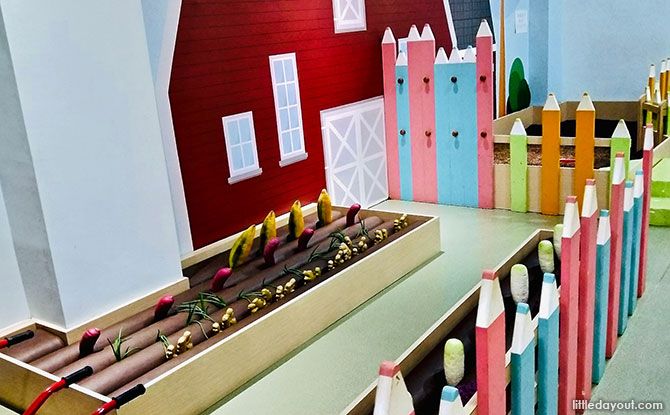 There's a farm with rows of corn and sweet potato for harvest, complete with a cassia seed pit to rake and shovel; a marketplace packed with shopping trolleys, breads, seafood, fruits, and vegetables; even a casual eatery with a few cooktops.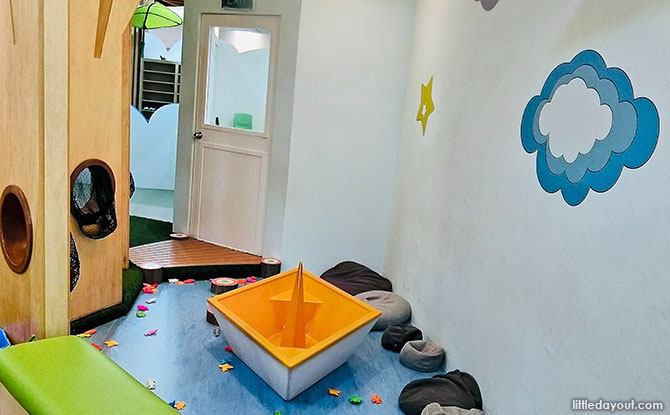 There's a also a little royal dress-up corner for aspiring knights and princesses; and an outdoor forest set-up with a boat, fishies, and fishing rods! Little Planet Playland truly is a role-playing haven for children.
Food To Farm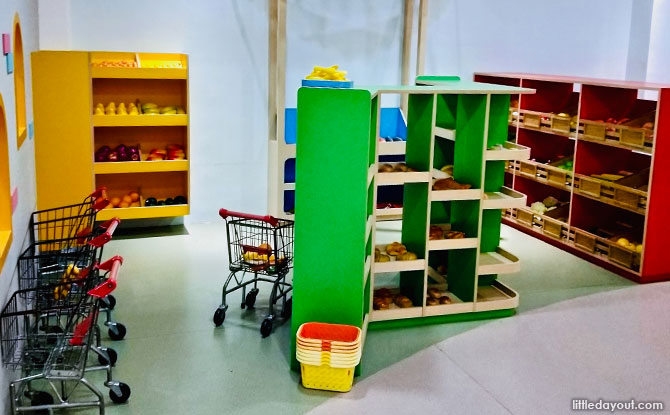 My daughter has always had an affinity for food, and cooking, so I wasn't surprised when she gravitated toward the marketplace and the play kitchens. She spent a long time pushing her shopping trolley around, and filling it to the brim with fruits and vegetables. Displaying everything in little wooden storage crates just like you'd see at a farmer's market is a really nice touch!
She also had a good time shovelling and raking the cassia seeds on the small farm. Mind you, we were the only ones at Little Planet Playland that day. I can imagine that when it does get busy on the weekends, the cassia seed pit for example, could get uncomfortably squishy!
Party Room
If you're looking for a venue to host your child's birthday party, Little Planet Playland has a small party room big enough for about 10 t0 15 children.
They have two party packages available – both of which gives you exclusive use of the party room. What I love best about holding a party there would have to be that the children will get full access to the play space!
Little Planet Playland at The Centrepoint
To find out more about Little Planet Playland's location, opening hours and admission, go here.