Located along Joo Chiat Road, explore Little Farms' newest and biggest outlet yet! Little Farms Katong, the brand's fifth outlet, spans 6,000 square feet and features a bistro, supermarket, butcher and barista bar serving some of the best coffee in Singapore.
Little Farms is a neighbourhood market that retails the highest quality and freshest of all-natural and organic produce. They pride themselves in carrying products that are harvested and sold on the day itself and is a trusted one-stop-shop for those who embrace healthy and all-natural eating.
---
Little Farms Coffee Bar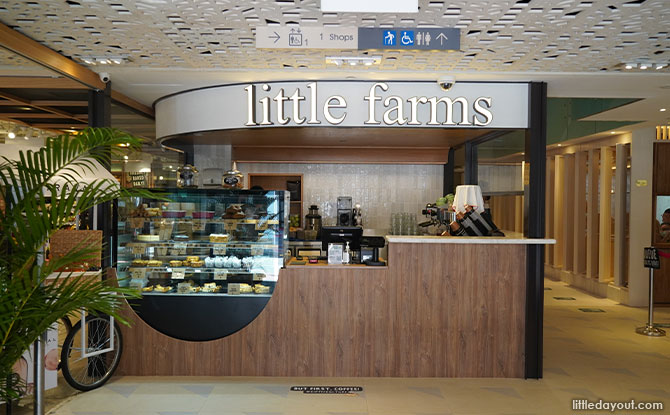 Greeting all who enter into their new outlet is a coffee kiosk island. This coffee bar serves drinks that are convenient for a grab and go such as ALLPRESS Coffee from Australia, Hampstead Tea from the United Kingdom, healthy smoothies and fresh juices.
They also serve a variety of ready-made pastries and cakes which are another great grab and go option. Their bakes cater to various special diets such as those on a vegan, gluten-free and keto diet.
---
Little Farms Fruit and Vegetable Section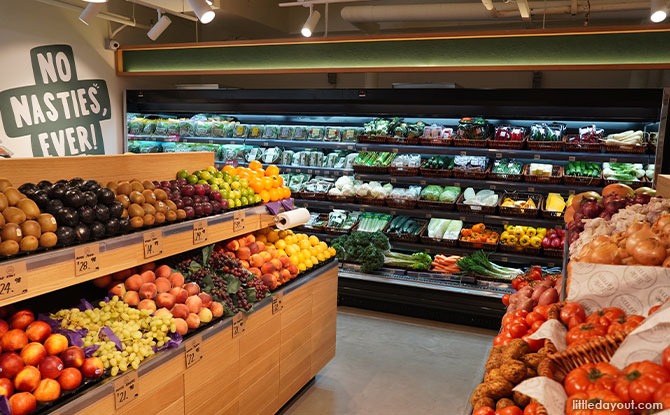 This new Little Farms outlet carries the widest selection of all-natural and organic products in the East of Singapore. As part of Little Farm's mission, the product is guaranteed fresh and ready to eat with no nasties.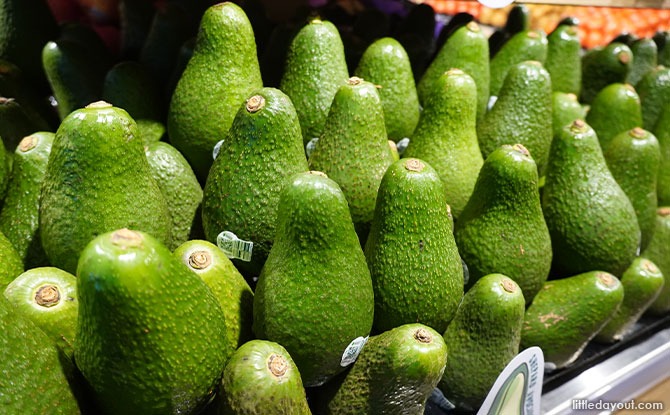 One must try fresh produce is their avocados. Boasting the freshest avocados in Singapore, Little Farms carries Hass and Shepard Avocados that are flown in ripe, fresh and ready to eat. No more waiting for the avocado to ripen, enjoy the buttery green fruit as soon as you pick it up!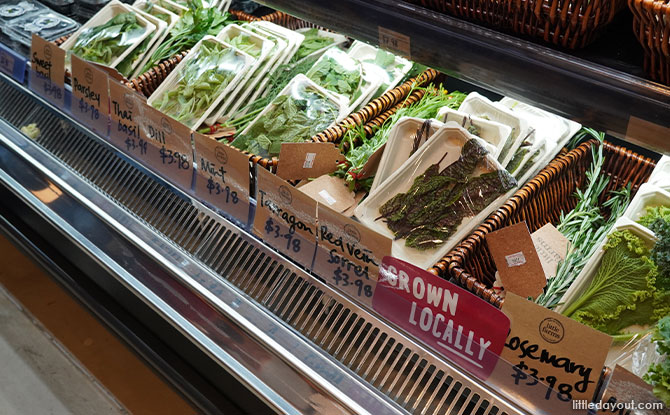 They also carry organic locally grown crops such as herbs and leafy green vegetables. These are harvested early in the morning and shipped directly to Little Farms on the same day.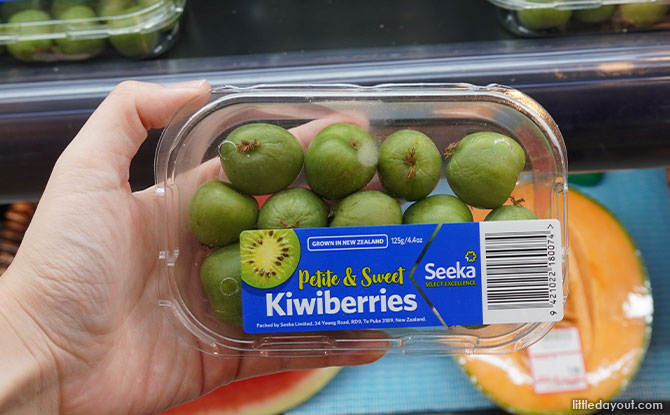 They also carry unique foods that are carefully sourced from reliable and artisanal producers, farmers and independent suppliers from around the world. One such fruit is a kiwi berry which is not commonly found in stores. These unique berries look exactly like a tiny kiwi when it is cut into and the has a sweet yet tart taste.
---
Dairy, Eggs and Non-Dairy at Little Farms Katong
Other than artisanal fruits and vegetables, Little Farms also carries a wide range of plant-based, dairy and dairy-free products. They offer tons of options for ready-to-eat meals that are nutritious and delicious.
Notable products include milk by an Australian brand Barambah Organic and Eggs by Danish brand Danaeg Organic. They also carry all kinds of hand-cut cheeses which are great as an additional ingredient to a dish or enjoyed by itself.
Little Farms also cater to special diets and carry multiple gluten-free, vegan, keto and other speciality diet products. They carry popular brands of vegan pizza and vegan ice creams. Other notable brands include tempeh by local brand Angie's Organic and Organic plant-based patties by Australian brand Bite Me.
---
Wine Down with Little Farms
For those who wish to indulge and "un-wine", choose from the various organic and biodynamic wines curated from the new and old world. They also offer various organic and high-quality brands of kombucha, kefir smoothies, health drinks and coffee.
---
Clean and Marinated Meats at Little Farms
If you're looking for fresh meats, you can be assured that the meats at Little Farms are from animals who are raised in free-range environments and given grass-fed diets and are free of added growth hormones, antibiotics or chemicals.
You can also try the Mount Barker brand of fresh free-range chicken and pork which is air-flown directly from Australia. Mount Barker is a brand that is exclusive to Little Farms. Feel free to talk to the friendly local butcher for recommendations and information.
---
Fresh Bakes At Little Farms
In the market area, one can also find the Fresh Bakes section. Little Farms carries sourdough bread that is freshly baked daily and locally. Other than sourdough, they also offer pastries and baguettes that are great as a side dish or a base for a delicious homemade sandwich.
---
Visiting Little Farms At Katong
Lastly, the new Little Farm's outlet also houses a bistro, a full-service F&B concept that offers a casual dining experience. Diners can tuck into signature salads, free-range beef cuts, flatbreads as well as curated wines, beers and signature cocktails at the full-service bar. There is also free wifi for diners.
Where: 451 Joo Chiat Road Singapore 427664
Opening hours: 7 am to 9.30 pm