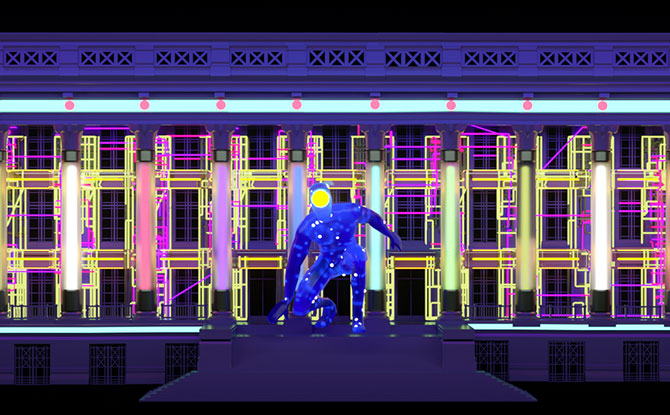 Spearheaded by National Gallery Singapore – together with its precinct partners – the Light to Night Festival 2019 returns with a bumper edition across an extended six weeks from 18 January to 24 February 2019.
With close to 50 programmes, the Light to Night Festival 2019 promises to immerse audiences in an adventure filled with thought-provoking art and historical encounters from day to night.
Responding to the theme Traces and Echoes,visitors are invited to go beyond the role of a visual spectator, and interpret art and history with their five senses.
Light to Night Festival 2019 spans two unique parts. The first – as a marquee event of Singapore Art Week from 18 to 27 January 2019 – presents works of art inspired by personal stories and memories.
---
-- Story continues below --
The second part kickstarts the Singapore Bicentennial commemoration from 28 January to 24 February 2019 by inviting site-specific responses and reflections from artists, writers, performers who will reimagine our past and offer fresh perspectives on significant historical moments in the last 700 years.
Commemorating the Singapore Bicentennial through Historical and Personal Stories of the Civic District
In the subsequent four weeks beginning on 28 January 2019, the Light to Night Festival 2019 will provide a brand-new experience for visitors by incorporating a historical narrative for the very first time.
The façades will transform into a multimedia showcase depicting 7 Stories in 700 Years, which gathers anecdotes found across the iconic buildings and sites in the Civic District. These reimagined historical tales offer a fresh perspective on key figures and moments of Singapore, including trade activities at Singapore River, law and justice, performing arts, and our journey towards cultural convergence.
National Gallery Singapore will also commemorate the Singapore Bicentennial with a dynamic media installation The Memory Conduit by multidisciplinary studioZarch Architects that captures the country's collective social experience, and a multimedia photo wall Our Memories of the Civic District Singapore with personal and archival photographs contributed by the community at its Padang Atrium. There will also be a site-inspired interactive theatre production, Shadows IN the Walls, by Singapore collective GroundZ-0 where participants will travel back in time and meet key characters from the precinct's history.
Firing Up All Five Senses During Singapore Art Week
For the first two weekends of the Light to Night Festival 2019, visitors can expect their five senses to be fired up by the installations and programmes within and around National Gallery Singapore, The Arts House, Victoria Theatre and Victoria Concert Hall, Asian Civilisations Museum (ACM) and Esplanade Park.
The biggest façade light show in Singapore, Art Skins on Monuments, will return with a new commission also known as The Odyssey.It is based on an original storyline co-developed by Brandon Tay and Safuan Johari, together with multimedia illustrations and digital content by 14 other artists. Visitors will be immersed in a light-filled journey by activating an interactive wall using sound and movement at the National Gallery Singapore's Padang Atrium.
Other Festival highlights include a reimagined immersive "garden" digitally composed with printed images of five botanical gardens in Southeast Asia, titled The Regency Made Me Blind  by Gary Carsley and Jeremy Chu en-route to the Gallery's Padang Deck; Resonance by students from the Nanyang Academy of Fine Arts at ACM which bridges the past, present, and future through a two-part installation; Common Life by artist Ho Chee Lick and poet Anne Lee Tzu Pheng at The Arts House that brings visitors on a visual and poetic journey with the pairing of original sketches of life in Singapore neighbourhoods with poems created in response.
Visitors can also tantalise their taste buds while bonding over art, food and music over at Art x Social on Empress Lawn, Comedy Fridays with Kumar and Hirzi, and Music Saturdays with The Sam Willows and Charlie Lim at National Gallery Singapore.
Admission to the Light to Night Festival 2019 is free, commencing from 5pm until midnight. Certain programme timings and admission charges may vary. More details will be available on www.lighttonight.sg in January 2019.