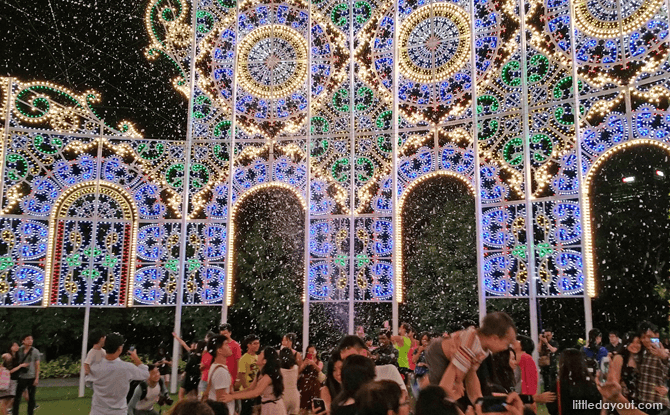 We can get a slice of winter wonderland in Singapore by way of really clever snow-making machines. And when we say "snow", we really mean foam.
But we aren't going to be a wet blanket, because it's really fun for the family. There's something magical about the the fluffy little flakes swimming about in the air. They make pretty photo memories too.
Here are some spots this December where you can get some "snow" action, cool wintry temperatures, and get this – real snow.
---
Snowy streets at Universal Studios
Touted as Singapore's biggest snowfall, Universal Studios Singapore's snowy session every hour of the day will span across three themed zones – Hollywood, New York and Sci Fi City. The theme park will be decorated with tinsel and holly, and open for extended hours till 9 pm.
You won't miss the huge Christmas tree made entirely of plush toys at the New York Public Library. The towering tree will make a good backdrop for photo moments as the snowfall takes place. This is also where the theme park's new Christmas show is staged, called Santa's Toy Soldiers, where toy soldiers come to life to the marching beat of drums.
Universal Studios Singapore
8 Sentosa Gateway,
Sentosa Island, Singapore 098269
See here for updated opening hours.
---
Ice-skating, Snow, and Santa at The Rink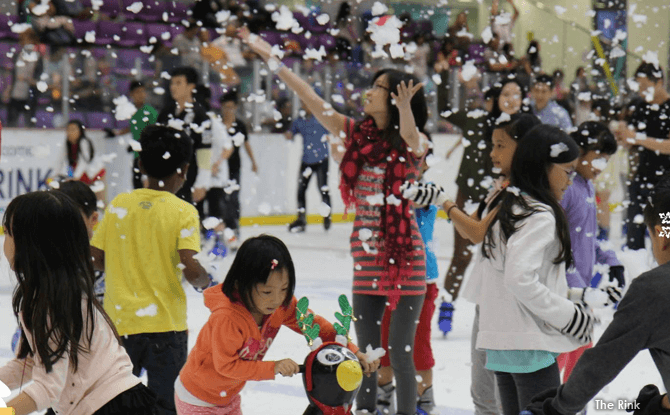 Head to The Rink, Singapore's only Olympic-size ice skating rink, for a twirling good time with the little ones.
Located at the third level in JCube shopping mall, this rink offers a cool perk for little tykes below 10 years old – adorable skating aids in the shape of penguins, at $10 for every 2 hours.
There is a Christmas countdown snow party on Dec 24 (9.45 pm – 12.45 am).
Another snowy foam party on Christmas day itself includes skating under disco lights with Santa and friends (9.45 pm – 11.45 pm).
Also, on New Year's Eve, the skating rink's countdown party will round up with another snowfall, Dec 31 (9.45 am – 12.45 am).
Remember to bundle up in warm winter clothes!
See The Rink's calendar for a snowy good time.
The Rink
Level 3, JCube, 2 Jurong East Central 1
See here for updated opening hours.
---
City Square Mall
Head down to catch the trains at The Chuggington Winter Snow Party Live Show and daily Christmas Light Show & Snow Playtime at City Square Mall. Let it snow, let it snow, let it snow!
Christmas Light Show & Snow Playtime
Date: Daily till 28 December 2014
Time: 8pm and 9pm
Venue: City Green park at City Square Mall
The Chuggington Winter Snow Party Live Show
Date: 6-21 December 2014 (daily except Monday)
Time: 2pm and 7pm (weekdays); 1pm, 4pm and 7pm (weekends)
Venue: Level 1 Atrium at City Square Mall
---
Snowfall and Light Show at Changi Airport's Castle
There's no need to take a plane out of Singapore to experience some snow.
Rock up to Changi Airport Terminal 3, where there's a three-storey castle Neuschwanstein Castle inspired by Disneyland's Sleeping Beauty and Cinderella castles.
The 8-minute light and sound show at the German castle front will end with magical snowfall, where your little ones will join the other kids gasping with joy.
Changi Airport
Terminal 3, Departure Hall
Monday – Friday: 5 pm, 6 pm, 7 pm, 8 pm, 9 pm
Saturday – Sunday, PH & PH eves: 1 pm, 3 pm, 5 pm, 7 pm, 8 pm, 9 pm
---
Real Snow at Snow City
Experience real snow at Snow City's Blizzard sessions where their special snow gun will spray the magical stuff all over. Liquid nitrogen is passed through the snow gun, instantly freezing water into powdery snowflakes. This stuff isn't foam, for sure.
However, the snow play field here is rather small and there are limited things to do here – mainly sliding down the snowy slope. So, if you want to pay a visit, it will mainly be for the 15-minute Snow Blizzard Experience which depicts snowstorms and winter winds. It happens twice a day every weekend of December 2014, including Dec 24 and 25.
Snow City
21 Jurong Town Hall Road, Singapore 609433
Monday – Sunday: 10 am  – 6 pm
---
Wintry Weather at Gardens by the Bay
Enjoy the cool temperatures of a winter wonderland at Gardens by the Bay.
Come Blizzard Time at the picturesque Spalliera, the largest light sculpture at Christmas Wonderland at the Gardens, the foamy snow will fall. The 5-storey-high Spalliera will form a beautiful backdrop for photo memories as the snow falls.
Snow at the Spalliera comes down at 7.30 pm, 8.20 pm, 9.05 pm and 9.45 pm daily.
Catch the Italian Luminarie light sculptures showcase, the European-style Festive Market at Supertree Grove, and be transported to a wintry Yuletide in the Flower Dome.
For more details, see Little Day Out's Christmas experience at Gardens by the Bay.
Gardens by the Bay
18 Marina Gardens Drive, Singapore 018953
See here for updated opening hours.
---
Knee-high Snow at Tanglin Mall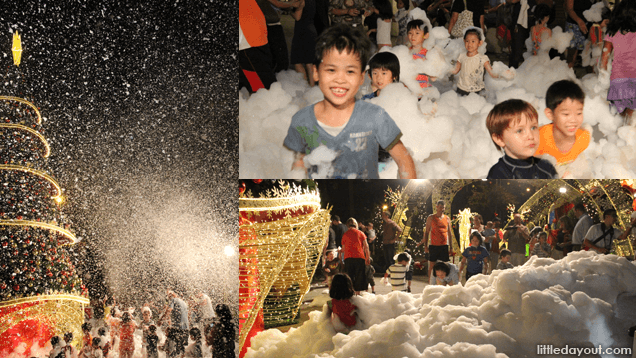 Every December, Tanglin Mall's snow-foam machines whizz out the stuff in copious amounts, to the joy of the kids passing by. The knee-deep foam is enough for the littlies to wade in.
So don't come in your Sunday best. Be prepared to get a little soapy this Christmas.
Tanglin Mall
163 Tanglin Road
See here for details on snowfall sessions.
---
Snow in the Heartlands
Over in the heartlands, snow and bubbles make their presence felt at AMK Hub. The main entrance of the mall will offer snowfall at 8 pm from Monday to Thursday, and 6 pm and 8 pm from Friday to Sunday.
AMK Hub
53 Ang Mo Kio Avenue 3