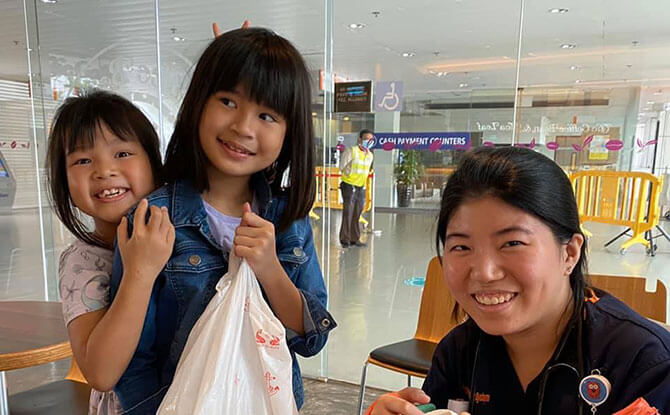 On Saturday morning, Rui'en and Ruirui woke up their dad Tong Yee at 6.40 am in the morning. After facing a long and emotionally tiring week resulting from the novel coronavirus, now called Covid-19, it was understandable that he wanted to just unwind on that Saturday. As he shared, "Frankly I didn't feel like doing anything".
However, that didn't stop his daughters from coming to him asking whether they could do something for people in the hospitals. It was when Rui'en started to sing a made-up song that he decided to get out of bed.
"1, 2, 3
Can't you see
---
-- Story continues below --
4, 5, 6
We're in crisis
7, 8, 9
Now it's time
10, 11, 12
To wish our doctors well"
Start Small
Tong Yee and his girls decided to head out to Ghim Moh market to buy breakfast and deliver it to friends he knew in the hospital.
"Doctors, nurses, administrators, allied health professionals are really tired. They have had their leave cancelled, hours lengthened, on top of all the normal healthcare needs. And the keep us protected," he said in the Facebook posted dated 8 February 2020.
At the market, they bumped into two other friends who lent a hand by helping to queue up for food at the popular market's stalls.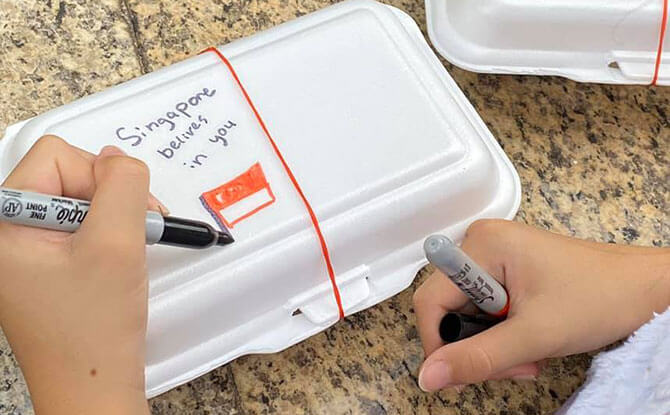 The kids wrote messages on the food packages and went to deliver the food to their doctor friends, waiting for them to become available in order to collect the food packages for themselves and their colleagues.
What we do in times of crisis
In the Facebook post, he further highlighted two things that people can do in times of crisis:
Support our society and community; and
Teach the next generation how to do the same.
The next day, 9 Feb, he further addressing the current Covid-19 crisis in a note.
"The very nature of crisis is that it will always demand from us more than we are prepared to give."
It goes on to address the treatment of medical professionals and the frenzied buying that took place over the weekend.
He ends with a rallying call, "It is so important to encourage each other at this time. But it is equally important to give and encourage even when it is not a crisis. Human beings are really nothing but our habits; how we behave in good times, and how we behave in bad. The very nature of crisis is that it will demand from us more than we are prepared to give. That is what crisis does. It is a crucible that burns away pretence and reveals habits. Let us focus on giving each other reason to keep doing what encourages all of us; in both good times and bad."
As a postscript to the whole incident, it turns out that there was an unintended consequence of the breakfast-buying foray.
As it was hard to find parking at Ghim Moh market, Tong Yee ended up parking illegally. 30 minutes later, he returned to find a parking summons on his car. A Singapore-style twist to add to the adventure.