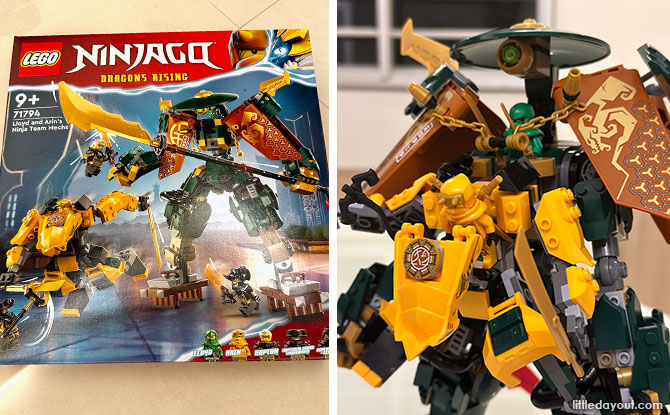 The LEGO NINJAGO 71794 Lloyd and Arin's Ninja Team Mechs set foretells a scene where Ninja Master Lloyd and newbie Arin team up in mechanical giants to dispel Imperium forces. It is one of the new sets introduced by LEGO under the Ninjago: Dragons Rising series.
One of the most awe-inspiring NINJAGO LEGO sets that we have had the pleasure to build, 71794 Lloyd and Arin's Ninja Team Mechs is both fun to build and play with as a set of action figures.
The set contains 764 Lego pieces which come in seven packs. With these number of pieces, it offers enough of a challenge for kids 9 and above but still can be completed within a day.
After assembly, the set yields an impressive 31-cm tall mech that can be expanded with a detachable smaller 13-cm mech.
---
-- Story continues below --
---
LEGO NINJAGO 71794 Lloyd and Arin's Ninja Team Mechs Build Experience
The 147-page manual may look a little daunting, but the building process is actually pretty straight forward.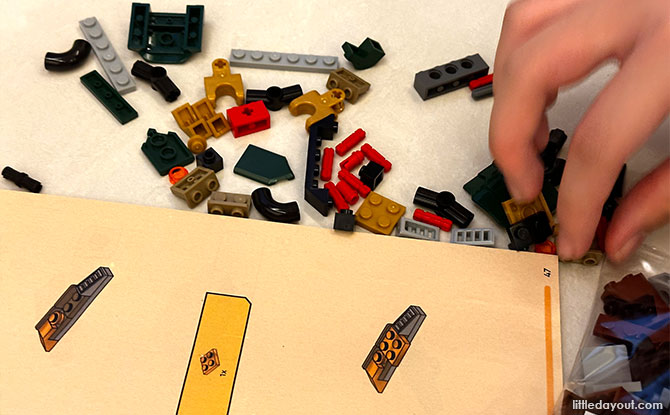 It can also be made easier by using the QR code on the cover page and the Lego Instruction App. This opens up a 3D viewer that allows the builder to get an all round view of the more complex pieces of this set (which can be very helpful).
There are two mechs as well as five mini figures in the LEGO 71794 Lloyd and Arin's Ninja Team Mechs.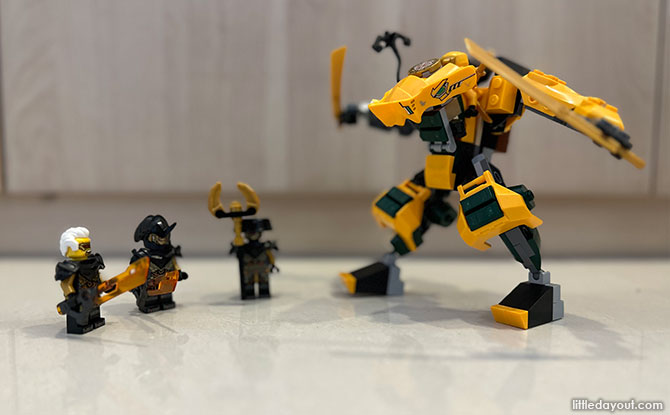 Heroes Lloyd and Arin face off against the evil trio of Rapton, Imperium Guard Commander, and Imperium Claw General. The ninjas are armed with dual katanas, while Rapton and Imperium Claw General have giant swords and Imperium Guard Commander has a large staff.
Arin's Mech is very simple to construct, only taking about 15 minutes to finish.
Arin can be slotted into a cockpit in the Mech's head. Furthermore, it features fully manoeuvrable limbs, perfect for swinging its golden swords at the bad guys.
As for the main centrepiece, Lloyd's Mech takes up the majority of the build time.
It took us between two to three hours to finish up the towering mech, including a few mishaps with the direction of the certain limbs (use that 3D viewer!)
This mech also boasts fully manipulatable limbs, including movable fingers, ankles, and armour plates. What's more, the Mech wields a giant golden halberd that no enemy could go against. Children will be able to set this battle-ready mech in any pose.
However, it should be noted that this mech is slightly hard to balance and battling too hard can cause pieces of it to fall off.
---
LEGO NINJAGO 71794 Lloyd and Arin's Ninja Team Mechs Review: Let the Mechs Combine!
One of the most exciting features of this LEGO NINJAGO set is that kids can merge Lloyd and Arin's Mechs together to form one super mech. This is a first for LEGO NINJAGO!
Just slot the connecting piece at the back of Arin's mech into the hole in the chest of Lloyd's Mech and you've got yourself an extra deadly, extra armoured giant mech.
LEGO NINJAGO 71794 Lloyd and Arin's Ninja Team Mechs is great fun. Not only is it a satisfying build but has a playability factor that can be enjoyed after it has been completed.
Learn more about the LEGO NINJAGO 71794 Lloyd and Arin's Ninja Team Mechs set.
If you enjoyed reading this story, you may also enjoy reading our review of this other LEGO NINJAGO set, the LEGO DreamZzz Tree House play set or this one on Peppa Pig playsets.