LEGO has creatively designed the LEGO DREAMZzz 71461 Fantastical Tree House set, which is the base from which the Dream Chasers operate and defend the Dream World. We review this new LEGO set.
---
What is LEGO DREAMZzz?
LEGO DREAMZzz is a new LEGO theme, complete with a television series rolled out in LEGO's YouTube channel and Netflix in mid-2023.
The all new, original, story-driven LEGO Dreamzzz sets have been unveiled in August 2023 and we were lucky enough to be amongst the first to get our hands on them.
The series LEGO DREAMZzz follows a group of children who are roped into a secret agency as Dream Chasers where they learn how to harness their creative imagination to enter the Dream World.
---
-- Story continues below --
In this world, they use their power of imagination to create fantastical weapons to battle the evil, tyrannical Nightmare King and his subjects who intend to conquer Dream World and enter the Waking World.
So far, LEGO has revealed 11 LEGO DreamZzz sets and these retail from $31.90 all the way up to $239.99.
The LEGO DREAMZzz 71461 Fantastical Tree House set is one of the largest sets in the series and it completely lives up to its name and we could hardly keep our excitement as we unboxed it.
The following are five reasons we would highly recommend the LEGO DREAMZzz 71461 Fantastical Tree House to you after having had a chance to review.
---
LEGO DREAMZzz 71461 Fantastical Tree House Review
1. Big and Fun Project to Work On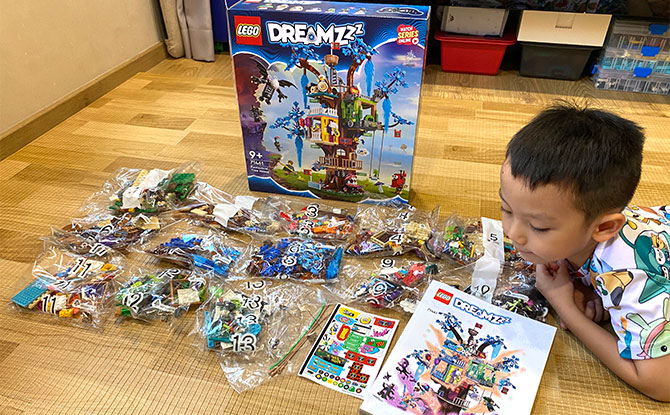 Aimed to challenge the minds of 9-year-olds and above, this set consisting of 1257 pieces (divided into 13 bags and a sticker sheet) is not for the faint of heart.
However, should any kid wish to take on this challenge, he or she is in for a world of fun and fantasy through story-led building.
LEGO Group has designed the set to be opened in bags whereby each bag opened peels back a layer of the DREAMZzz story of how the Fantastical Tree House was created in the Dream World.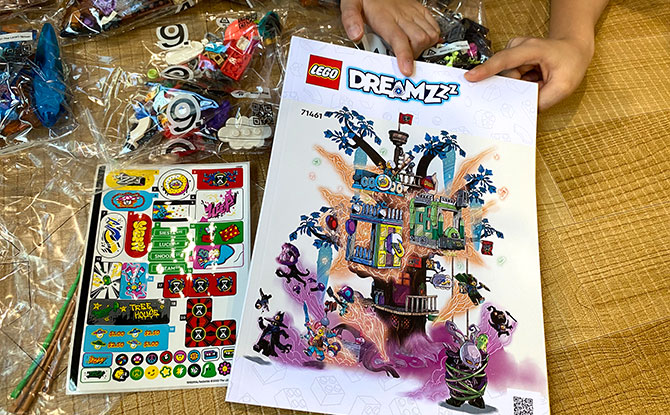 This is reflected in the way the physical manual and LEGO Builder app were carefully curated and colourfully designed. We loved the vibrant colours that helped my boys build with ease and enabled them to think creatively in the building process.
---
2. Awesome Ways To Build It: Party Mode or Defence Mode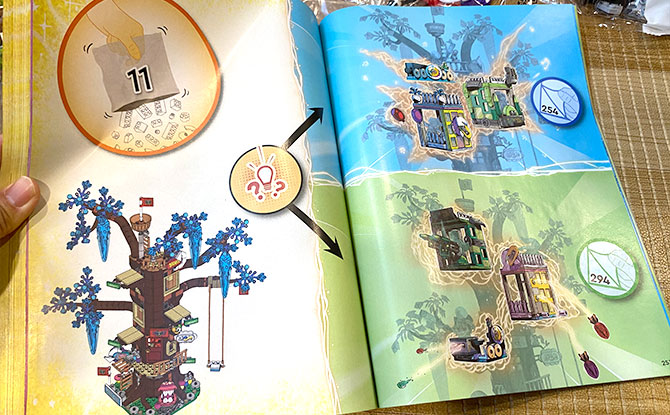 There are two ways to build the LEGO DREAMZzz 71461 Fantastical Tree House – party mode or defence mode. The party mode is self-explanatory and the defence mode is where the characters can then take up positions to defend the tree house from the marauding nightmare square.
When asked which mode they would like to construct, no prizes for guessing which mode my boys were interested in. They responded with a resounding 'Yes!' to the latter as they enjoy role-playing battle scenes.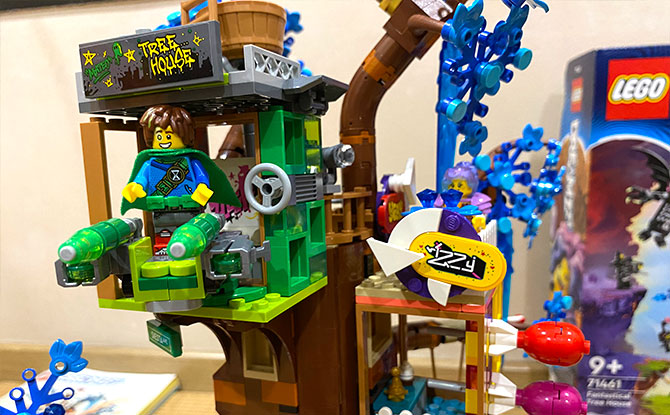 I was impressed with the dual way of play, which involved changing the façade of the tree house by moving certain boxed up rooms. The interior of those rooms is also refitted based on the mode you choose. Since one is reenacting Dream World, you could even redesign it however you wish.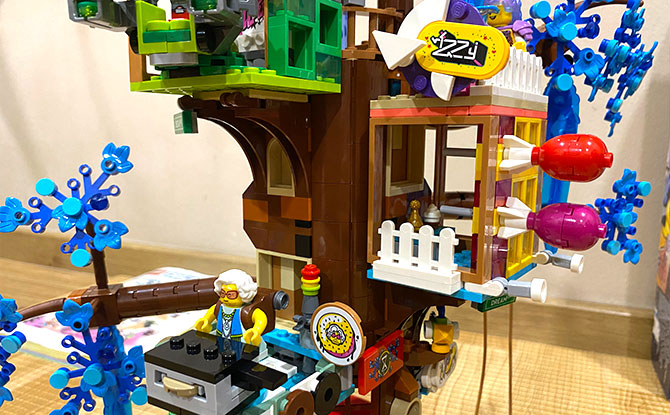 You could also play with certain elements in multiple ways, for example balloons and toaster in party mode are transformed into rockets to be launched and a bagel blaster respectively during defence mode.
---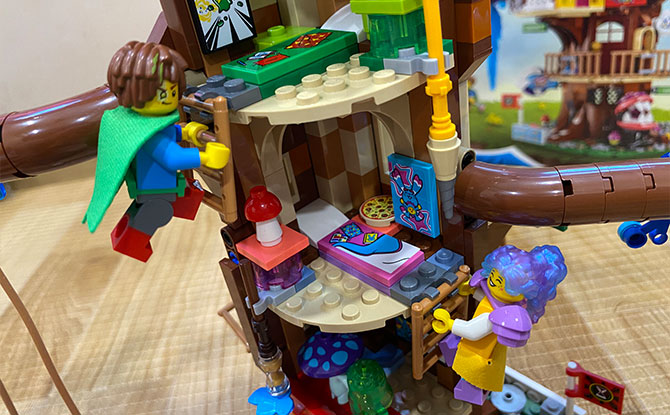 With the need to house several Dream Chasers in a structure, it is cleverly divided into three separate main sections, namely Mrs Castillo's kitchen, lead characters Mateo's and Izzie's bedrooms and a living room with a large television and chilli red sofa to boot.
The tiny details such as a pizza in Izzie's room and Mateo's dream paint bottles scattered across the tree abode gives soul to the set.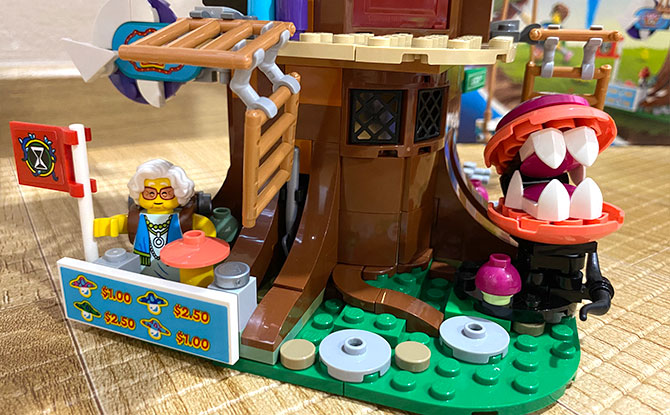 In addition, the house comes with a playable swing, a food stall, an intricate garden with fungi and a piranha-like plant as well as a bonus level where a lookout tower sits. Also included in the set is a cute walking mailbox which one can post letters into.
---
4. So Many Minifigures and More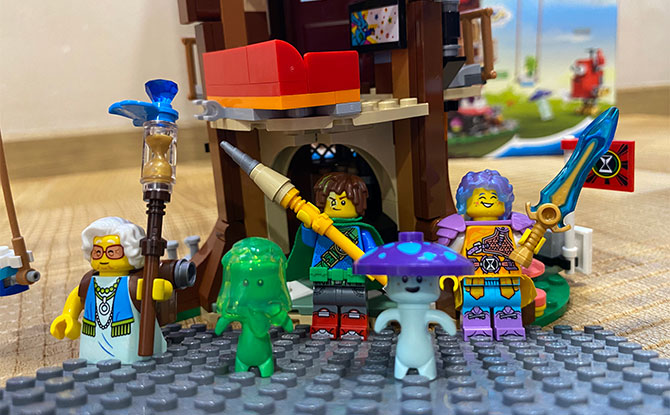 The 4 main minifigures are Mrs Castillo, Dream Chasers Mateo and Izzie and the antagonist Night Hunter.
Mateo comes with a fabric cape and Izzie with a fabric miniskirt. Every main character is accompanied by a staff or weapon to aid their agenda in the Dream World.
My boys needed no introduction to the characters and treated them as if they had affinity even prior to watching the DREAMZzz TV series.
While the set states four main minifigures but came with several other supporting characters such as Mateo's creation Z-Blob, a Dreamling Mushroom and Grimkeeper the Cage Monster with an evil helper Snivel.
All these characters give life to the tree house and bring to life the fight scenes that could possibly take place as the protagonists take on the Night Hunter and his sidekicks.
---
5. Many Hours of Play and Counting…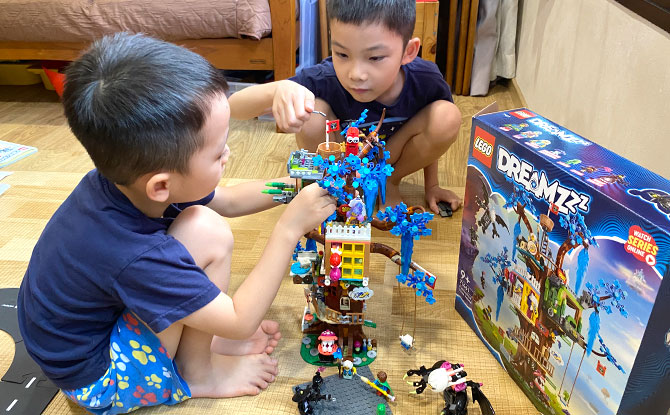 Due to the complex nature of the build and the fun of building in a story led nature, the boys ended up spending more than a day piecing together the tree house and its components.
Add in the ability to change the mode of play from defence to party mode and it would open endless possibilities of play.
We also loved the details such as Mrs Castillo's toaster that can be transformed into a bagel blaster. There are also Mateo's dream paint bottle all around the tree house. These add so much character and fun to the whole set.
Upon completion of the LEGO DREAMZzz 71461 Fantastical Tree House, one of my boys stood a distance from the set and kept admiring the intricacy of the tree house structure. Once completed, this is an impressive set, both to play with and to display and would not look out of place in a magical forest.
Find out more about LEGO DREAMZzz 71461 Fantastical Tree House.
If you enjoyed reading this story, we predict that you will also enjoy reading this one, or this one another LEGO DREAMZzz set, as well as this other foodie related story here. Also be sure to visit our all-things LEGO page here on Little Day Out.