Mrs Castillo's Turtle Van 71456 is a charming set that adds colour to the LEGO DREAMZzz series. As the DREAMZzz series of LEGO is freshly launched in August 2023, we were fortunate enough to open this new set for a review.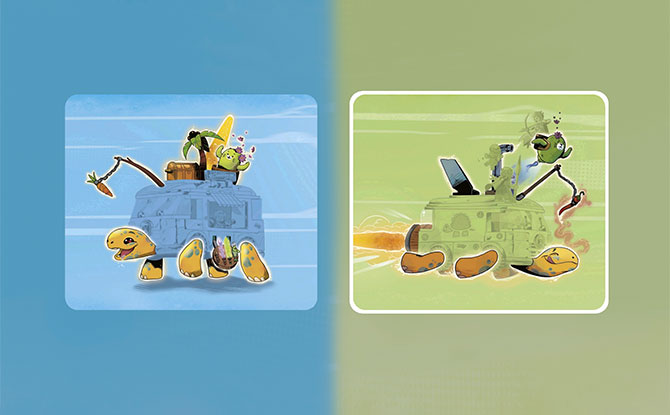 Letting kids take the wheel into a dreaming adventure, LEGO has ingeniously created a turtle that is not just a turtle and a van that is not entirely a vehicle. In this manner, this 434-piece set is not your typical taco food truck.
The 2-in-1 way to build lets kids take on the role of a Dreamchaser, allowing them to choose between creating Tortuga's dream craft shop in the form of a standing turtle, or transforming the turtle van into a flying submarine, fighting off the evil Grimspawn as it blasts through the air.
---
-- Story continues below --
---
Unboxing LEGO DREAMZzz 71456 Mrs Castillo's Turtle Van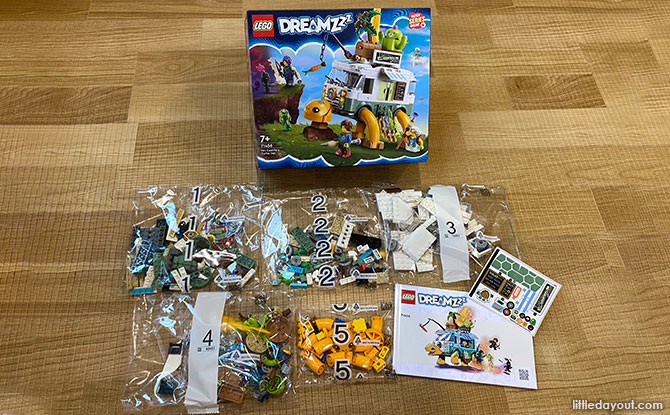 Like the other sets in the DREAMZzz TV series that was released in LEGO's YouTube Channel and Netflix in mid-2023, the turtle van set manual closely follows the DREAMZzz story of how the turtle van came to be in the Dream World and how Dreamchasers can get supplies to ward off nightmares.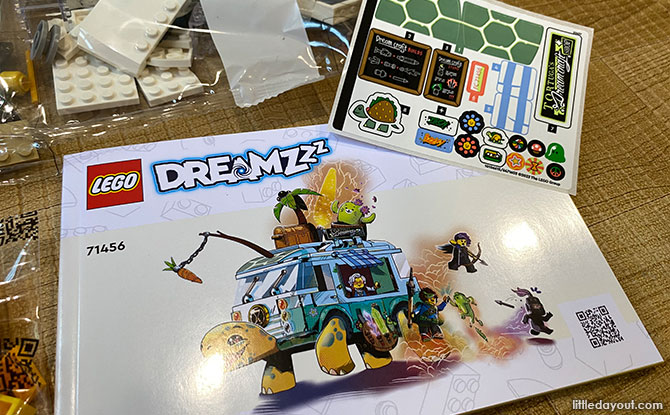 The instructions in both the physical manual and the LEGO Builder app were clear and colourful, allowing my 5 and 8-year-old sons to follow along easily. The set also came with a sheet of fun stickers aligned with the reptilian shop theme.
---
Dream Anything You Want – the Build Process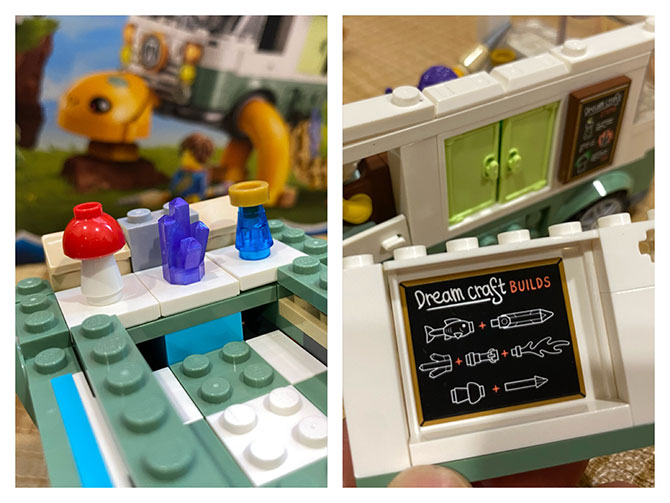 One starts off with building the chassis of the van. Simple and spacious, it is fitted with retro dusty green and white tiles as well as little details like cute windscreen wipers, a fishing rod attached with food to give turtle the extra boost, a board listing dream craft builds and a row of dream craft elements.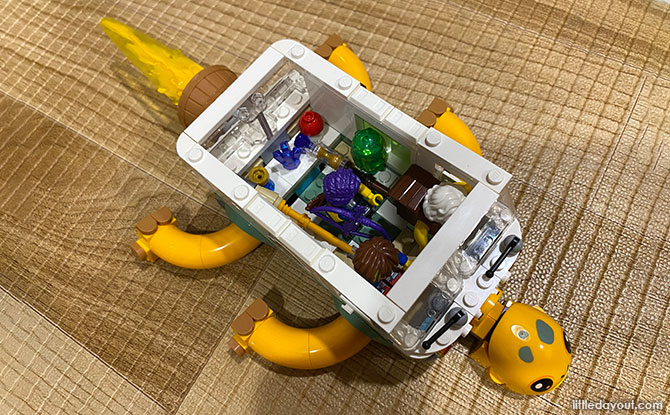 The van comfortably sits the main characters – Mrs Castillo, Mateo, Zoey and Z-Blob, as well as all their weapons and dream craft builds.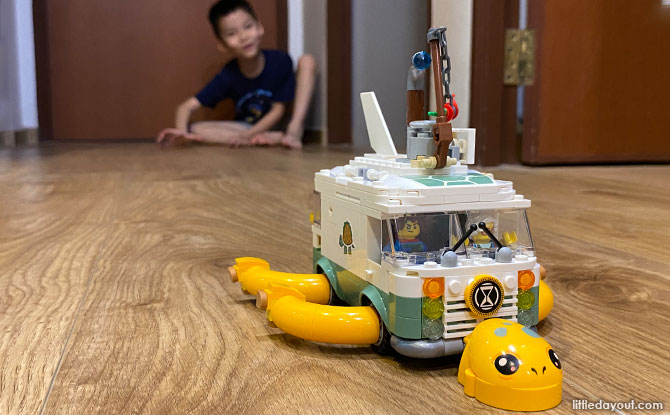 The boys had fun adding the legs to the turtle van, choosing the submarine mode instead of land mode. This enables the turtle van to ride smoothly on our vinyl floor, allowing the 8-year-old to zoom it freely along our corridor.
---
Minifigures
Though this is a small set, there is an impressive number of minifigures provided. That being said, the only antagonist is a small Grimspawn minifigure. I am guessing this set allows kids to enact scenes whereby the good guys are winning or are taking a break from battle whilst replenishing their supplies.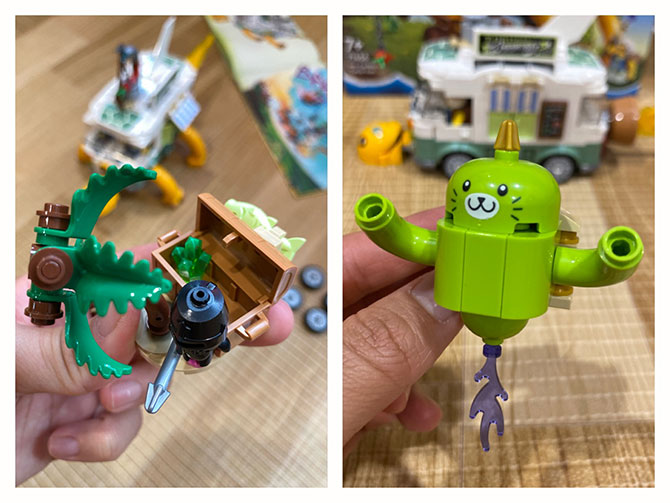 Other features of the turtle van set include a treasure box of shiny green crystals guarded by Grimspawn and an adorable-looking cactus cat.
---
Transforming Fun
Just like a food truck, one can open the pastel green windows to indicate the dream craft shop is open for business. There is also a display panel of dream craft items one can choose from.
Laughter filled our home as the boys took turns building the set and simultaneously played with the turtle van, interchanging the legs for wheels, and taking it for a ride/spin/flight around our home.
---
Dreamchasers Dream On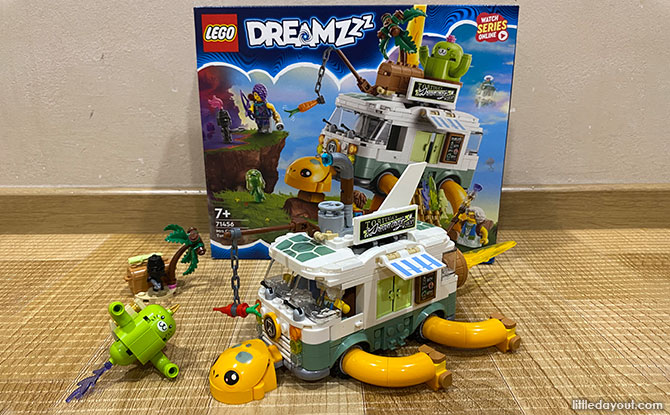 All in all, this set is easy enough for kids around 7 years of age to build, freeing up their time and imagination to recreate battle and party scenes with the free spirited and ever transforming turtle van.
Find out more about DREAMZzz Mrs Castillo's Turtle Van 71456.
If you enjoyed this story, we think that you will also enjoy this one on another LEGO DREAMZzz set or the LEGO DREAMZzz activities at LEGOLAND Malaysia Resort.