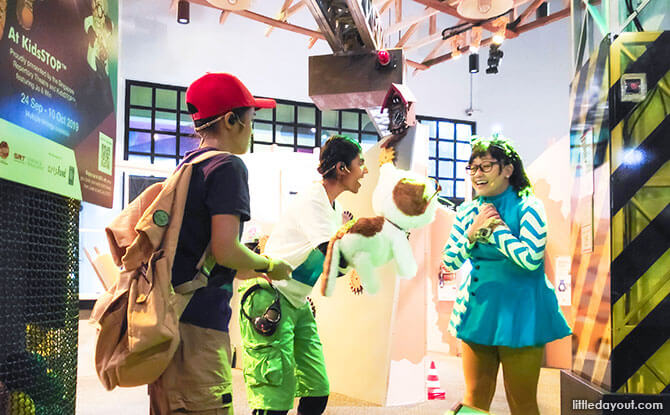 KidsSTOP and Singapore Repertory Theatre (SRT) have come together to showcase a STEM (Science, Technology, Engineering and Mathematics) with the Arts promenade theatre show – CATalysts. This sensory, immersive experience also discusses emotions, their relation to colours and how to solve problems using Madame Curie's key words, "Always Question, Always Wonder".
Two KidsSTOP mascots, Jo and Win, come to life in this interactive performance as they take the audience search of a missing cat, Madame Curie. The KidsSTOP feline appears to be cat-napped by Dr FeelBad, an eccentric inventor who "invents" items already in existence.
Get Moving! & Explore KidsSTOP with the CATalysts Cast
There has been an increase in promenade theatre shows lately where audiences move from scene to scene with the casts. However, KidsSTOP's CATalysts is the first time we have experienced an entire audience group donning headsets while moving about.
It certainly helped the clarity of sound quality and kept every single member of the audience engaged throughout the entire performance.
Friendly ushers were also on hand to ensure that the headphones are worn correctly and that the children are directed to the right spot. At times, it was little difficult to see the cast when all the children were standing but one tip is to follow the ushers' directions closely and get a spot right in front. Otherwise, the walkabout performance is perfect for naturally-fidgety children.
Emotions Abound in CATalysts' Storyline
One of the main themes of this performance at KidsSTOP is about managing emotions, especially when they seem to be overwhelming.
Jo – the planner is anxious about keeping to her plans, while her good friend, Win, is all about spontaneity and having fun. Dr FeelBad, on the contrary, is grouchy yet hilarious.
The kids definitely learnt a thing or two about being aware of emotions, empathising with people who "feel" differently and helping one another process their emotions.
Some scenes in CATalysts were very relatable to the young audience. Jo and Win are strikingly two very different personalities, just like how friends can be. When Jo got upset because Win was reluctant to follow her plans, it mirrored scenarios that can happen in our own interactions with others.
They learnt to compromise and get along as friends do, reminding us that friendship is about giving in to one another.
Learning about Science and its relation to Emotions in CATalysts at KidsSTOP
The theme song of CATalysts is based on Madame Curie's advice of "Aways Question, Always Wonder." It encouraged Jo, Win and even Dr FeelBad to resolve problems, whether they were chasing a rocket or encountering a dinosaur. Stopping, thinking and asking questions helped them to solve their problems. It also sparks a spirit on enquiry amongst the young audience, provoking their curiousity. KidsSTOP was a very apt backdrop for this STEAM-based performance.
Science experiments were also peppered throughout the performance. Jo likened her anger to a volcano, or the effect of mixing vinegar and baking soda. Jo and Win also showed how disagreements were like two repelling magnets, while compromising was like two attracting magnets. The visuals of the performance helped children to understand the relationship between science and emotions.
Splashes of Emotions Post-Performance Workshop
After the CATalysts performance, which lasted about 45 minutes, KidsSTOP educators conducted a hands-on workshop to explore the relationship between colours and emotions using various mystery liquids.
The children had a chance to experiment with the liquids and see changes in colours. We personally found that the concepts went a little over-the-head of our preschooler but seemed ideal for children 7 to 9.
To reinforce the learning from CATalysts, parents can also download a programme booklet with learning activities and conduct the various experiments with their children at home.
Question no more, catch CATalysts at KidsSTOP, Science Centre Singapore till 10th October. For more details, you can refer to our earlier post on CATalysts.
Get your tickets from SISTIC. Every ticket-holder will also get a 20% discount off KidsSTOP tickets (valid till 31stDecember 2019).
KidsSTOP CATalysts
When: 24 September to 10 October 2019
Website