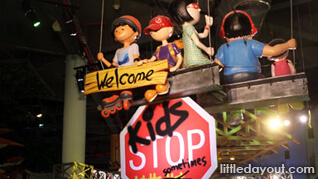 KidsSTOP is a children's science centre created for kids between the ages of 18 months to 8 years old. Located at Science Centre Singapore, kids can nurture their creativity and curiosity through fun and play. 
Einstein said, "I have no special talents. I am only passionately curious."
Curiosity and inquisitiveness are traits naturally found in all children from a young age. It manifests in their wanderlust, crawling around the home, and silent eavesdropping into adults' conversations as they grow older.
KidsSTOP, the new children's science centre slated to open on 5 June 2014, aims to encourage and nurture a child's natural curiosity in fun and interactive ways. Specially created for children between the ages of 18 months to 8 years old, KidsSTOP provides a safe and fun environment for young kids to engage with the world around them through unstructured, but purposeful, play.
Part indoor playground, part make-believe fantasyland, KidsSTOP is filled with interactive stations that kids and their parents can experience together. With 17 zones and feature areas, you won't find heavy-going scientific jargon or strings of text here. Instead, children can discover for themselves how things work by playing and interacting with the exhibits at KidsSTOP.
Mr Gerald Tee, Director, KidsSTOP, Science Centre Board, said, "As children learn best through interactive play, we are certain that the numerous hands-on opportunities at the facility will spark their imagination, curiosity and interest in science."
Use Your Imagination
KidsSTOP has several "make-believe" zones including an airplane cockpit, a construction site, a supermarket and a cafe.
The well-stocked supermarket contains shelves of produce. Kids can grab a basket or shopping trolley and go on a spree before checking out at the cashier. They can also learn more about where food comes from and the importance of balanced meals and good nutrition.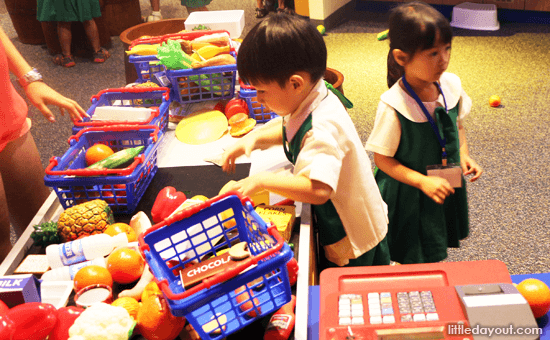 Neighbouring the supermarket is a kitchen and café, complete with white aprons and chef hats, where children can have fun playing "masak-masak".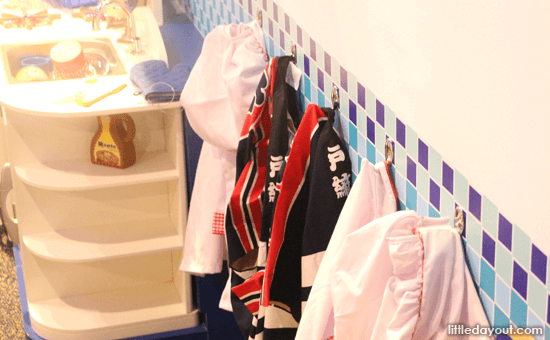 Over at the Built Environment, sponsored by the Building and Construction Authority (BCA), other than the bustling construction site, kids can try their hand at making a cuckoo clock chime by using the correct combination of gears and fit together a series of pipes to funnel balls along a wall.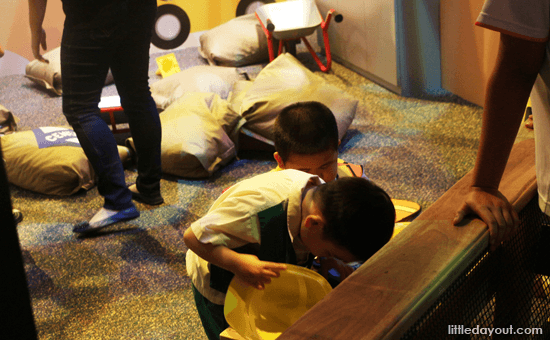 The highlight of the Flight and Space Zone is the airplane cockpit where children can pretend to be piloting a plane. Other activities at the Zone explore aspects of flight and the planets in the solar system.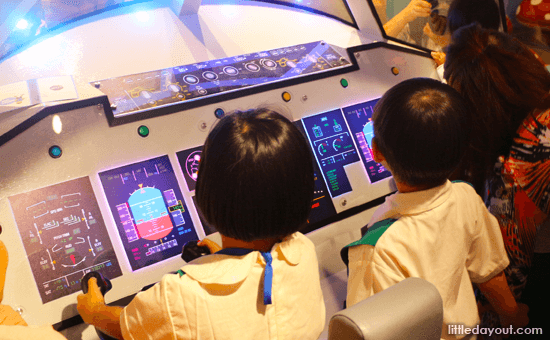 Aspiring paleontologists will be happy to plunge into the Dino Pit. Armed with a brushes and buckets, they can set to work uncovering a buried T-rex fossil.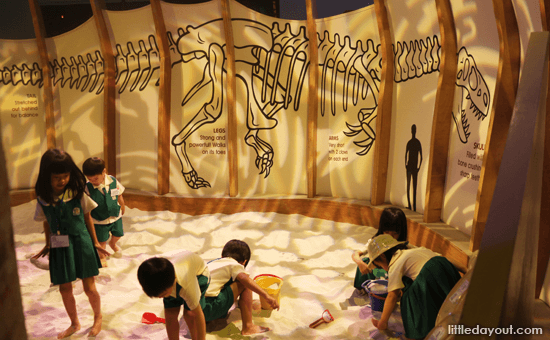 At the Human Body, activity kiosks introduce children to how their bodies work. There is a "patient" laid out on a table and a digital "mirror" lets kids look inside themselves.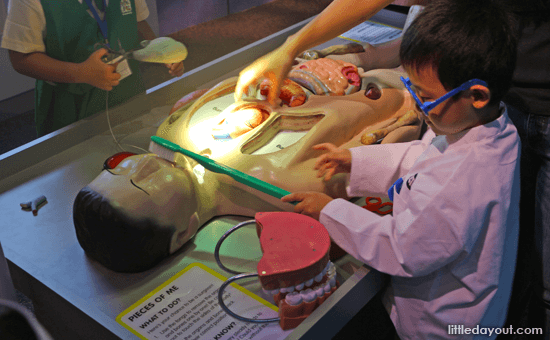 For Active Bodies
Thrill-seekers have to try the Giant J Slide. This seven-metre slide allows participants to experience a moment of weightlessness. Donning a special jumpsuit, participants will be hoisted up the slide before experiencing the thrill of sliding down to safety.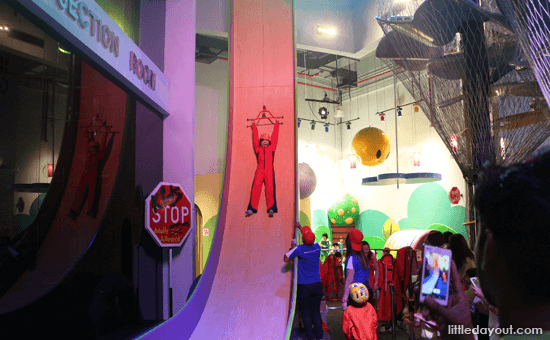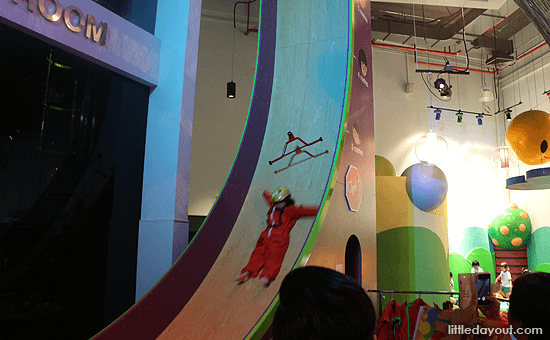 Kids bursting with energy can conquer the nine-metre high Big Dream Climber. This "magical beanstalk" leads to a Music Zone on the second floor where instruments such as a giant-sized keyboard await and they can try wrestling a note out of a croc and other musical activities.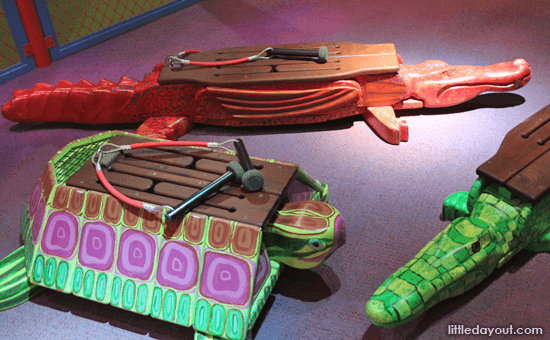 Don't miss out on the series of smaller rooms and labs at the rear of KidsSTOP.
The Critters Zone has displays of live animals such as hermit crabs, amphibians and the ever-popular chick hatchery.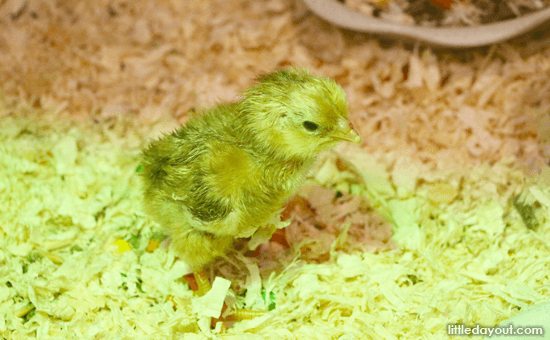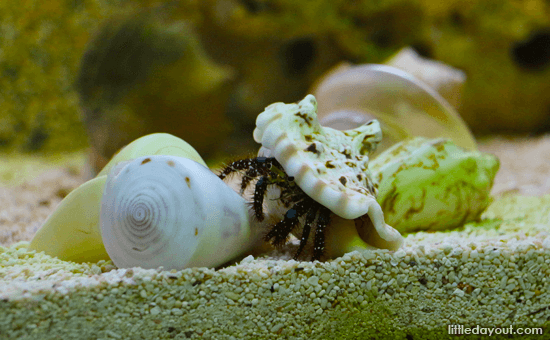 At the Kiddie Theatre, children can choose to either take to the stage in a mini-television studio or get behind the cameras to produce the show. They can even become news reporters, get chased by an onscreen dinosaur and make a stop-motion movie.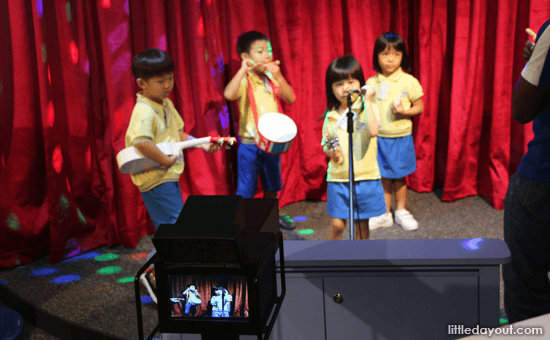 Math Zone lets kids explore Math in creative ways through the shapes, tiles and scooping activities.
Other zones within KidsSTOP include a Kitchen Lab where little ones can cook up their own masterpieces during workshop sessions and an Innovation Lab where LEGO Education will deliver programmes.
KidsSTOP also has party spaces for children's birthday parties.
Expect the five KidsSTOP mascots to make appearances around KidsSTOP as well.
KidsSTOP Singapore
KidsSTOP is located at the Omni Theatre Building (15 Science Centre Road). It will open to the public on 6 June 2014.