It is "free expression time" at MindChamps PreSchool @ Boon Keng (Kallang) and the preschoolers rush over to the indoor play area to go bowling, play mini-golf or have a game of hopscotch with their friends.
These are just some of the activities which the children at the new MindChamps PreSchool @ Boon Keng (Kallang) look forward to every day.
"We want Champs to have a healthy lifestyle and engage in sports and play, and by including sports and exercise in the programme, we are also training their gross motor skills," says Ms Chew Pei Yin, Centre Director, when asked about the popular indoor play area.
A Conducive, Learning Environment
And with over 9,000 square feet of learning space, MindChamps PreSchool @ Boon Keng (Kallang) has plenty of space for not only the indoor sports area but also 10 bright and spacious classrooms, filled with natural light.
---
-- Story continues below --
Each classroom serves as a conducive environment for the children, or Champs as they are called, to learn and interact with their friends and teachers.
Team of Dedicated Teachers
"Every individual child is special and unique and I call them each my own. They are not just children in our centre; they become a part of our hearts," says Ms Jovine Chia, Centre Principal of MindChamps PreSchool @ Boon Keng (Kallang).
Together with her team of passionate teachers, Ms Jovine Chia encourages the children to continually grow through exploration and learning. They create a positive and nurturing environment where children can interact with each other and be exposed to new experiences beyond the classroom.
Rich Set of Experiences and Enrichment Programmes
One of these experiences is the Gourmet Moments enrichment programme which engages the preschoolers in the process of making food. Gourmet Moments is conducted at the centre's open-concept kitchen.
"Every week, the Champs get to explore different types of gourmet-related activities in this special kitchen," explains Ms Chew. "Through Gourmet Moments, we introduce Champs to new aspects of creativity, cognitive and associative development, physical coordination and communication skills."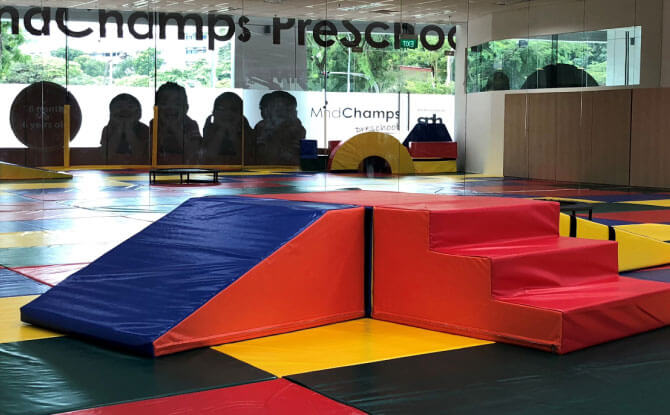 Another of the children's favourite spots is the centre's Mind Gym. This is where the NeuroMooves, Music for the Mind and Creative & Theatrical Strategies programmes are conducted.
During NeuroMooves lessons, Champs get to learn different movement sequences and basic gymnastic movements which help develop their memory skills and coordination.
Music for the Mind introduces children to musical instruments, singing and rhythmic movements, developing them physically, socially, emotionally and cognitively.
For Creative & Theatrical Strategies, Champs engage in immersive storytelling which helps develop their narrative intelligence, and stimulate their creative, associative and thinking abilities.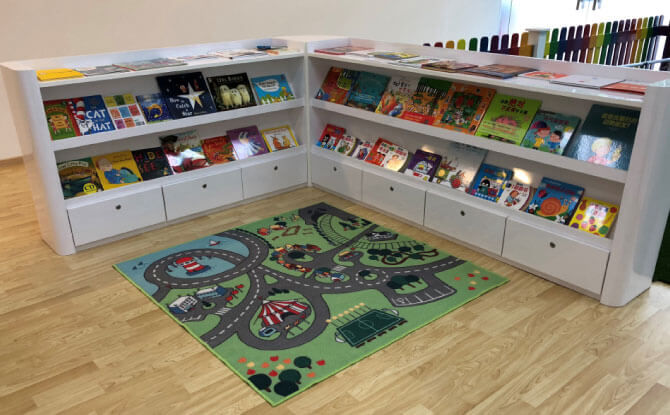 The children can also enjoy the books at the centre's Mini Library. The space includes a cosy corner where children can interact with their teachers and one another.
Visit This Brand New Centre in Boon Keng
MindChamps PreSchool @ Boon Keng (Kallang) has only recently opened in 2018. The centre is offering a special opening promotion of $150 savings over 12 months for 30 new enrolments at the centre.
To find out more about MindChamps PreSchool @ Boon Keng (Kallang) or to arrange a tour of the brand-new centre and its facilities, call 6291 3068 or 8820 3118.
MindChamps PreSchool @ Boon Keng (Kallang)
Where: 30A Kallang Place #01-01, Singapore 339213, (near Bendemeer & Boon Keng MRT)
Call: 6291 3068 or 8820 3118
Website
This feature is brought to you by MindChamps Singapore.