This year, we can look forward to the familiar festive spirit filling the streets once again with Hari Raya light-ups and the return of physical Ramadan bazaars. This includes the Kampong Glam Hari Raya 2022 light up and bazaar.
The Kampong Glam 2022 light up at is organised by One Kampong Gelam and follows the theme "Cinta Cahaya Ramadan" with Cinta meaning love and Cahaya meaning light or radiance.
---
The Light of Gelam Light Show, Sultan Mosque
---
-- Story continues below --
One of the highlights of the Kampong Glam light up is a cultural-themed light projection show on the facade of Sultan Mosque. The Masjid Sultan or Sultan Mosque will be lit up from 1 April to 8 May 2022.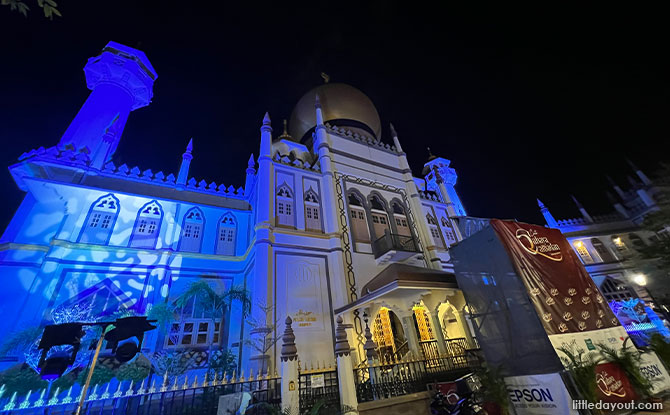 Conceptualised by the theme 'Ramadan' & 'Eden', the projection mapping will showcase 2 contents on the exterior of the mosque for four minutes on each segment. The first content consists of a focal element of water which symbolises purity, while Eden, follows inspiration from the Malay Muslim culture with its beautiful motifs such as flowers.
The Light of Gelam light projection will take place twice in the evening, at around 7.45 pm and 9.45 pm. There will be an additional show from Fridays to Sundays.
---
Ramadan Bazaars To Return To Kampong Glam
Ramadan 2022 will also mark the return of the physical Ramadan bazaars. The Ramadan Souk @ Kampong Gelam will be held along Kandahar Street and run till 1 May from 3 pm to 11 pm.