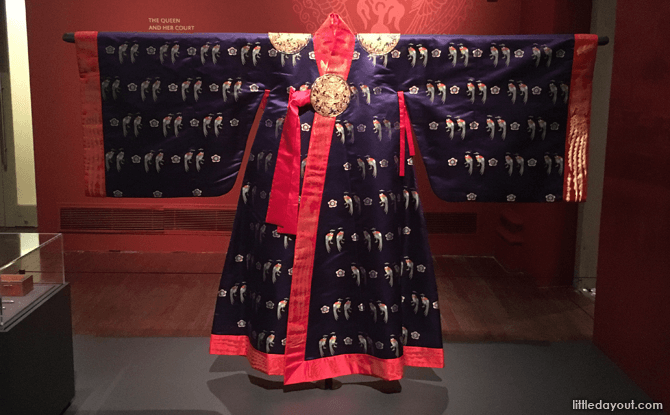 With a history of over 500 years, Joseon was the last dynasty of Korea. Fans of Korean historical dramas or sageuks will be familiar with the Joseon. Now, others can learn about its rich traditions at the Asian Civilisations Museum's Joseon Korea: Court Treasures and City Life exhibition being held from 22 April to 23 July 2017.
On display are treasures from the National Museum of Korea and the National Palace Museum in Seoul. The 150 artefacts showcase the Joseon period (1392 – 1897) and provide a look at royal power, cultural sensibilities and everyday life.
The exhibition is broken up into six sections. Here are some highlights of each section.
Departing from the Goryeo Kingdom
Departing from the Goryeo kingdom introduces the transition between the previous Goryeo dynasty and the Joseon dynasty.

Welcoming visitors to the exhibition is an austere piece of pottery, a Moon Jar. This is symbolic of the Neo-Confucianism ideals that were adopted during the Joseon in contrast to the Goryeo period which had Buddhism as a state religion.
Royal Authority and Court Culture
This next section looks at the roles of royalty and symbols of power.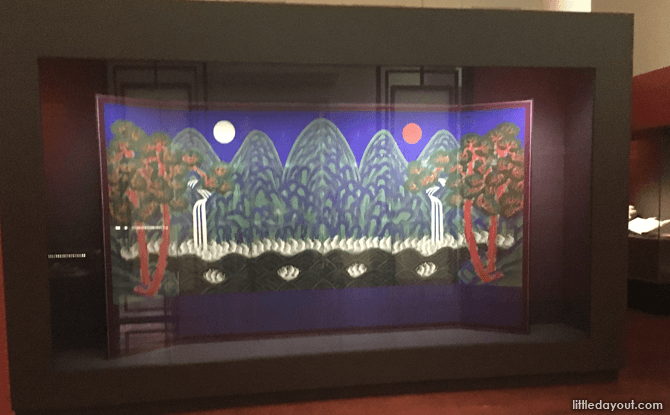 On display is a six-fold screen, The Sun, Moon and Five Peaks, that stood behind the King's throne. It is symbolic of the King and was often used to stand in for the King's presence at events and represented his power.
Look closely at two paintings in a corner of the room, you can see a similar screen being used at a celebration to represent the King. Interestingly, while the two paintings look very alike, one represents celebrations being held in the day and the other at night. See if you can spot the difference and which is which.
The Yangban
Joseon society was stratified into four classes. The yangban occupied the highest strata of society. As the elite and aristocratic class in Joseon, they were looked to as models of Confucian ideas and values.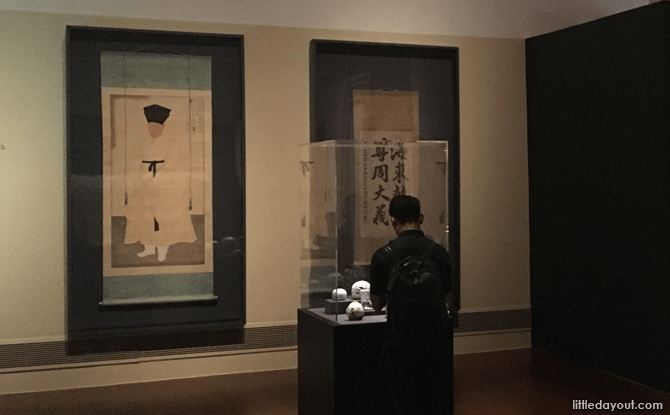 This portrait of scholar-official Seo Jiksu (1735 – 1811) shows the attire of Joseon Confucian scholars and is unusual for having been painted by two well-known artists of the time. It is also considered especially intimate for showing his socks!
Nature in Korean Art
Next, take a look at the importance of nature to Korean artists.
This was reflected even in Korean furniture. Look closely at the piece on the bottom left in the picture above and you will see how the furniture maker incorporated a grain of natural wood that looks like a brush stroke into the furniture. This reflects the scholarly ideals of the Joseon.
Sacred art and religious traditions
Even during the Joseon dynasty, Buddhism continued to influence the ritual life of people.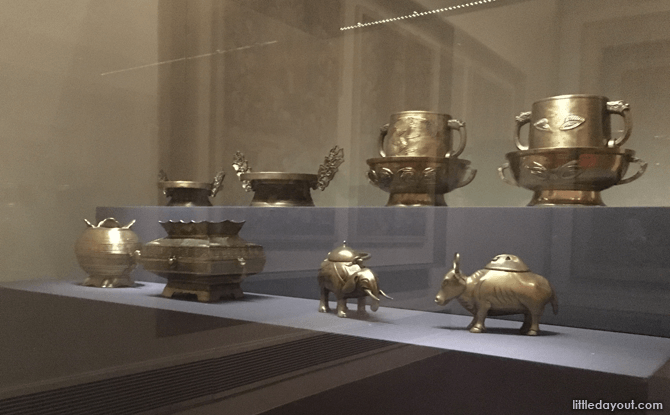 The items in this section include those items used in sacred rituals. There is also a hemp painting that shows a "hungry ghost" preparing to receive the sweet nectar of Buddha's teachings.
Streets of Hanyang: Everyday life of the people
The final section of Joseon Korea: Court Treasures and City Life captures vignettes of everyday life in Hanyang (Present-day Seoul) during Joseon Korea.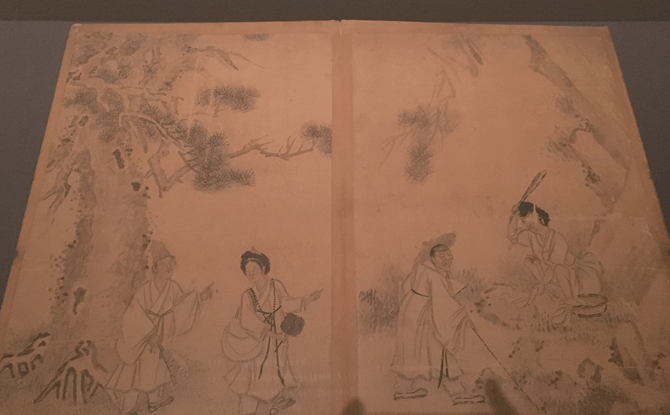 In one cheeky painting, a "blind" man approaches a woman who is washing clothes. However, look closer and you can see the man peeking out of the corner of his eye at the lady.
Activity Area at Joseon Korea: Court Treasures and City Life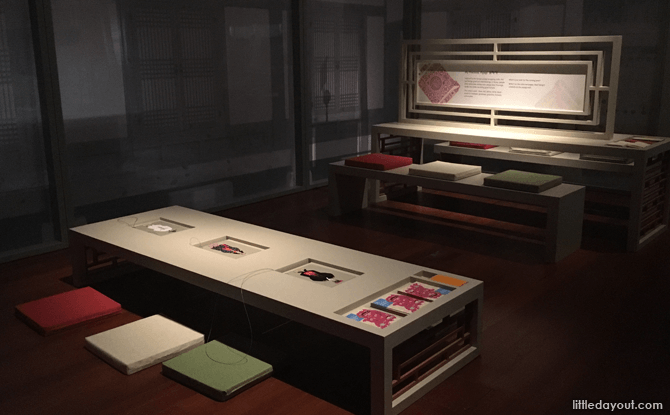 There is also an activity area for visitors to make a craft inspired by a Korean pojogi wrapping cloth.
Becoming Again; Coming Together
Specially commissioned for the exhibition is a mixed-media installation by award-winning Korean artist Ran Hwang.
Comprising a seven-metre long pins-and-thread mural of a pair of phoenixes and a video installation accompanied with traditional music played by Joseon-era instruments, it is a contemporary interpretation of traditional Korean cultural motifs.
Additional Programmes
Those who wish to get a more in-depth appreciation of the artefacts and treasure on display can join a Curator Tour on Fridays 12 May, 9 June and 14 July, 7.30 pm to 8.30 pm. The tour costs $25 per session.
You can also experience Korean culture with thumping music, dance performances, food tastings and more during the Seoul Awesome! Weekend Festival being held on 17 and 18 June 2017 at the Asian Civilisations Museum.
Kids can join in special school holidays edition of Fun-tastic Fridays in the month of June where they can dress up in traditional hanboks, attend workshops and watch traditional cultural performances.
Joseon Korea: Court Treasures and City Life
Venue: Asian Civilisations Museum
Dates: 22 April to 23 July 2017
Admission fees:$10 for Singaporeans and PRs (free for children and seniors) and $15 for tourists ($10 concession, $45 for a family of 5) – this includes entry to permanent galleries. Admission to Becoming Again; Coming Together is free for all visitors.