The award-winning Halloween event for the family, SpookyTown is back at KidZania Singapore after its successful debut last year.
Scroll to the bottom to participate in our Giveaway!
Following the events of the Lost Carnival last year whereby an experiment gone wrong caused a huge explosion, kids and families are invited back to SpookyTown this year to embark on a quest for the town's missing Mayor Fabiola, whom is believed to be the mastermind behind the failed experiment. Rumour has it that Mayor Fabiola will be making an appearance at the annual Masquerade Ball.
It's a race against time to search for clues that will aid in their search for the elusive Mayor Fabiola!
---
SpookyTown 2: The Masquerade Hunt Event Highlights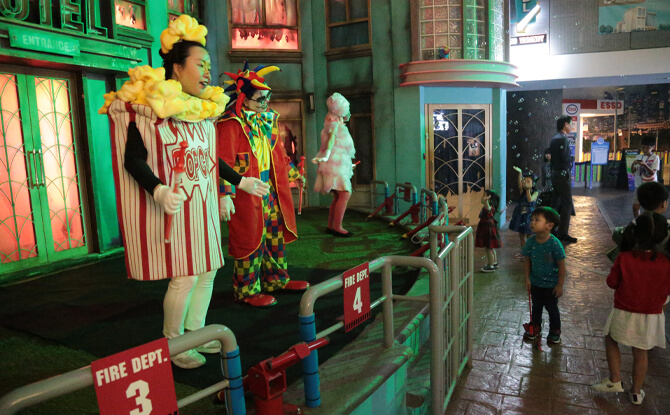 SpookyTown 2 takes place at KidZania Singapore from 6.30 pm to 10 pm on 25, 26, 27 October, and 1, 2, 8 and 9 November 2019.
---
-- Story continues below --
The familiar streets of the City will be transformed into the Halloween-themed SpookyTown as night falls,  and mystery is in the air at this family-friendly Halloween event.
Spooky Case Files – Where is Mayor Fabiola?
Where has SpookyTown's Mayor Fabiola disappeared to? Kids are entrusted with the task of tracking her down.
Each kid will receive a copy of the Spooky Case Files. Open up the dossier, visit the locations Mayor Fabiola was last seen at and gather the clues. Kids will receive freebies from Discovery, Maybank, Sunshine, SUNSTAR and Win2 once they have completed the Spooky Case Files and successfully identified the disguised Mayor during the Masquerade Ball.
Mayor Fabiola's Mansion
A good starting point for the investigation is Mayor Fabiola's residence. Head over to the Mansion and explore all of its secret nooks and crannies! Stay on high alert and keep your eyes peeled for clues hidden around the Mansion. Perhaps there will be clues to help you identify her at the Masquerade Ball later. Good luck!
Get Ready for the Ball – Marvellous Mask Shop by MuzArt
What's a Masquerade Ball without masks? Kids can get into character by creating their own mask to blend in with the rest of SpookyTown's masqueraders. Located at the Job Information Centre, the Marvellous Mask Shop holds another clue to Mayor Fabiola's whereabouts!
Spooky Spots around SpookyTown – The Marketplace & Whimsical Garden
The streets of SpookyTown will be bustling with excitement as carnival games get underway! Play the games and check out the Marketplace stores. According to gossip around town, the Mayor was last seen trying on a hat at Hector's Wacky Hat Shop. Quick, get on the trail!
Even the plants are wonderfully weird here at SpookyTown. Pay a visit to the Whimsical Garden (at the Shopping Alley) for some insta-worthy shots with fantastical foliage.
As a plus point, everyone is welcome to a share of Haribo candies before they leave the Whimsical Garden.
The Masquerade Ball
The highlight of SpookyTown's Halloween fiesta is undoubtedly the Masquerade Ball at Main Square. All of SpookyTown's citizens will be gathered to boogie the night away and we suspect that Mayor Fabiola will be there too – in disguise no less!
Don't let the dancing crowd distract you. Put on your mask, gather your clues and pick her out from the crowd.
Be sure to arrive early for the SpookyTown Masquerade Ball. There will be special performances by Académie of Stars 15 minutes before the dancing begins!
If you don't know the steps, fret not. Learn the basic dance steps at the SpookyTown Dance Academy located at the Driving Street, before heading to the Masquerade Ball.
---
More Activities around SpookyTown
Apart from the main activities at SpookyTown 2: The Masquerade Hunt, there will be other fun challenges too!
Fashion Fever Dress-up
Think you are brainier than Frankenstein? Put your memory to the test! Dress up the mannequins at the Department Store based on a photo you are shown and, if you succeed, you will win more sweet treats.
Fear Box Challenge
Halloween is a time for you to conquer those fears. Put your hand through Tinn's box of hoarding horrors and test your nerve.
Halloween-themed Colouring Activity by MILKCANANIME
Conjure up some creativity and complete Halloween-themed colouring sheets. Perfect for the little ones!
Height of Fright by CAMP CHALLENGE
Got a fear of heights? Fear no more! Conquer the Height of Fright as you climb on like a fearless mountaineer to collect as many candies as you can. We are sure this will give you a real sugar rush!
Performances & Shows
Help to deliver SpookyTown's latest news, go on a curated tour to learn the town's history, or get down and jive to the beat of groovy instruments at the Music Studio.
Also keep a look out for a Spooktacular Street Show and a talk show hosted by Ginn the hysterical doll.
Best-dressed Family Award
And, of course, you should come to SpookyTown in a costume – it's Halloween after all.
Appear in your masquerade-best as a family and stand a chance to win the Best-dressed Family Award at the end of each night. Win tickets to KidZania Singapore and prizes from MILKCANANIME worth more than $300 in total!
SpookyTown 2: The Masquerade Hunt at KidZania Singapore will only make its appearance on selected magical evenings in October and November 2019. Book your tickets to SpookyTown 2: The Masquerade Hunt in advance to save on ticket prices ($43 instead of the usual price of $48). Advance purchase is valid till 11.59 pm the day before the chosen date of your visit. See full terms and conditions below.#
Bigger Savings with Little Day Out Readers Promo Code – KZLDO!
Little Day Out readers can enjoy even BIGGER SAVINGS by using the promo code KZLDO when checking out. Get tickets to SpookyTown 2 at a super special price of $40 per ticket just by being a Little Day Out Reader.
For more event updates, visit SpookyTownSG's Facebook page.
---
SpookyTown 2: The Masquerade Hunt at KidZania Singapore
Date: 25, 26, 27 October, 1, 2, 8 and 9 November 2019
Time: 6.30 pm to 10 pm
Venue: KidZania Singapore
Website
#Promotion is only valid for SpookyTown 2: The Masquerade Hunt event on Admission tickets only. Promotion rate is valid till 11.59 pm on the day before your chosen date of visit. Ticket redemption (date of visit) is valid on date of event purchased, 6.30 pm to 10 pm only. Ticket does not include KidZania Singapore standard day admission. Tickets sold are non-refundable and not valid for re-validation. Tickets are NOT to be used in conjunction with other offers, discounts or promotions. KidZania Singapore Park Admission Policy applies. Rates exclude Sentosa Island Admission, which is payable to Sentosa Development Corporation on day of visit. The Management reserves the right to change the terms and conditions of this promotion without prior notice. Other park rules and regulations apply.
This feature is brought to you by KidZania Singapore.
---
GIVEAWAY: Win 1 set of 4 tickets to SpookyTown 2: The Masquerade Hunt!
Little Day Out is giving away:
2 sets of 4 tickets to SpookyTown 2: The Masquerade Hunt!
---
This contest has closed. Congrats to Lay Kuen N and Yee Long T.
---