Those who are curious about the Istana no longer need to wait for the five days in a year when the Istana Grounds are open to the public to learn about the official residence of the President of Singapore. Instead, they can visit the Istana Heritage Gallery located across from the Istana's main gates at Istana Park.
The House in a Nutmeg Plantation
Constructed between 1867 and 1869, the Istana was originally the residence of the colonial governor in Singapore. It was known as Government House and built on a former nutmeg plantation owned by Charles Prinsep, a lawyer with the East India Company. In fact, the hill that the Istana is now located used to be called Mount Caroline, possibly after Prinsep's sister.
At the Istana Heritage Gallery, visitors can learn about the early years of the Istana and its grounds.
The Istana building was constructed out of bricks made by convict labourers. It was fitted out with timber from Johor and ironworks from England.
---
-- Story continues below --
The cost of its construction overran its budget and ended up coming in at more than the combined cost of Victoria Theatre, the former Empress Place Building (now the Asian Civilisations Museum) and St Andrew's Cathedral.
From House to Palace
When Singapore attained self-government in 1959, Government House was renamed the Istana and Singapore's first local head of state, Encik Yusof bin Ishak, took up office in the building.
This transformation from Government House to the Palace of the State of Singapore is also chronicled at the Istana Heritage Gallery.
Also documented are the present-day roles and functions of the Istana.
Formal state events are held at the Istana. Countless foreign dignitaries have been received at the Istana and at the Istana Heritage Gallery, visitors can view a sample of the state gifts received by Singapore's Presidents and Prime Ministers.
Among the items on display are a pair of silver goblets. These were presented by Queen Elizabeth II to the late President S R Nathan in 2006. There is also a bust of an Induna (or a leader or headman) that was presented by late South African President Nelson Mandela to the late President Ong Teng Cheong in 1997.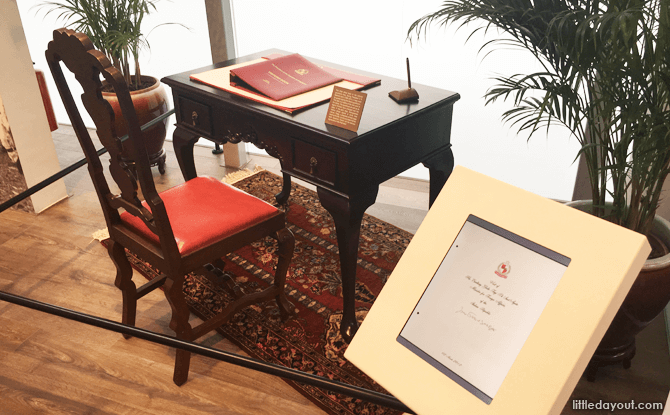 Also on display is a writing desk along with digital facsimiles of the greetings inscribed by the many visiting diginitaries who have laid pen to the Istana's guest book over the years.
The Istana Heritage Gallery will be of interest to history buffs and those who wish to gain a deeper appreciation about the Istana and its grounds.
Before leaving, visitors can emboss an Istana bookmark and take it away as a memento of their visit to the gallery.
Istana Heritage Gallery
Venue: 35 Orchard Road, Singapore 238902, Istana Park (directly opposite main gate of the Istana)
Opening Hours: Daily from 10 am to 6 pm, except on Wednesdays when it is closed.