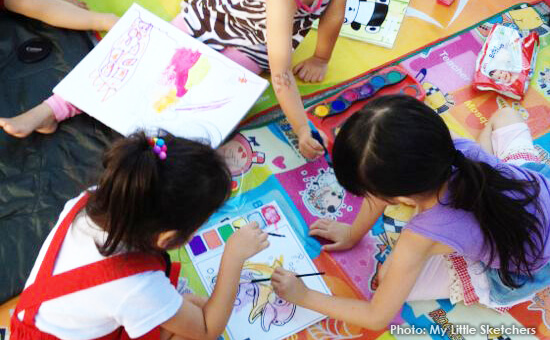 Does your kid like art and craft?
Most children relish the chance to get creative, even with just a pencil and a piece of paper. Add on crayons and paints and you will get a wonderful mess of colours. Art provides an avenue for their self-expression and a chance for little ones to capture the world as they see it.
As adults, many of us would have "outgrown" that phase in our lives, except perhaps for the occasional doodle while stuck in a long, boring office meeting. Modern art sometimes seems cold and abstract, something only bohemian types can understand. However, when kids come along, we willingly revive our inner child artist to encourage their interest and creativity.
Singaporean Art on Display
For parents who are concerned about the inaccessibility of art, the National Museum of Singapore's latest exhibition – A Changed World: Singapore Art 1950s -1970s – may be worth a visit.
If you had visited the Princely Treasures from the House of Liechtenstein exhibition and found it difficult relating to the European garb and scenery, A Changed World, which takes over the same gallery space, will be a lot more familiar.
A Changed World shows Singaporean artists' perspectives of Singapore from the 1950s to the 1970s. Some of the paintings are personal, capturing the emotions of people, while others are of familiar places and institutions such as the Singapore River and the National Day Parade. Local artists, such as Liu Kang, Cheong Soo Pieng and Lee Boon Wang, capture an important part of Singapore's heritage and history. There are also earthy scenes including workers leaving a shipyard and the process of constructing the Benjamin Sheares Bridge.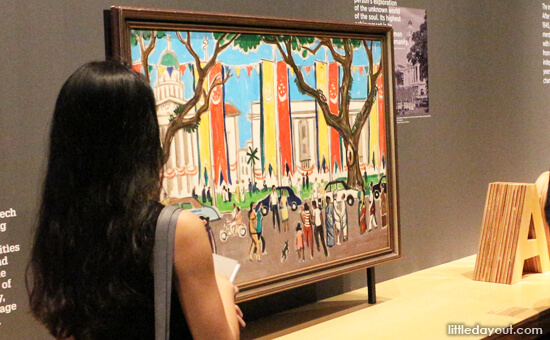 The exhibition also has its share of abstract art and didactic information on the Malayan school of painting and search for local art identity.

Some ideas on what parents can do with their children at A Changed World: Singapore Art 1950s -1970s are as follows:
Look for examples of different media including oil on canvas, watercolour, photos, sculpture and woodblock printing.
Identify two realist (i.e. art that portrays scenes realistically) and two impressionist (i.e. art that is not realistic but conveys emotions) pieces.
Choose a painting of the Singapore River that your child likes and take a photo of the painting. Head down to the Singapore River and let your child make their own sketch. Ask them what is the difference between two.
A New Generation of Artists for Modern Singapore
Giving a chance for little ones to observe and capture modern Singapore is exactly what a group of parents are doing. My Little Sketchers organises free "sketch outings" for parents to bring their young children around Singapore to sketch. This group is the brainchild of Yet, a parent who recently organised their first outing to Merlion Park by the Singapore River on 6 October 2013.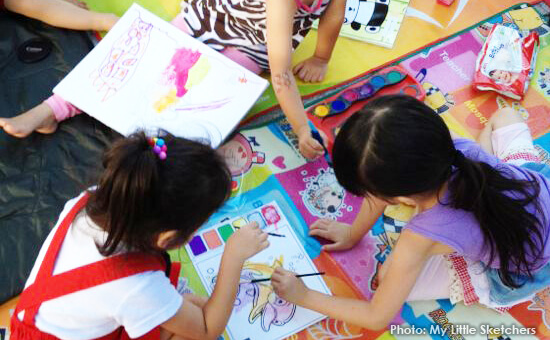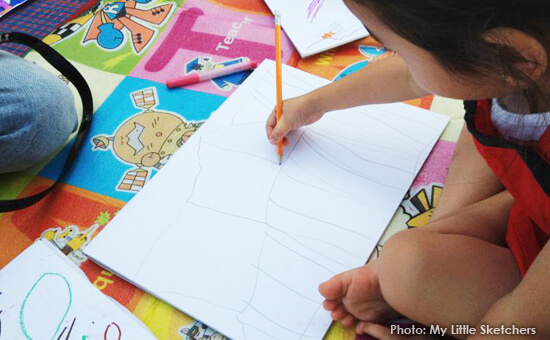 Passionate about the benefits of art for kids, Yet has worked with an artist-friend Debbie to allow children to pick up observations skills and self-expression through art. Sharing on the importance of art, he said, "Art should never be lonely because it is a joy. Being artistic is a gift to share. Let the kids draw the world, and they will be able to capture, preserve and share with the world every bit of goodness the world brings."
Visit My Little Sketchers Facebook page for upcoming sessions.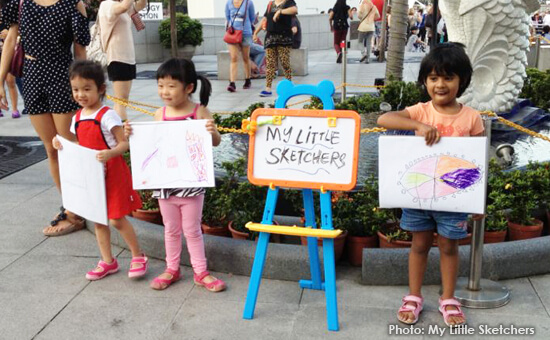 There you have it. We hope that we have given you some ideas on how to inspire the artist in your child. Who knows, perhaps one day, their own artwork will be on display at the National Museum of Singapore too!
Have a great Little Day Out!