Singapore-based I Theatre is taking its brand of family-focused theatre to Malaysia with The Magic Porridge Pot from 7 to 13 April 2014 at the PJ Live Arts Theatre in Petaling Jaya, Malaysia.
Whilst this is not the first time I Theatre has ventured beyond Singaporean shores, this is the first time that the familiar name in Singapore's children's theatre scene will be performing in Malaysia. In the past, I Theatre has performed at the well-known Edinburgh Festival Fringe and toured India with their production of The Rainbow Fish.
With a 13-year track record of delivering smart and witty productions that appeal to both young audiences and chaperoning parents and teachers, when I Theatre was approached to perform at the PJ Live Arts Theatre, it was too good an opportunity to pass up.
For their Malaysian debut, I Theatre decided on The Magic Porridge Pot, an original production that had premiered at the ACE Festival Lite in 2013. This story tells the tale of a helpful little girl who one day meets an old lady who passes her a little pot. With the magic words, "Cook, little pot, cook!" the pot fills up with porridge and, very soon, she finds that she is unable to control the overflowing potage.
"We originally set the story in a kampung setting, in a place that could easily be Singapore or Malaysia; so we feel that the audience will immediately relate to the characters, from the setting, and the costumes," explained Brian Seward, I Theatre's Artistic Director.
Photos: I Theatre
Audiences at The Magic Porridge Pot can expect to be treated to original songs, a strong interactive element and even puppets as part of the theatre experience. Judging by the 2013 performances where the cast had the audience echoing along with the songs and enthusiastically responding to questions throughout the 55-minute performance, theatregoers in Malaysia can expect a fun and rousing time.
For the Malaysian run of The Magic Porridge Pot, Alecia Kim Chua and Elizabeth Loh will reprise their roles as the Old Woman and the Girl respectively. Dwayne Tan, a veteran I Theatre actor, takes over from original cast member Jonathan Lum as the Thief.
For the ensemble, having the opportunity to perform The Magic Porridge Pot again not only provided them with a happy reunion, but also a chance to imbue their characters with new ideas carried over from the previous run while retaining what had worked well.
"We took very careful note of all of the feedback from our Singapore audience. The audience were overwhelmingly positive about the show, and because of its original setting, and characters, we knew it would not need much change to fit the new audience," said Brian.
Given the amount of hard work that goes into the development of an original theatre production such as The Magic Porridge Pot, being able to present it to a new audience in Malaysia also allows I Theatre to validate the universal appeal of their work.
Speaking excitedly, Brian said, "We hope that they will love it as much as our Singapore audience did! I Theatre is a completely new company for them, so we expect people to be curious, and maybe not quite sure at first about this Singapore company who is suddenly appearing; but we hope that they will fall in love with us quite quickly when they see our show!"
Have Hands-on Fun with The Magic Porridge Pot Activity Sheets!
Buy the The Magic Porridge Pot activity sheets for some fun activities based on the story of The Magic Porridge Pot with your kids.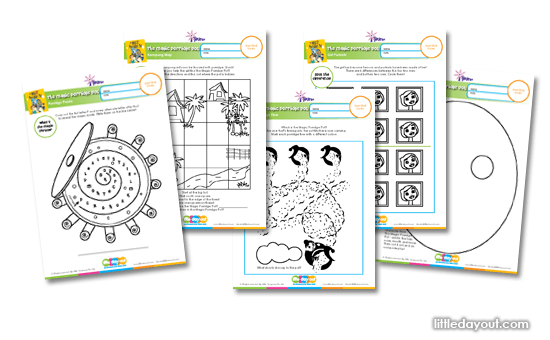 Find out more:
Little Day Out's Review of The Magic Porridge Pot
Behind the Scenes: Setting the Stage for The Magic Porridge Pot
DETAILS
The Magic Porridge Pot
When: 7 April to 13 April
Where:
PJ Live Arts
2A-3, Block K, Jaya One,
Section 13, No. 72A,
Jalan Universiti,
46200, Petaling Jaya,
Selangor Darul Ehsan,
Malaysia.
Tickets currently on sale.
I Theatre's will also be organising ACE Festival 2014 from 21 May to 8 June and the theme this year isLong Ago and Far Away – Let your imagination travel through time and space as you experience adventures from long ago and far away, or maybe right up-to-date and close to home!
Five special productions being presented at ACE Festival 2014 are:
Puss in Boots (I Theatre Ltd, Singapore)
Spot the Difference (I Theatre Ltd, Singapore)
Starbird (Toto Tales, UK)
Under the Dragon Moon (Creative Edge Training Ensemble – I Theatre Ltd, Singapore)
Dotty the Dragon (Blunderbus Theatre Company, UK)
---
Get a set of of 65 activity sheets spanning 12 productions in celebration of I Theatre's 15th anniversary at Little Day Out Shop.
With each purchase of this special Activity Book, Little Day Out will be making a contribution towards I Theatre's Theatre for All programme. Buy them now!