Besides famous fairy tales by the brothers Grimm and Hans Christian Andersen, are your kids familiar with stories and folklore from around our Asian region?
Jewels in the Tale is a production featuring tales from all over Southeast Asia, including The Crane's Gratitude from Japan, Tenali Raman and The Three Thieves from India, The Four Dragons from China, and The Hermit and The Two Worms from the Philippines.
I Theatre playfully presents these fascinating folk tales through energetic physical theatre, masks and puppetry in Jewels in the Tale, from 17 to 30 August 2015, at Alliance Française Theatre in Singapore, and from 10 to 12 September 2015, at Children's Center, Asian Culture Complex in Gwangju, Republic of Korea.
With fun, colour and music, lively action, beautifully crafted stories, and multi-layered performances highlight interesting morals and questions that will challenge and engage.
While you take this wonderful and unique opportunity to discover some of this region's colourful heritage of folk tales in a fun and very accessible form, Little Day Out is happy to present Jewels in the Tale Printable Activity Sheets in conjunction with this upcoming production. Let your children have a fun and engaging time with these printable activity sheets to complete the theatre experience either before or after the show!
Be sure to book your tickets and download Jewels in the Tale printable and more from Little Day Out Shop today.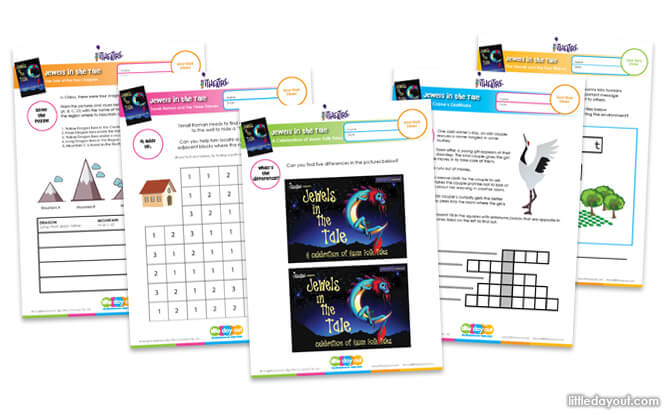 Details
Date: 17 to 30 August 2015
Venue: Alliance Française Theatre
Date: 10 to 12 September 2015
Venue: Children's Center, ASIAN CULTURE COMPLEX, Gwangju Rep. of KOREA
Recommended for: Anyone 4 years old and above
Duration: 50 minutes with no interval
Script: Brian Seward
Directed By: Brian Seward
Music Composed By: Stan and Soap
Choreographer: Cathy Kee
Set Designer: Wai Yin Kwok
Costume Designer: Brian Seward
Costume Realisation: Joanne Ng Mui Huang
Tickets available through:
SISTIC Website www.sistic.com.sg
SISTIC Hotline (65) 6348 5555
SISTIC Authorised Agents islandwide
Related Links
Go Behind the Scenes with us in Asian Spectacular: Jewels in the Tale
Read our review of 2014's production: Under the Dragon Moon: The Jewel in the Tale