A celebration of Asian heritage, Jewels in the Tale brings together a kaleidoscope of colours, styles and songs.
I Theatre's original production reclaims the stage for the Asian narrative, spinning folktales from Indonesia, Japan, Korea, India, and China, among others.
Little Day Out takes a sneak peek during a rehearsal of what promises to be a colourful, high-energy play that will run at Alliance Française from 17 to 30 August 2015.
A Kaleidoscope of Styles
First of all, one-up for Asian stories.
"Children's stories are mostly European folktales or contemporary American stories," said director and scriptwriter Brian Seward.  "They are great, but they miss out so much on the heritage of the people who live in Singapore."
"We want to bring that heritage to life."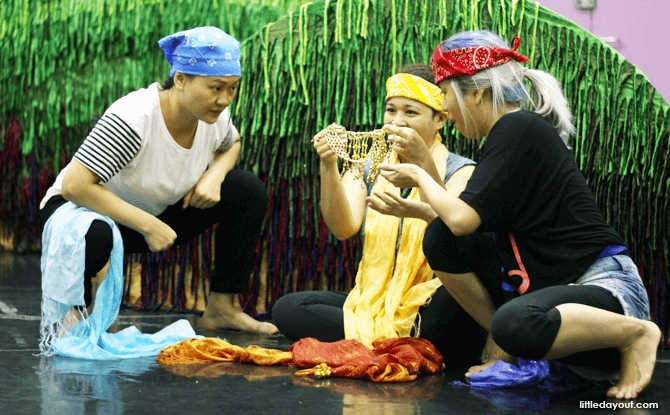 The play employs the use of various Asian art forms and languages, blended with western styles of acting.
One of the stories, "The Crane's Gratitude" from Japan, involves the art of Japanese Noh, for example.
But the slow, serious art form has been adapted and blended with western slapstick physical comedy to make it fun for kids.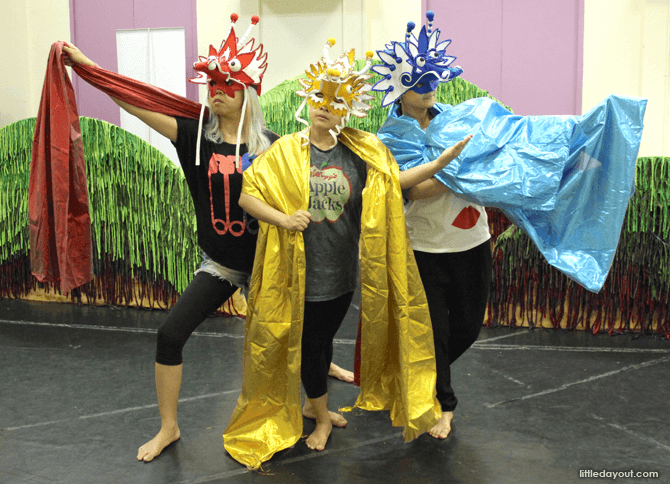 "Tenali Raman and the Three Thieves" from India showcases classical Indian dance, while "The Four Dragons" from China offers a taste of Chinese opera – and dare we say – a hint of wushu (Chinese martial arts).
The music composed by Stan and Soap boasts a variety of ethnic instruments, including Malay dikir barat, Indian tabla, Chinese erhu, and others.
This isn't a musical, but the audience can expect some songs; and also "people, animals, and strange creatures".
A Moral Gem
Bursting with colour and by-the-minute fun, the stories in Jewels were carefully handpicked from an initial collection of 80 stories.
The criteria was simple: They had to be fun, captivating, and most of all, possess a "jewel in the tale".
And what does that mean?
There is a moral gem in every one of the eight tales in this quick-paced play, said Brian.
"Something for the kids and adults to take away."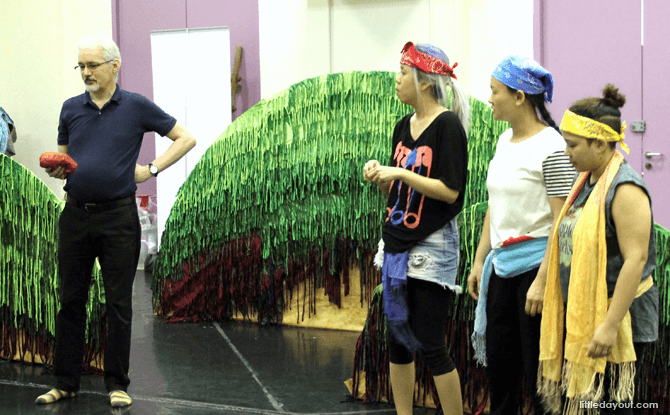 Four Actors, 40 Roles
There are only four actors in Jewels in the Tale, and each of them have to take on a staggering number of 10 characters, involving various puppets, costumes, and masks.
Indian-Nigerian actor Ebi Shankara, 26, was not able to attend the rehearsal on the day that we visited.
Rehearsing in the absence of one actor is really difficult, say the other three actresses, as it means that there are many roles missing.
That, and the fact that there are many characters to play.
"It's a challenge for an actor to find our voice in so many characters," said the bubbly Alecia Chua, 35. "We have to make sure our characters don't overlap."
Actresses (from left) Elizabeth Loh, Alecia Chua, and Adelynn Tan have a hoot with their high-energy characters.
Some audience members might find some stories familiar – that's because "Four Dragons" first appeared in I Theatre's play Dancing with Dragons (2004), and "The Crane's Gratitude" in the production Under the Dragon Moon (2006).
Actress Adelynn Tan, who was a cast member in Dancing with Dragons back in 2004, is reprising her role as one of the four Dragons in Jewels in the Tale.
"The challenge is to do so much physicalising, at my age," 38-year-old Adelynn laughs.
We attest to the physical demands – we witnessed Adelynn perform many floor rolls for. Though we did notice that she did them rather gleefully.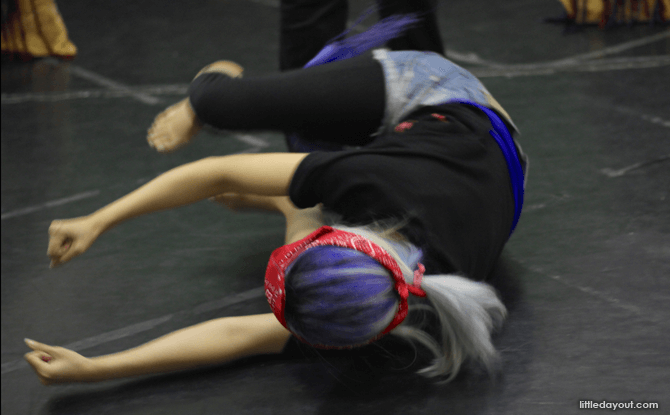 Adelynn gamely performed floor rolls countless times for her role in "Tenali Raman and the Three Thieves".
Judging by the guffaws and jokes during rehearsals, the performers were clearly enjoying themselves while working hard.
But they appreciated the meaningfulness of the stories, too.
"I like the story Si Kabayan," said Elizabeth Loh, 30. "It's a super-short tale about a shirt, and is symbolic of the impermanence of material things."
Costumes, Puppets, and 150 Scarfs
"Did you see our huge box full of scarves? They are all Brian's, all 150 of them."
Of course we saw the box bursting with silks and cloths.
Alecia, Adelynn and Elizabeth soon proceeded to show us 101 ways to wear the scarves.
"The scarves make for flexible costumes," said Brian, who is also the costume designer for Jewels. "And also, since I bought 150, I must use them all!"
It was a relaxed, trusting atmosphere in the rehearsal room, as the actresses had to align with each other's body rhythms as well as follow Brian's direction.
The quick costume changes, the many roles, and working various puppets – these seemed like fun challenges to the actors, and not a chore.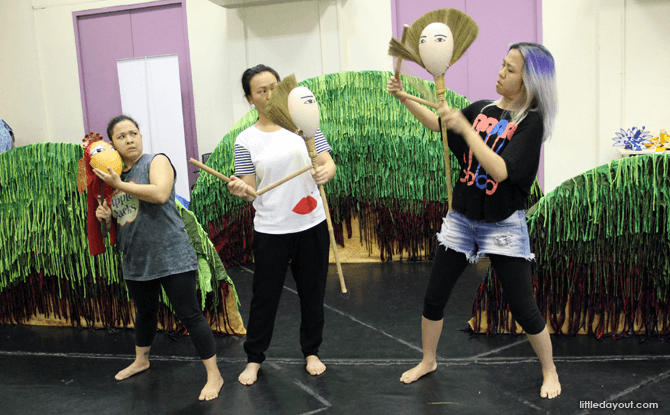 The audience can expect to see creative prop and puppet designs by I Theatre's resident set and props designer Wai Yin Kwok.
The 31-year-old who lived in the United Kingdom most of her life moved to Singapore slightly over a year ago.
Don't forget to keep an eye out for her clever use of common household items, fashioned into puppets. These, and the gorgeous Dragon face masks, are the other jewels of the play.
After its run in Singapore, I Theatre will be taking Jewels in the Tale to Guanju, Korea, for The Grand-Opening Festival of the National Asia Culture Centre for Children 2015, from 4 to 12 September.
Jewels in the Tale runs from 17 to 30 August 2015 at Alliance Française Theatre, Singapore. Get your tickets here.
About the "Behind The Scenes" Series
This special feature is part of Little Day Out's Behind-The-Scenes Aspects of Theatre Production series to help young and old understand more about theatre productions. See our other Behind The Scenes stories here.
Related Links