I was looking forward to Poultry Tales as I was curious how I Theatre could join three different stories in one show, and on top of that, impart backstage knowledge at the same time!
I wasn't disappointed.
Poultry Tales Review
Everything came together seamlessly in the musical. The stories of Chicken-Licken, The Goose That Laid the Golden Eggs, and The Little Red Hen were cleverly woven into the main plot, written around two senior stage crew members and their bumbling interns who were learning on the job.
We, the audience, were learning too. Hand prop, cyclorama, fly bar (Did I get this right? Or was it fly rail?), flat…. Theatre terms like these came in fast and furious. And through the funny antics of the cast and live demonstration of theatre tricks and principles, we now have a better appreciation of what it takes to put up a stage show.
I loved how writer and director Brian Seward put chalk and cheese (three types of cheese, no less) together, to create a musical about a musical!
Fine Feathered Friends
The creative script was brought to life by the strong cast, who put in sterling performances, toggling effortlessly between their multiple roles.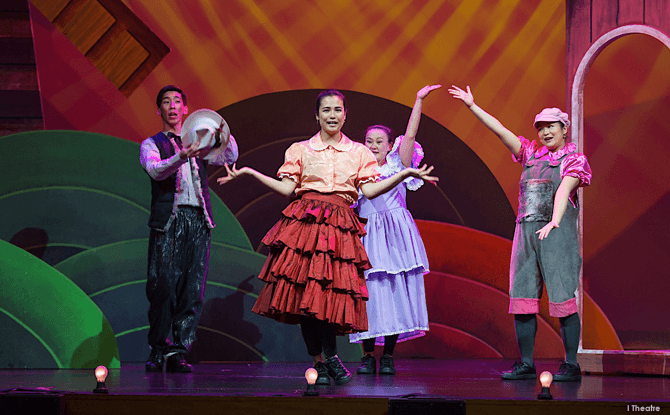 Isabella Chiam shone as the stage manager, who managed to convey her love for the stage without over-acting. Isabella is very likeable and exudes effortless charm. When she transformed into the Little Red Hen, she got the kids interacting with her and laughing over her angry "bok bok gey's".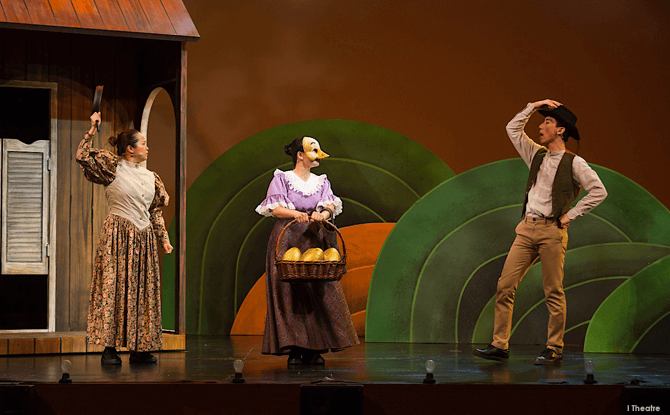 Daphne Ong and Darren Guo were the perfect sinister husband-and-wife team in the retelling of The Goose That Laid the Golden Eggs. Their duet was spot-on, showing good vocals and great chemistry. Darren is a natural comic whose exaggerated gestures endear him to the audience; he has the ability to elicit laughs from the kids without irritating or boring the parents.
Elizabeth Loh's waddling performance as a rich, naïve talking goose was a delight to watch. Together with her co-stars, she had the audience in stitches when her "insides" spilled out instead of golden eggs.
Conveying A Love For the Theatre
Like the precious eggs, the music was pure gold. Composer Bang Wenfu, who also did the arrangement, squeezed in many genres. But somehow managed to blend everything well together.
Special mention must be made of the set, which was tastefully colourful, simple, yet so full of ingenuity. I loved the art direction and the very clever trick that transformed the Western saloon into a farmhouse for the next story, with just a change of angle.
At the end of the musical, what touched me most was that underneath all the fun, the energy, and the wit of the performance, I could feel a real love for theatre.
Poultry Tales will be playing till 14 May 2017 at the Drama Centre Theatre.
Recommended for 3-year-olds and up.
Tickets are available from SISTIC.