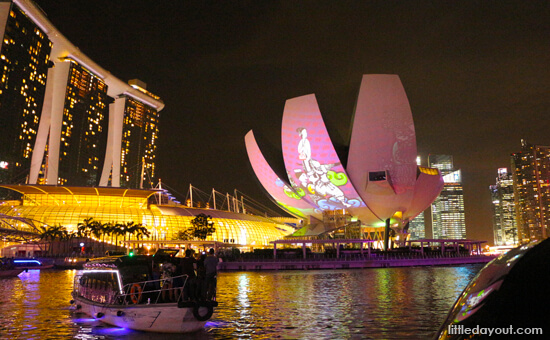 Wave your hands above some "light flowers" and watch their "petals" magically close like the mimosa plant, or hug a shy teddy bear who blushes whenever anyone comes close.
At i Light Marina Bay 2014, the light art installations are not just designed to be admired from afar but to be touched, poked, pulled and even stepped on. With 28 artworks from both local and international artists, this public art festival invites visitors to interact with art while enjoying the beauty of Marina Bay in the evening.
Billed as Asia's only sustainable light art festival, the theme of i Light Marina Bay 2014 is "Light+HeART". Running from 7 to 30 March, this is the third edition of the Festival and aims to convey that "in the heart of sustainability matters, it is the matter of the heart." This is done through the happy and heartfelt installations around the Bay.
With 28 installations stretching out from Esplanade to The Float and onwards to Marina Bay Sands and The Promontory, there is a lot of ground to cover in this public "art gallery". We look at some of the highlights to look out for at i Light Marina Bay 2014.
The Pool
Comprising interactive circular pads that visitors can step on, each pad changes colour, ala Billy Jean-style, once activated. Everyone who enters The Pool contributes to its playful canvas of light, highlighting each individual's ability to contribute toward making a difference. We heard that there is a one specific pad that changes the overall colour scheme of the light installation. See if you can find it!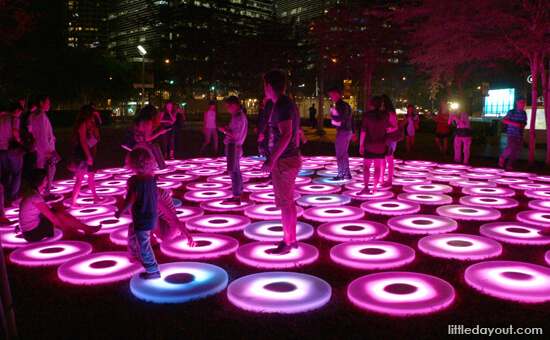 Floating Hearts
Turn off and on the individual hearts in this wall of hearts to create your own design, message or pattern.
JouJou-Ours
This is one light installation to embrace – literally. Drawing from childhood memories of his hugging soft toys to sleep, Uno Lai from Taiwan created this art installation for visitors to reach out and touch these bouncy bears, including a coy white one.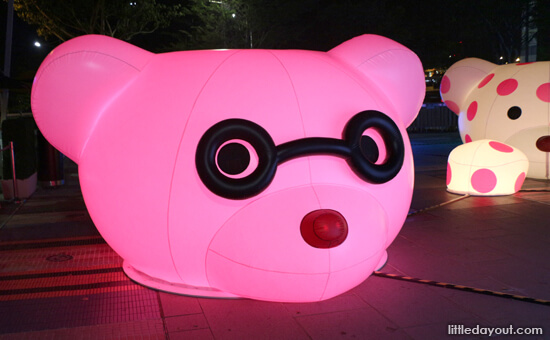 Mimosa
Inside the Marina Bay City Gallery, this amazing interactive artwork by Jason Bruges Studios from the UK responds to hand motions by opening and closing its "petals". Give it a wave to see the organic light-emitting diode panels magically come to life.
Happy Croco
What do you see, a crocodile or a set of everyday objectives that have found a new purpose? Stop by this 20 metre long crocodile to have a look.
iSwarm
Set into the waters of Marina Bay, iSwarm is an interactive light installation from the Singapore University of Technology and Design. Linked to sensors along the rails, the artwork reacts to visitors as they approach.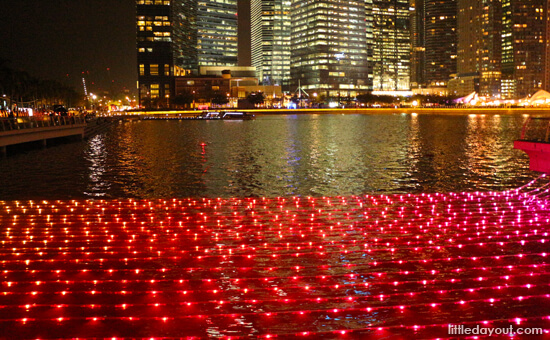 Beat
Located in front of Marina Bay Sands, these translucent shapes glow with a slow throbbing light. You can even try to hit them to see how they react.
Celebration of Life
With the façade of the ArtScience Museum as a canvas, Celebration of Life by Justin Lee uses pop-art to celebrate the confluence of traditional Asian values with modern society in a three-minute long 3D projection.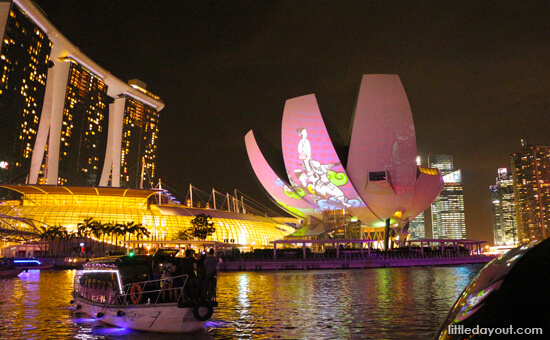 Cloud
Step beneath a cloud made up of new and recycled materials at The Float. You can playfully pull switches to turn on and off the different bulbs – both old incandescent and new energy-efficient ones – underneath the art installation.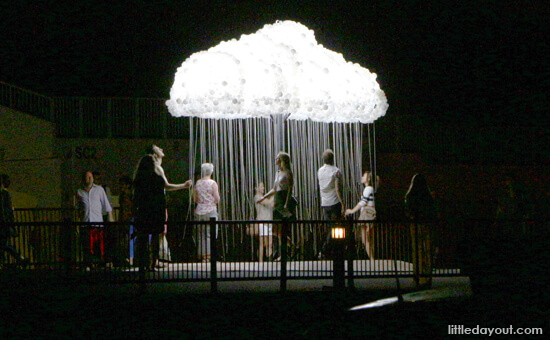 Other Activities
During the i Light Marina Bay Festival, visitors can also expect performances such as neon stilt walkers (7, 8, 22 & 23 Mar, 9 pm to 10 pm), fire dancers (9, 15, 29 Mar, 8 pm) and music performances on specific dates.
Traders from PasarBella will also be along the Marina Bay Sands Event Plaza from 7 to 30 March while food trucks, The Travelling C.O.W and Kerbside Gourmet will be at The Promontory on Fridays to Sundays.
The weekends between 7 to 30 March will also see bazaars being setup at the Marina Bay Sands Event Square and The Float @ Marina Bay Seating Gallery.
DETAILS
i Light Marina Bay 2014
Friday, 7 March 2014 to Sunday, 30 March 2014
7.30 pm to 11 pm
Marina Bay Waterfront
Free Admission
www.ilightmarinabay.sg