Easter is just around the corner. With the Good Friday holiday, the long weekend beckons and this is a great time for family and friends to spend some time together.
In Singapore, you will be able to find plenty of commercialised Easter celebrations and activities. Numerous restaurants and hotels offer Easter Sunday brunches with children's activities that range from Easter Egg Painting to Easter Egg Hunts. All for a price of course.
But there is really no need to spend so much dough just for the kids to enjoy Easter. Get some friends together and follow these simple steps on how to organise your very own Easter Egg Hunt, without having to pay through your nose.
1. Get Some Eggs for Hunting
You can get plastic toy eggs from neighbourhood toy shops around Singapore. A bunch of these plastic toy eggs sell for less than $5. We got ours at $4.50 for a bag of twenty from a neighbourhood shop.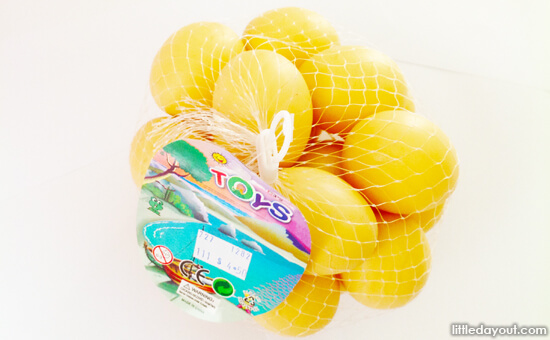 ---
2. Decorate the Eggs
Get your kids involved in painting the eggs. Make it as multi-coloured as possible. Poster paints seem to work best with the plastic eggs and they will love painting away at the eggs.
---
3. Ready the Playing Field
Choose a playing area. Parks are great places to have an egg hunt. It could be your neighbourhood park or one of the larger green spaces around Singapore. Some of our favourites include the Singapore Botanic Gardens, West Coast Park, Pasir Ris Park and Bishan-Ang Mo Kio Park. Determine the boundaries of the hunt and prep the playing field by hiding the eggs. Make the hiding spots as simple or challenging as you like, depending on the ages of the children playing.
---
4. Off You Go
Assemble the children together. Each child should get a small basket to gather the eggs. If you don't have a basket, a plastic party bag will do fine. On your mark, get set and off they go a-hunting!
---
5. Reward the Hunters
Eggs collected can then be exchanged for prizes. It being Easter, what better reward than to exchange the plastic eggs collected for chocolate ones!
---
Rules and Variations
Other than plain vanilla egg-hunting, to add some excitement, especially for older children, here some simple variations you can play.
Variation 1: Egg Timer
Set a time-limit for children to find as many eggs as possible. The child that collects the highest number of eggs within the fixed time wins a prize.
Variation 2: Spots and Stripes
Decorate your eggs differently. Make some of the eggs spotty and others stripey. Now set out different combinations that the children must find, for example, 3 spotty eggs and 2 stripey ones. Every child that find the right combination of eggs wins a prize.
Variation 3 – It All Eggs Up
Use a sticker to mark each egg with a number from 1 to 5. Divide the children into two teams. Each team has 2 minutes to collect as many eggs as possible. Once the 2 minutes are up, each team sums up the numbers on their eggs. The team with the highest score wins.
Have an Egg-citing Easter!